Who doesn't love cheese? For long, Cheese has been bearing the brunt of the ill-repute that Fats, as a good group, have garnered over the years. Let us tell you a secret. Not all fats are bad. In fact by ruling out fat completely from your diet, you may be doing more harm to your body than good. Not only this, eliminating fats completely may also be an open invitation to weight gain. The key to successful dieting is to be able to distinguish good nutritious foods from the low-nutrition ones. Similarly with fats, you need to up the intake of 'good fats' and lower the intake of bad processed ones. And guess what, our dear cheese makes it to the list of 'good fats'. Isn't that great news?
Benefits of Eating Cheese
When taken in moderation, cheese can fill up for a variety of nutritional needs. Be it feta, mozerella or blue cheese, these are all excellent sources of protein. The content is typically higher in hard cheese. Like any other dairy product, they are also rich magnesium, calcium and phosphorus, all minerals that help support your bone health. They are also sufficiently rich in vitamins A and B-12, folate, iron and zinc.
There are a multiple ways you can include cheese in your diet. And no, by that we don't mean cheesy pizzas and burritos. They can be included in so many healthy ways too. Here are some ideas.
1. Salad Who said healthy eating needs to be boring? Glam up your salads with a dose of fresh cheese. Greek salads and Mediterranean salads have feta and parmesan cheese which help spruce up the salad. However make sure, the quantity of cheese doesn't outdo the quantity of veggies- that will just defeat the purpose of having the salad in the first place. Fruit salads too, can have thin slices of cheese with your apples, pineapples and tomatoes for flavour.(Also Read: Is Cottage Cheese Different From Other Types of Cheese?)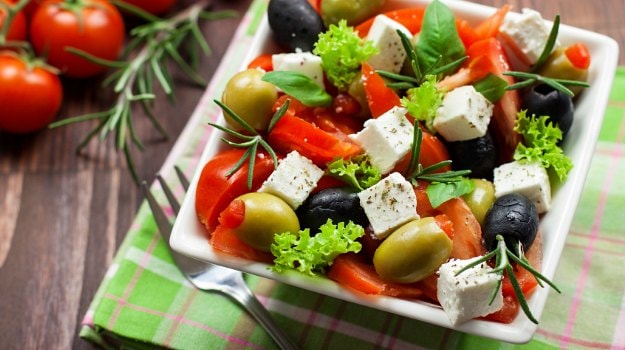 Greek salad is packed with good quality feta cheese.
2. Pasta
Ditch refined grain pastas and go for the ones made of whole grains. Whole grain pastas are rich in fibre which aids digestion, weight loss and improve heart health. This 'healthier' pasta in company of cheese - be it feta or parmesan - can make for one healthy meal.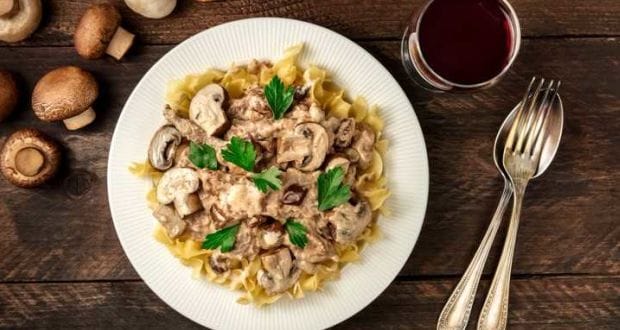 3. Top of a rich soupCheddar, Parmigiano goes well with almost every soup. Feta also goes well with spinach and onion soup. As the cheese melts into a bowl of hot soup, what you get is a rich, smooth consistency making it a wholesome and healthy treat.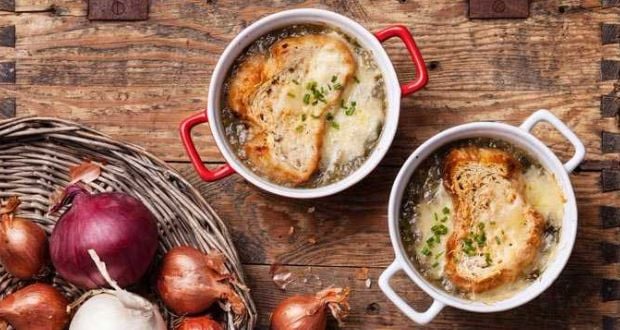 Cheese can add amazing flavour to your soup
4. Sandwiches You saw this coming, didn't you? We possibly cannot count the number of times a sandwich came in handy to save us from those midnight hunger pangs or on busy weekday mornings. Thank you, dear cheese,for making our sandwiches awesome since forever!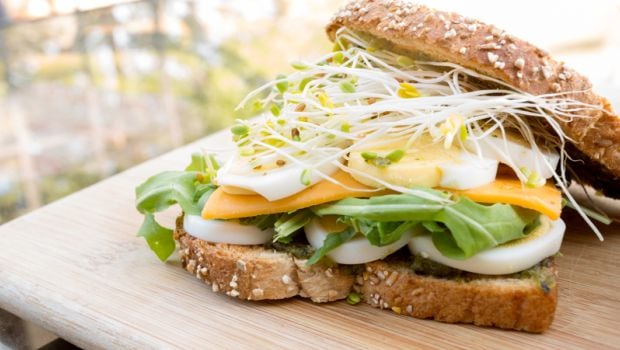 5. ParathasHere's the trick to making your fussy eater finish his/her paratha in no time. Spread some cheese evenly on the top of any paratha, stuffed or plain you can throw in some veggies of your choice and masalas too. Roll it up and eat.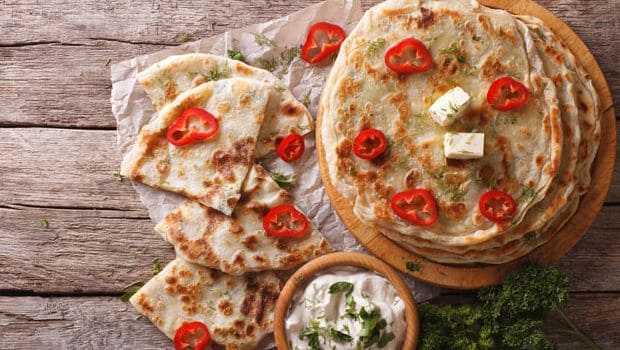 Things to keep in mind
1. Make sure you pick the low fat or non-fat variety of cheese. The amount of calories you intake has a lot to do with the variety of cheese you are picking. About 30 grams of whole-milk mozzarella has 6.4 g of fat and 85 calories; the same-size serving of nonfat mozzarella has no fat and only 40 calories.
2. Maintain portion control: Anything in excess is bad. Make sure you exercise portion control with your cheese intake too- else you'll end up doing more harm than good.
3. Understand the various kinds of cheese. Not all cheese varieties are the same. The many different types vary not only in taste and texture but also in calorie content. Nutritionists advise that soft cheeses (like brie, feta, provolone and mozzarella) have fewer calories per serving than hard cheeses, because the water content is greater.
Keep these points in mind and include a judicious amount of cheese in your diet already.
About Sushmita SenguptaSharing a strong penchant for food, Sushmita loves all things good, cheesy and greasy. Her other favourite pastime activities other than discussing food includes, reading, watching movies and binge-watching TV shows.