Winters can sometime be really mean, but we can always fight it with the power of certain ancient foods. Indian cuisine has some time-tested recipes that have proven to be effective against the harsh cold climate by keeping us warm and healthy from within. Punjab households boast of their panjiris that have helped them brave the chilli winds in the north Indian area where the temperatures dip really low in peak winters. Panjiri (also called pinni) is a simple sweet snack that is often made in bulk at the start of winters and enjoyed all through the season, as they have quite a long shelf life.

Panjiri is made with whole wheat flour, combined with other healthy foods like ghee, dry fruits and edible gum. Panjiri is known to generate heat in the body and fuel us with loads of energy. In fact, panjiri is also said to help soothe sore muscles, lubricate joints and reduce body aches. You would have known lactating mothers consuming a lot of pinni because this snack may stimulate breast milk flow and also help the women regain strength after delivery. And most of all, panjiri is known to boost immunity and prevent cold, cough and other health issues we commonly face in this weather.

After reading all this, you won't need more convincing to gorge on the delicious panjiri. To make it all even more interesting, we are sharing with you different panjiri recipes that you can try and enjoy while the winter season lasts.
Here Are 5 Panjiri (Pinni) Recipes You Must Try Before Winter Ends:

1. Atte Ki Pinni
This is the most basic panjiri recipe, and if you have never made one before, you can start by trying this easy recipe with whole wheat flour, milk, sugar and nuts. Click here for the full recipe.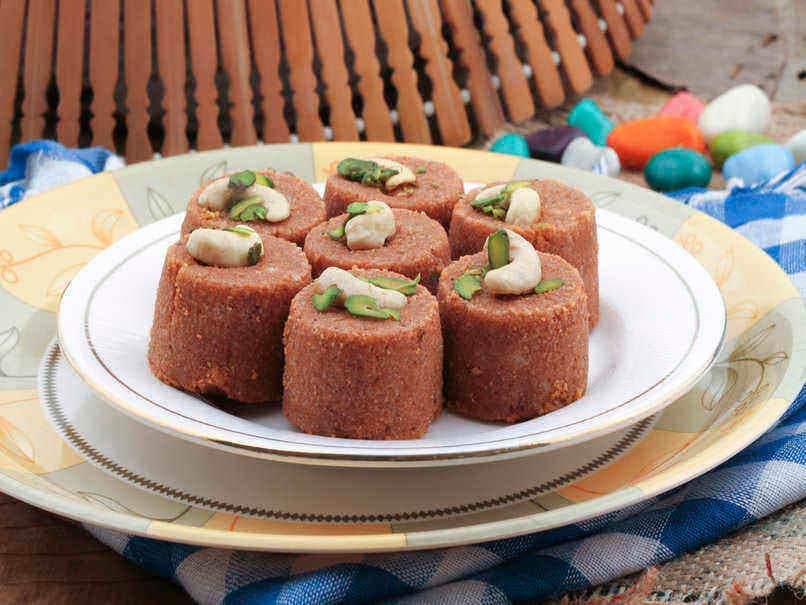 2. Atta Aur Makhana Pinni
This pinni adds in the goodness of our beloved makhanas, along with dried melon seeds, and some new spices like ajwain and carom seeds. Click here for the full recipe.

3. Flour-Less Pinni
This unique panjiri is made without the usual whole wheat flour. Instead, it is made with an electrifying combination of almonds, lotus seeds, grated coconut and chironji, all which are sweetened with powdered sugar. Click here for the full recipe.

4. Almond & Sesame Pinni

What flour is combined with semolina (sooji), roasted almonds, white sesame powder, and also some besan flour. The pinni is decorated with roasted sesame seeds and then served. Click here for the full recipe.
5. Dhaniya Panjiri

This extraordinary panjiri is usually served as Prasad. It is made with coriander seed powder, powdered sugar, ghee, chopped almonds, raisins, cashew nuts and mishri.
Click here for the full recipe.
Enjoy the beautiful winter season with these amazing panjiri recipes.
About Neha GroverLove for reading roused her writing instincts. Neha is guilty of having a deep-set fixation with anything caffeinated. When she is not pouring out her nest of thoughts onto the screen, you can see her reading while sipping on coffee.