Story Progress
Back to home
Panjiri Recipe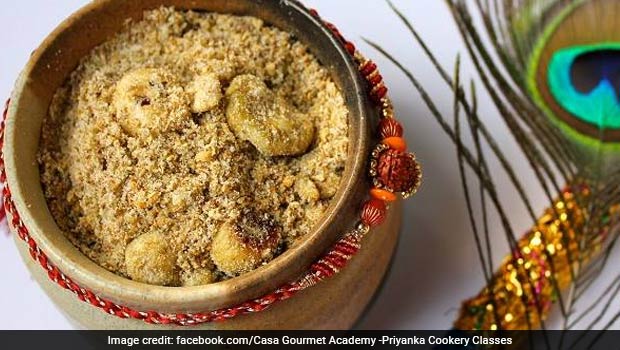 How to make Panjiri
About Panjiri Recipe: The most popular festive delicacy here's an easy and quick Panjiri recipe. A delicious, traditional recipe, without which an Indian festival or puja is quite incomplete. Panjiri is a dry, sweet delicacy made with flour cooked with dry fruits, makhanas and gond (gum crystals). This is one puja prasad that is loved by kids and adults alike. You can prepare this as an offering for pujas on festivals such as Janmashtami.

Ingredients of Panjiri
1/2 Kg atta (whole wheat flour)
1/2 kg ghee
200 gms chaar magaz (dried melon, water-melon, pumpkin seeds)
100 gms almonds
1 tbsp ajwain (thymol/carom seeds)
1/2 tbsp sonth (dried ginger powder)
50 gms makhana (dried lotus seeds)
1 kg sugar or boora, powdered
100 gms gond (edible gum crystals)
1.
Fry the gond in the ghee, first over high and then over low heat, till cooked through (it puffs up, and when cooked through, you can cut through it).
2.
Remove with a slotted spoon, and grind in a blender, very fine.
3.
In the same ghee, fry the makahanas till brown, remove and fry almonds and then the magaz.
4.
Roast the atta and ajwain in the remaindered ghee till a light brown (over low heat).
5.
Remove from heat, mix in the almonds, magaz, sonth, makahana and gond and leave to cool.
6.
When cool, mix in the sugar and serve or store.