When thinking of a light, delicious and quick meal, salad is probably the first thing that comes to mind. Bursting with healthy properties, salads are made using super healthy ingredients. For instance, soya, tofu, leafy greens, meat, chicken and more. If you are someone who also likes to experiment with salads, we have something for you. Something that may 'wow' you with its exquisite flavours and taste. Here we bring you a list of 5 pasta salad recipes that are not just nutritious but super delicious to have. Be it for a light lunch or dinner, you can have them anytime. So, without further ado, let's learn how to make them at home.


Also Read: 15 Best Salad Recipes | Easy Salad Recipes | Healthy Recipes
Here're 5 Pasta Salad Recipes You Must Try:
1. Chicken Caesar Pasta Salad - Our Recommendation
If you happen to be a Caesar salad lover who is always in quest of the best Caesar salads, then we've got the right recipe for you. Here we bring you the all-time favourite Caesar Salad recipe that gets more wholesome with penne pasta being tossed in it. Find the complete recipe here.
2. Fusilli, Black Olive and Feta Pasta Salad
Next up, we bring you a simple yet very lip-smacking recipe made with the goodness of black olives and tangy cherry tomatoes, tossed up with fusilli and feta cheese, and further dressed in balsamic vinegar. Wondering how to go about it? Find the recipe here.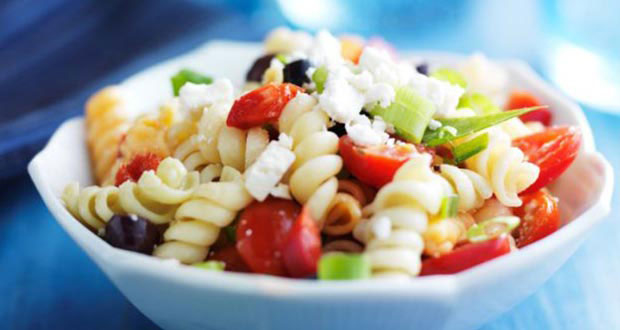 3. Peppered Pasta Salad
The easiest of all, this peppered pasta recipe is very easy to make and makes for a great evening meal. Chill and serve it with croutons and herbs. Click here to know the complete recipe.
4. Colourful Pasta Salad
Last but not the least, this incredibly easy pasta salad recipe can be a showstopper at any event. Tip in some fresh herbs like parsley and basil for some added flavour, or a dollop of fresh and thick cream for some indulgence; the choice is yours! Find the recipe here.
5. White Pasta Salad
Love white sauce pasta? White pasta salad is a must-try! In this recipe, smooth pasta ribbons are tossed in creamy and luscious white gravy. Ps: you can use any type of pasta. Read the recipe here.


Now that you know how to make all these recipes, try them out and let us know how you all liked them in the comments below. For more such recipes, stay tuned!