Story Progress
Back to home
Peppered Pasta Salad Recipe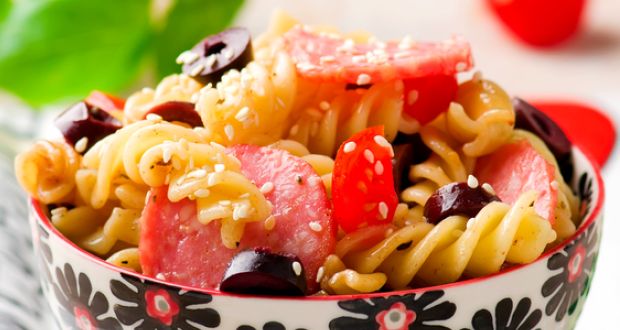 How to make Peppered Pasta Salad
A cheesy pasta salad with a tangy dressing. A great crowd pleaser!

Ingredients of Peppered Pasta Salad
1/2 Kg pasta, boiled
2 onions, sliced
2 tbsp green peppercorns
250 gms cherry tomatoes (halved)
100 gms cheese (cubed)
For the dressing:
5 tbsp oil
2 tbsp tomato juice
3 tbsp lemon juice
1 lime rind, grated
1 tsp garlic paste
3 tbsp basil, shredded
1 tbsp mint leaves, shredded
2-3 nasturtium leaves, shredded
Salt and pepper
Garnish with:
Bread croutons
herbs, chopped
1.
Combine pasta with remaining salad ingredients.
2.
Whisk together all the items for the dressing.
4.
Season again if required.
5.
Chill and serve garnished with croutons and herbs.