Greens are not the most popular fresh foods around, but they are one of the most nutritious ones. They help us load up on essential vitamins, minerals and other micro-nutrients. Methi, Sarson, Kadam and Bathua are greens we all have grown up with. Green leafy vegetables, or GLV as they are known as, are an important part of a balanced diet. They are nutrient dense and contribute immensely to our health. Nutritionists and mothers keep insisting on their importance. Let's look at some new tastes that have been around for centuries but you may have not explored them yet.1. Malabar SpinachMalabar spinach, basale soppu, vine spinach or climbing spinach are some common names this lesser known green is known by. Found in the Malabar region kitchen gardens, these heart-shaped leaves have a mild flavour, are succulent with a mucilaginous texture. High in vitamin C, vitamin A, iron, calcium, soluble fibre and antioxidants, these are nutrient dense and low in calories. They also provide more proteins per calories. They are used in many cuisines from Karnataka and Bengal to Orissa and Andhra Pradesh.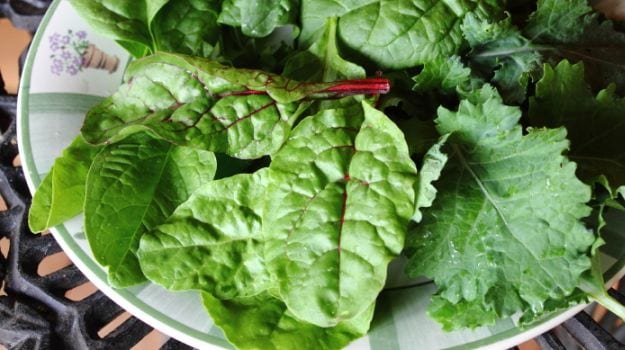 Malabar Spinach provide more proteins per calories
2. Purslane
Purslane is also known as verdolaga, pigweed, little hogweed or red root. This plant has red stems with green leaves and its flowers are bright yellow in colour. It is known as a weed but its nutritional value has brought it into the spotlight. It contains alpha-linolenic acid - one of the most sought after omega-3 fats and eicosapentaenoic acid (EPA) mostly found in fish. The pigments that colour the stems red give a slightly yellowish cast to the leaves and they act as potent antioxidants. Purslane can be eaten raw, or cooked as a vegetable.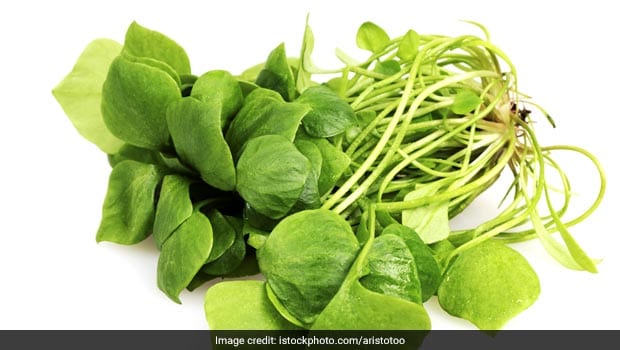 Purslane is known as a hog -'weed' but its nutritional value has brought it into the spotlight
3. Gotu KolaGotu Kola or Asiatic Pennywort is a popular green leafy vegetable used in Assamese cuisine. It is a herbaceous, frost-tender perennial plant. Used as a vegetable in Myanmar, Sinhalese and Indonesian kitchens, this creeper plant is also found in the South Indian diet. Traditional medicine practises use it for the treatment of varicose veins, chronic venous insufficiency, psoriasis and minor wounds. Ayurveda classifies it in "Carakashimta" and it is attributed with rejuvenating properties. Nutritionally, it contains vitamins B and C, proteins, important minerals, and some other phytonutrients such as flavonoids, volatile oils, tannins, and polyphenol. Scientific studies have shown it to be an anti-diabetic. It also helps heal wounds, has antimicrobial properties, enhances memory, is a potent antioxidant, and is neuroprotective.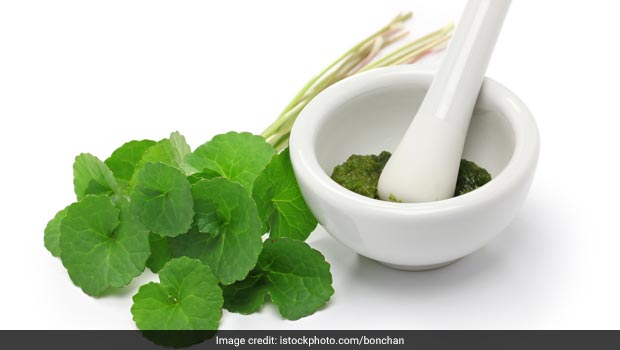 Ayurveda classifies Gotu Kola in "Carakashimta" and it is attributed with rejuvenating properties
4. Dhekia XakDhekia xak or fiddle fern is an Assamese delicacy available for a short time during the monsoons. Grown wild along river banks, these curled ferns are used for making curries or eaten dry. They have a "meaty" texture and a delicious tangy flavour. A rich source of iron, Omega-3 and Omega -6 PUFA, they are low in sodium and a good source of potassium. They also provide fibre in our diet.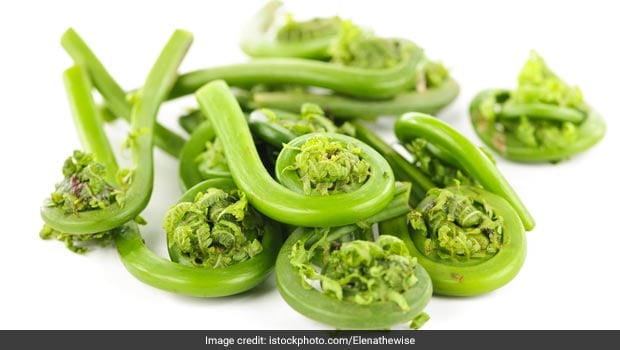 Grown wild along river banks, these curled ferns are used for making curries or eaten dry
5. Colocassia leavesColocassia leaves or arbi leaves are very popular in most parts of the country. There is a long list of preparations that it is used for like Patra in Gujarat, Eromba - a Meitei side dish from Manipur, Partode in Karnataka and the Kesa or Kesuvina Palya eaten with Akki roti in the Andhra region. Rich in Vitamin A and C, it is also a good source of iron, and folate. Being a leaf, it adds a good amount of fibre to your meals.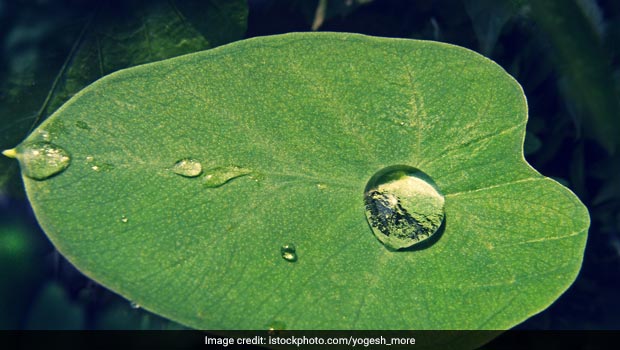 Rich in Vitamin A and C,
Colocassia
leaves is also a good source of
iron,
and folate
6. Moringa
Moringa
is a hardy tree of the tropics. Its seed pods-drumsticks, flowers and leaves are all edible. It is often called the "Miracle tree" as it is an effective remedy for malnutrition. Moringa leaves can easily be labelled as superfoods and with good reason. The leaves are a rich source of minerals, vitamins, and phytochemicals that are attributed with powerful antioxidant, anti-cancer, anti-inflammatory, anti-diabetic and anti-microbial properties. In an article published in the journal of Food Science and Human Wellness, moringa is said to provide "7 times more vitamin C than oranges, 10 times more vitamin A than carrots, 17 times more calcium than milk, 9 times more protein than yoghurt, 15 times more potassium than bananas and 25 times more iron than spinach". Moringa leaves can be eaten as a cooked vegetable, added to dals and curries, or brewed as tea.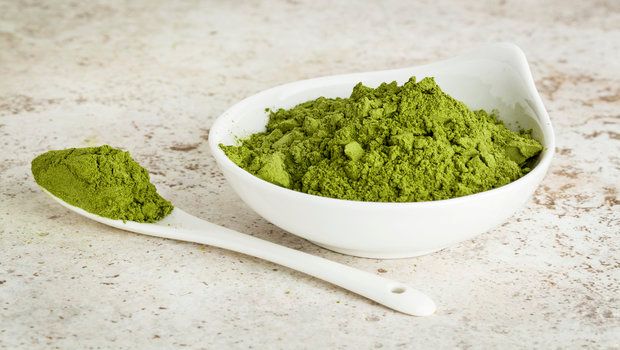 Moringa
is often called the "Miracle tree" as it is an effective remedy for malnutrition

7. Bichhu BootiBichhu Booti or stinging nettle is a plant that grows wild across the Himalayan range. It is attributed with many health benefits and is nutrient-rich. Loaded with carotenoids, Vitamin A and fibre, it adds very little calories and a lot of health benefits to your meal. It is supposed to have ingredients that may decrease inflammation and increase urine output. Kandalee ka saag is a common dish available in Uttrakhand and is made with Bichhu Booti.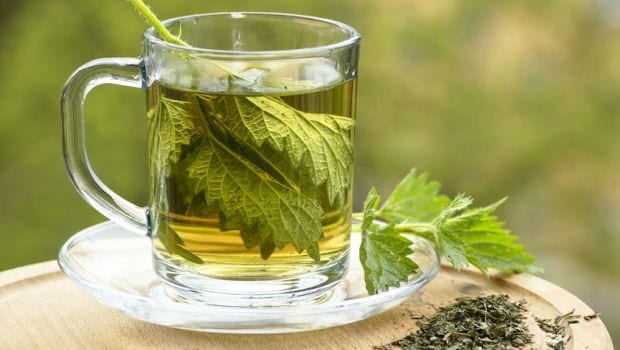 Bichhu Booti is attributed
with
many health benefits and is nutrient-rich

8. BharangiBharangi is a plant widely found on the Western Ghats during the monsoon season. It is an important plant for the traditional medicine practitioners across the world. The leaves are rich in flavonoids and phenolic acids. They are used in Ayurveda to stimulate appetite.These are a few wild plants which are used as food. While researching I found about 50-60 of them listed across the country, some of them are not even available in the markets and only the older generations are aware of them. They are nutritious and easy to grow, and now foodies are rediscovering these gems of nature.
Disclaimer:
The opinions expressed within this article are the personal opinions of the author. NDTV is not responsible for the accuracy, completeness, suitability, or validity of any information on this article. All information is provided on an as-is basis. The information, facts or opinions appearing in the article do not reflect the views of NDTV and NDTV does not assume any responsibility or liability for the same.