A Feast to Welcome Everyone
Sam Sifton, The New York Times | Updated: July 13, 2017 11:50 IST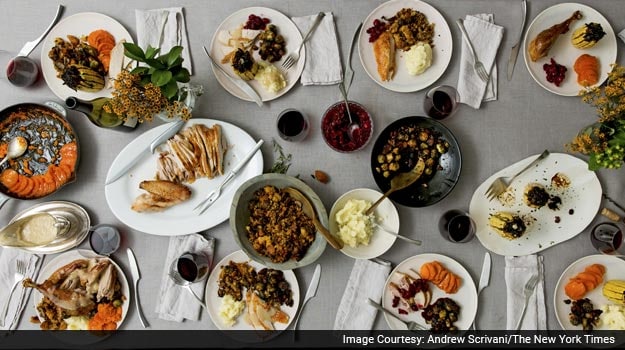 The first rule of Thanksgiving and your best guide to happiness in the coming days and weeks: radical acceptance. The holiday is coming and you know what will happen, one way or another, when the door swings open and Aunt Hildy glides in on a cloud of mall perfume. This year, embrace it with a full heart and open arms.

A mile-long security line at the airport? Life is suffering. Also impermanent and changeable: Rejoice! You'll get there eventually. A botch-up at the butcher's or the farmers market, and the turkey's too small or too big? It's OK: Breathe deep. You can make a new plan. You have just 10 plates to serve 14? Hit the big-box store, or ask your neighbors who are coming anyway to bring a few, along with the yerba mate they like to drink so much. Put a riot of flowers on the sideboard and it will more than make up for the water stains on the ceiling.

Take it all in stride: Everything is going to be just fine.

Most of all, this year, welcome everyone to the table. Do not despair that your sister just told you she doesn't eat ingredients that are white anymore. Or that quiet, twitchy Nick from work said, softly, thanks for the invitation and he eats only whole grains and conflict-free vegetables.

It's OK. We'll make it happen for all who are coming, in all their guises, with all their needs: the newly gluten-free, the lifelong vegans, the traditionalists, the gastronauts, the no-carb bacon lovers, the diabetics, the white-knuckled teetotalers and bourbon-bingeing uncles alike. We will welcome them with graciousness and good cheer, with clean napkins, low candles, a ton of food.
Do not confuse this radical acceptance with a policy of appeasement. Thanksgiving should never place particular guests in silos, eating their self-selected foods, alone in the crowd. The goal is not to create a table at which two cousins eat seitan while their father ladles gravy onto a sliced turducken and your friend from high school spoons up her freekeh. The job is not to provide an "extra" platter of vegan mashed potatoes for this one and his girlfriend, and a gluten-free pie for someone else, to sit beside the four you made with flour, leaf lard and apples scented with bacon fat.

Americans should not bowl alone.

Instead, we should take this year's Thanksgiving to celebrate and share the diversity and deliciousness of our diets and cultures, our interests and needs, together. And give thanks for a nation whose bounty allows so many (yet not enough) to be fed so well.

Thanksgiving is the ideal meal at which to do so. From its very beginning in 1621, the notion of the feast was to gather many in the interest of sharing what we had and what we liked: some sea ducks, clams, a few gourds and piles of corn, the five deer that the Wampanoag harvested on the way to the party.

We can do that again, with hearty fall vegetables and crisp fruit softened in the oven, turkeys and grains and whatever we need to satisfy everyone, no matter their preferences or idiosyncrasies. We can cook it together this year: Thanksgiving for all.

Yes, there will be a turkey and probably there ought to be a turkey. Turkeys are central to how many of us view the feast. This year's turkey can be the very best you have ever made — whether you cook it whole or in parts, after brining or not brining, in the heat of an oven, in a caldron of searing oil, in a smoker, on a grill.

But there need not be simply turkey. You could stuff a squash and roast it in a similar manner, with a similarly spectacular result — its interior could be gluten-free, if you like, with no diminution of flavor for anyone who tastes its flesh. There can be potatoes treated with the respect generally accorded roasts, accompanied by relishes, gravies, dressings, salads, pies. And there will be grains raised high, as if their sole purpose was to excite the palate and provide too much to eat before the Packers stride onto Lambeau Field.

That is where we start this Thanksgiving, in 2015. This issue of Food — as well as our meal-planning tool at nytcooking.com — has been designed to help you build a feast tailored to include all of your guests, whether you're entertaining a crowd or an intimate few; whether they're omnivores or careful, deliberate, political eaters; whether they're traditionalists or risk-takers looking for sous-vide beets and carrots to match.

We stand ready to assist inexperienced and seasoned cooks alike, strong planners devising long-term game plans and seat-of-the-pants intuitivists who won't begin their cooking until the late-morning hours of Nov. 26.

There is no more welcoming, inclusive holiday on the U.S. calendar than Thanksgiving.

Therefore, let us keep the feast.


© 2015 New York Times News Service