Photo Credit:The Washington PostFor Zach Lester, co-owner of Tree and Leaf Farm in Unionville, Virginia, farmers markets have traditionally been a gathering of the tribe as much as a collection of freshly harvested fruits and vegetables. They've been a place where true believers could make their weekly investment in the future of local and sustainable agriculture.
But in recent years, Lester has noticed a shift in the markets, especially at the Dupont Circle FreshFarm Market in Washington, District of Columbia, where he once could expect to generate $200,000 or more a year in gross sales. "The customers have changed," says Lester, who runs Tree and Leaf with his wife, Georgia O'Neal. "A lot of people that walk through markets are not shopping. They're there to meet. They're there to socialize."
They're there to eat and drink, not shop for ingredients.
These new farmers market visitors tend to be young. They arrive for a bite or some booze, maybe a pizza at Red Zebra or a bottle of gin from One Eight Distilling. They're "shopping with the eyes," says Lester, "and they don't care about the season."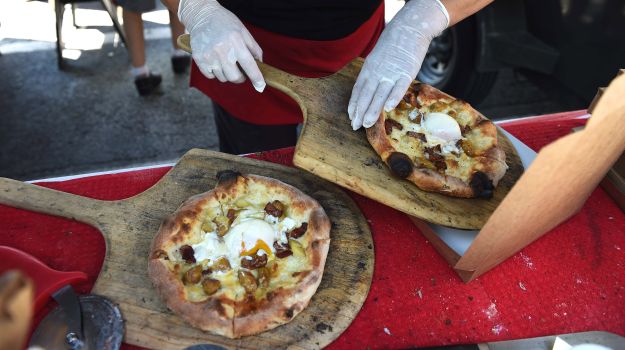 Photo Credit:The Washington PostThe change in market demographics, Lester says, has affected Tree and Leaf's annual Dupont market sales, which have dropped by as much as $50,000 compared with his peak years in the late 2000s and early 2010s. Other farmers share similar tales: Heinz Thomet, co-owner of Next Step Produce in Southern Maryland, says his sales at Dupont have dipped as much as 50 percent from their peak. Hana Newcomb, co-owner and manager of Potomac Vegetable Farms in Virginia, says sales have dropped 30 percent in recent years at its farmers market stands, including ones in Takoma Park, Maryland, and Arlington, Virginia.
The decline in sales is, arguably, one result of the contemporary farmers market, which has evolved to meet the needs of a new generation of shoppers who view these outdoor markets as more a lifestyle choice than an opportunity to support local agriculture.
"Consumer and purchasing behaviors are changing, evolving, and Dupont is sort of the leader in many ways of those changes," says Mike Koch, executive director of FreshFarm Markets and a cheese vendor himself.
When the Dupont Circle market opened in 1997, Koch says, it practically had the organic produce market all to itself. It was a boon to farmers and home cooks alike. But those days are gone. Farmers markets now face stiff competition from bricks-and-mortar retailers such as Glen's Garden Market and Whole Foods Market, and from online delivery services such as Washington's Green Grocer and AmazonFresh. Farmers markets are even competing with each other: The U.S. Department of Agriculture's national directory lists 8,553 farmers markets, almost double the 4,385 markets in 2006.
Such shifts in the marketplace have forced farmers markets to become agile to meet the new demands. It seems to be paying off for FreshFarm: Gross reported sales from January to May are up 25 percent for its 13 markets compared with 2015, although Koch says "overall produce growers [sales] are flat, some up and some down."
Chris Curtis, executive director of the Neighborhood Farmers Market Alliance in Seattle, notes that her region teems with people who work at technology and Internet companies, including Microsoft and Amazon. They have disposable income, and they like good food. They also don't cook much. The alliance's seven markets cater to those shoppers with artisan foods and hot prepared meals.
Nonetheless, "it's not our goal to turn them into food truck rodeos," Curtis says about her markets. "Our goal is still to support local farmers." Koch with FreshFarm Markets echoes the sentiment: Part of the nonprofit group's mission, he points out, is to create economic opportunities for local farmers.
In Seattle, that support might manifest itself in regular cooking demonstrations, teaching young techies basic recipes that require only a few ingredients. In Washington, support for farmers comes in numerous forms. FreshFarm, for example, has money to help prepare up to 25 farmers for Good Agricultural Practices (GAP) certification from the USDA. It's a food-safety program that, once completed, allows small producers to sell wholesale fruits and vegetables to major retailers or to restaurant chains such as Sweetgreen.
But market managers say farmers must also help themselves if they want to survive and thrive in this new era. It's not enough to simply show up at a market and expect consumers to buy all your gorgeous, freshly harvested stone fruits and greens. Farmers must be attuned to consumer demand and be better marketers and shopkeepers, even at their makeshift outdoor stands.
Newcomb with Potomac Vegetable Farms has witnessed firsthand what good marketing can do. In 2014, Stacey Carlberg and Casey Gustowarow were working as managers of Potomac's Loudoun County, Virginia, farm. (There is a second farm in Vienna, Virginia.) The married couple, both in their 30s, threw themselves into pushing the farmers market stand on Saturdays in Arlington. Their techniques were not complicated: They made sure that the stand was colorful and well stocked, that signs were informative and that there were friendly people to sell the produce.
With Carlberg and Gustowarow leading the way, Potomac's Arlington stand enjoyed sales of between $5,000 and $6,000 each Saturday, Newcomb says. Since their departure last year, Potomac's best day has been around $3,000.
Carlberg and Gustowarow are now at the Farm at Sunnyside, in Rappahannock County, Virginia, where they have applied the same marketing techniques to that farm's organic produce. Last year, in their first season with Sunnyside, the pair increased sales by a third, says Gustowarow.
"It's not that it was a fluke last year," Gustowarow adds. "Our sales have increased at markets from even last year."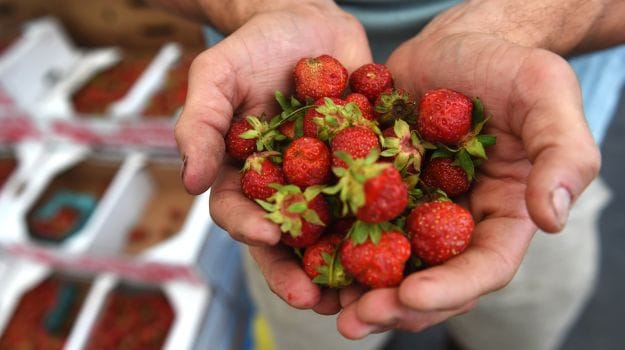 Photo Credit:The Washington Post
Other farmers have found new avenues to generate income. About two years ago, Toigo Orchards in Shippensburg, Pennsylvania, opened a five-acre organic greenhouse with financial support from Whole Foods. The greenhouse allows Toigo to, as they say in the farming business, "extend the season" and grow tomatoes, eggplants and peppers during colder months. Whole Foods sells 80 percent or more of what Toigo grows in the greenhouse, says owner Mark Toigo.
Some of those greenhouse vegetables end up at farmers markets, and that can be a source of irritation to farmers who fiercely believe in seasonal agriculture. Growing tomatoes in a greenhouse, says Next Step's Thomet, requires enormous amounts of energy to keep temperatures in the necessary range during chilly nights. And, he adds, all those greenhouse tomatoes at market lower the value of his summer field tomatoes, which historically have been cash cows.
"Tomatoes in April," Thomet says matter-of-factly, "are environmental suicide."
Counters Toigo: "Farming is extremely difficult, and people talk about sustainability in many ways. . . . Sustainability is also the ability to be here next year and do what you're doing to make a living."
With their revenues at farmers markets declining, Lester and Thomet are actively thinking about their survival. They've both looked closely at GAP certification so they could sell wholesale produce to large retailers and restaurant chains, but both men are reluctant to take that step, largely because of costs. A GAP audit could reveal that their farms would need upgraded washing, packing or irrigation systems in order to become certified. They would definitely need more labor, possibly including someone just to handle the necessary record keeping.
"It sounds like a good plan, but to me it doesn't sound feasible," Lester says about GAP certification. "I could be wrong."
Thomet is eyeing the restaurant industry as a major source of income. People dine out multiple times a week, he figures, so it makes sense to sell local produce to chefs who promote a farm-to-table philosophy. Next Step already sells to Woodberry Kitchen in Baltimore and the Dabney in D.C., both run by chefs deeply committed to Mid-Atlantic ingredients.
"I think that's the next hope," Thomet says about the chef community.
Still, many farmers continue to believe in the markets that first gave them a direct - and profitable - pipeline to consumers. They just don't believe they can rely on farmers markets anymore to generate all their revenue.
"I'm bullish on them being part of the business plan," says Newcomb with Potomac Vegetable Farms. "But I think a diversified market is the only way that farmers are going to make it."
(c) 2016, The Washington Post
(This story has not been edited by NDTV staff and is auto-generated from a syndicated feed.)