A Glaze That Can Make Tofu Taste Like The Holidays
Joe Yonan, The Washington Post | Updated: December 20, 2016 14:25 IST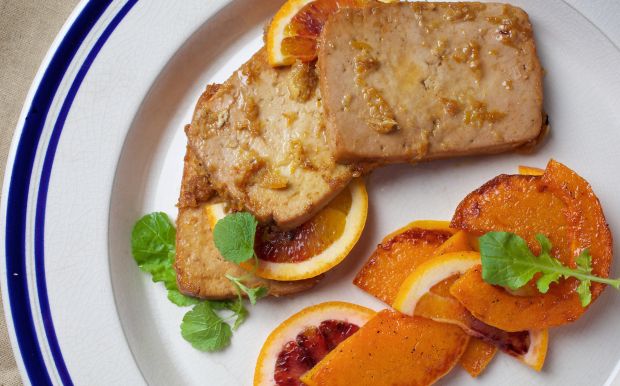 Blood Orange Glazed Tofu. CREDIT: Photo by Deb Lindsey for The Washington Post.

I can't say I miss ham. But there's one aspect of holiday ham, in all its retro glory, that I do miss: that sticky-sweet glaze. Just the thought of it makes me want to put on an ugly Christmas sweater and turn on the Bing Crosby.

Thankfully, there are plenty of vegetarian items to which you can apply such a glaze just as festively, but the most hamlike would have to be tofu. Specifically, extra-firm tofu, which turns extra-extra-firm when you bake it in a marinade that becomes a glaze.

That's what Isa Chandra Moskowitz calls for in her wonderful new book, "The Superfun Times Vegan Holiday Cookbook" (Little Brown, 2016). Moskowitz is the OG vegan author behind the Post Punk Kitchen blog and such books as "Isa Does It, "Veganomicon," "Vegan With a Vengeance" and more (some of them with co-author Terry Hope Romero). She takes to the holidays with gusto, organizing her book from New Year's through Valentine's Day, Cinco de Mayo, Rosh Hashanah, Thanksgiving and Christmas, with many more in between.

She presents Blood Orange Glazed Tofu in the Christmas chapter, promising "Technicolor" drama and sweet, "zingy" flavor. Sold. The marinade/glaze is a cinch to make - the most time-consuming part is peeling and mincing 3 tablespoons' worth of ginger - and then into the oven the planks of tofu go. I don't know if it was because the blood oranges I used weren't as ruby-red inside as they often are, but the color of my finished dish was significantly more muted than Technicolor.
The flavor, on the other hand, was as bright - and holiday-appropriate - as could be.

---

Blood Orange Glazed Tofu
8 servings

This is sweet and bright, and perfect for the holidays. Serve with mashed sweet potatoes, roasted squash, risotto or the like.

MAKE AHEAD: The tofu needs to marinate for at least 1 hour at room temperature; or cover and refrigerate it up to overnight.

Adapted from Isa Chandra Moskowitz's "The Superfun Times Vegan Holiday Cookbook" (Little, Brown and Co., 2016).

Ingredients:
Two 14-ounce packages extra-firm tofu, drained
2 teaspoons olive oil, plus more for greasing the dish
3 tablespoons grated, peeled fresh ginger root (from a 4-inch piece)
4 cloves garlic, finely chopped
1 heaping tablespoon grated blood orange zest and 1/2 cup blood orange juice, plus blood orange slices, for garnish (from 2 to 3 oranges)
2 tablespoons maple syrup
4 teaspoons low-sodium tamari (may substitute low-sodium soy sauce)

Steps:
1. Wrap each block of tofu in paper towels and place on a plate. Place a second plate on top and put a large unopened can of tomatoes, beans or another heavy object on top; let the tofu exude liquid for about 30 minutes. Unwrap, and pat the tofu dry with paper towels. (Alternatively, you can set the drained and wrapped tofu blocks on a microwave-safe plate and microwave on HIGH for 30 seconds. Remove the paper towels, rewrap the tofu with fresh ones, and microwave on HIGH for another 30 seconds. Repeat one or two more times, until the tofu is noticeably firmer.)
2. Lightly grease a 9-by-13-inch baking dish with oil.
3. Whisk together the ginger, garlic, blood orange zest and juice, the maple syrup, tamari and the 2 teaspoons of oil in a medium bowl until well combined. Pour into the baking dish; this is your marinade.
Cut each block of tofu crosswise into eight equal slices. Place them in the marinade, turning them to coat. Let them sit at room temperature for 1 hour, turning the slices again halfway through. (Or cover them with plastic wrap and marinate in the refrigerator up to overnight.)
4. Preheat the oven to 375 degrees.
5. Cover the baking dish with aluminum foil. Bake for 20 minutes, then remove the foil and turn the tofu pieces over. Bake uncovered for 15 minutes, until most of the liquid has been absorbed and has thickened into a glaze.
6. To give the tofu more chewiness, broil the slices for 2 minutes on each side.
7. Serve hot, garnished with the blood orange slices.

Nutrition | Per serving: 170 calories, 13 g protein, 10 g carbohydrates, 8 g fat, 2 g saturated fat, 0 mg cholesterol, 125 mg sodium, 1 g dietary fiber, 5 g sugar

© 2016, The Washington Post

(This story has not been edited by NDTV staff and is auto-generated from a syndicated feed.)