If you are remotely active or actively fit, then you must have come across the word detox. Detoxing is fast becoming a new trend in the health and fitness world. But before you jump onto the trendy bandwagon and try your hand at any detox drink, it is important that you know what it means to detox and why it is essential, especially in today's time when we're not sure about what we are eating.
What is detox?
According to 'The Detox Cookbook and Health Plan by Maggie Pannell', "Detoxing is an ancient therapy that has been practiced in various forms for hundred years. It is believed to cleanse the digestive system and help the body eliminate waste products and various toxins absorbed from the air, soil, water and food as well as toxic substances produced by the body itself."
Listing the benefits of doing a regular detox, the book says, "A detox programme can improve your digestion, boost your immune system and give you a renewed zest for life. Benefits may include better sleep, improved hair, nail and skin, more energy stress relief, weight loss and possibly even the reduction of cellulite."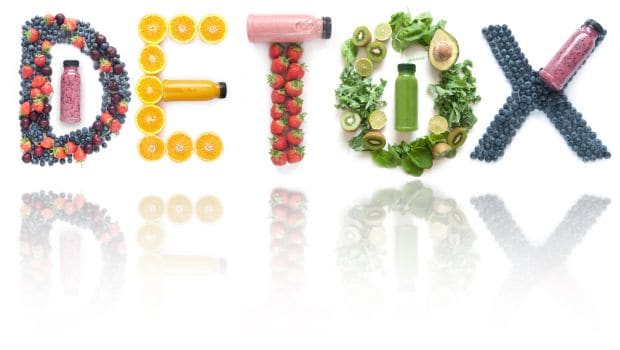 Detox is the fast growing trend in the fitness world today
You might be in a need of detox if you are struggling with these conditions:
• If you are constantly tired and lethargic
• Facing difficulty in getting a good night's
sleep
• Struggling with frequent headaches and migraine attacks
• Suffer from constipation, diarrhea,
bloating
and other tummy problems
• Facing difficulty in maintaining concentration
• Frequent anxiety, mood swings and stress
• Noticing dullness in
hair
and skin
• Facing frequent flu attacks or other minor illnesses. (Also read:
6 Wonderful Health Benefits of Detox Drinks
)
Where do we get these toxins from?
The human body has many natural pathways to allow detoxification through the liver, sweat, urine and faeces. But urbanization and exposure to pollutants, heavy metals, preservatives and pesticides has taken the toxin consumption by human beings to an all-time high. According to Maggie Pannell's book, toxins can be produced within the body and they can also enter the body from external sources such as the air we breathe, from pollutants in the atmosphere and a lot of them can be transferred to us through the food, drinks, drugs, and medicines that we consume, we can also encounter toxins through the skin from cosmetics and household products. But you don't have to worry, we've brought you the perfect orange-carrot detox drink which can help flush away all the toxins from your body and clean your stomach.
Health benefits of oranges
Oranges are loaded with vitamin C which helps in imparting a natural glow to your skin. According to the book, Healing Foods by DK Publishing House, oranges aid good digestion and have amazing alkalizing and detoxifying properties.
Health benefits of carrot
Carrots are rich in beta-carotene (from which the body makes vitamin A). They are also full of fiber and hence, aid digestion and can support your weight loss diet. Fiber helps in keeping you full for longer and prevents unnecessary hunger pangs. Carrots also fights high cholesterol. It contains a form of calcium, which is easily assimilated by the body, which can help bring down the bad cholesterol levels. (Also read:
7 Carrot Juice Benefits: Why You Need to Drink Up This Veggie
)
Health benefits of ginger
The pungent ginger root works as an excellent agent in boosting digestion. It is also a great remedy for bloating, stomach cramps and also gets your digestive juices flowing. Ginger is also known for its anti-inflammatory properties due to the presence of certain volatile oils and hence, it can ease the symptoms of cold and flu and build your immunity against them.Watch this video to learn how to blend the goodness of orange, carrot and ginger for an amazing dose of detox.
Ingredients
:- 1 large carrot
- 2 oranges
- 1/2 inch raw turmeric, crushed
- 1/2 inch ginger, crushed
- 1/2 lemon juice
Recipe:
1. Juice orange and carrot separately.
2. Pour the juices in a blender.
3. Add ginger and turmeric.
4. Blend the mixture.
5. Garnish with lemon juice.Enjoy your dose of health while you flush out all the toxins from your body and feel fresh.
About Sushmita SenguptaSharing a strong penchant for food, Sushmita loves all things good, cheesy and greasy. Her other favourite pastime activities other than discussing food includes, reading, watching movies and binge-watching TV shows.