Don't we all love treating ourselves to refreshing coolers during the summer? From lemonades and iced teas to juices, smoothies, and more, there are countless such drinks that help provide us relief from the sweltering heat. Another popular drink that most of us enjoy drinking during these months is sharbat. This desi Indian drink holds a special place in our hearts, and for all the right reasons! After all, there are so many different flavours and varieties to choose from. Adding to the list, today we bring you a classic Bengali-style sharbat recipe that is made using raw mangoes. It makes for a delicious drink to quench your thirst on a hot summer day.


Also Read: 7 Sherbet Recipes You Just Cant Miss This Summer Season
About Bengal's Popular Summer Drink - Aam Pora Sharbat:
Aam pora sharbat is a traditional summer drink from Bengal made using roasted raw mangoes. This sharbat is quite similar to the North Indian aam panna. But what sets it apart is its distinct smoky flavour. Traditionally, the raw mangoes used to make this sharbat are roasted over coal. However, roasting them over gas works equally well. This yummy sharbat offers a unique combination of smoky, sweet, and sour flavours. Wondering how to make it? Let's dive straight into the recipe!

Is Aam Pora Sharbat Healthy?
Raw mangoes, the main ingredient in this sharbat, are rich in fibre and antioxidants, making it quite healthy. The addition of jeera and black pepper further enhances its nutritional value as the spices aid in digestion. If you want to make this drink healthier, it's best to reduce the amount of sugar or swap it with honey.


Also Read: 11 Amazing Summer Beverages You Must Drink To Beat The Heat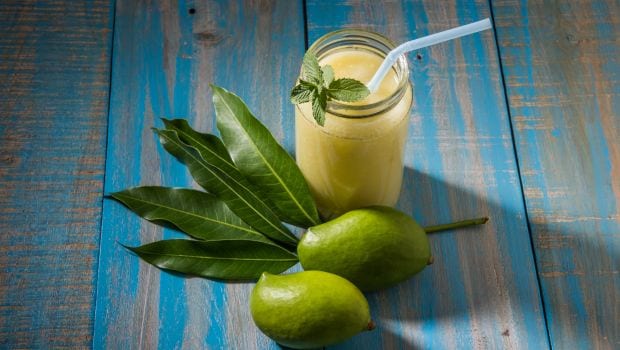 Bengali-Style Aam Pora Sharbat: How To Make Bengali-Style Aam Pora Sharbat
First, wash the mangoes nicely and pat them dry. Now, place them over a low-medium flame and roast until all the sides are charred. Once done, remove them from the heat and allow them to cool.
Then, gently remove all the peels and scrape out the softened pulp in a bowl. Next, add the roasted mango pulp, sugar, fresh mint leaves, black salt, roasted jeera powder, and black pepper to a blender and blend until smooth.
Transfer this mixture to a jug, add chilled water, and give it a nice stir. Serve it in glasses filled with ice cubes, and garnish with some more mint leaves on top. Bengali-style aam pora sharbat is ready!

Click here for the complete recipe of Bengali-style aam pora sharbat.



So, what are you waiting for? Make this delicious sharbat at home and quench your thirst the right way. If you're interested in trying more sharbat recipes, click here.