Are you looking for a way to wow people with your cooking skills without having to put in a lot of effort? Then we have something for you! The next time your friends come over, prepare fish for them and amaze them with your awesome culinary skills. People think that making fish is a tedious task, but if you have the right recipe then everything becomes easy! In fact, fish cooks faster than meats like chicken or mutton, which means you don't have to sweat in the kitchen for a long time. Therefore, you can make an easy recipe like a fish fry that can be made quickly. We have curated a list of 5 fish fry recipes that will give tasty and crispy fish in no time.


Here Are 5 Fish Fry Recipes:
1. Fish Fry
The classic way of preparing fish, this fish dish is probably the easiest fish recipe you will ever make. Fish fry needs very little preparation, just marinated the fish and then fry it!
Click here for the full recipe of Fish Fry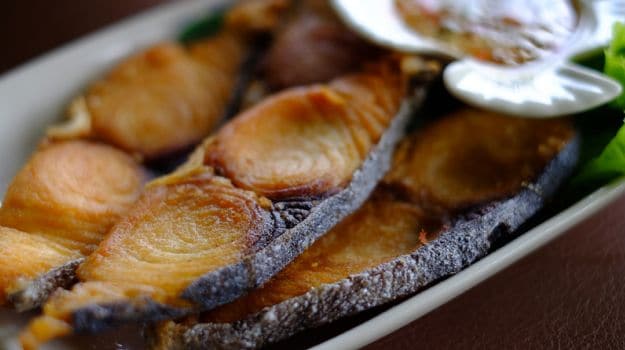 2. Rava Fish Fry
If you are looking for extra crispiness in your fish fry, then this is the recipe. Popularly, besan is used for making fish fry as that is what the recipe calls for. But people started experimenting with different flours to improve on the dish and make it better. Adding sooji makes the fish extra crispy.


Click here for the full recipe of Rava Fish Fry


3. Amritsari Fish Fry
This fish fry recipe is for the strong-willed people who eat spicy food without shedding a tear or two! Amritsari fish fry uses hot spices that make the fish taste spicy and masaledar. It uses garam masala for adding a spicy kick.


Click here for the full recipe of Amritsari Fish Fry
4. Chettinad Fish Fry
Chettinad fish fry gives an earthy and tangy flavour to the crispy fish. It is a typically South Indian style preparation that you will love. It uses spices like tamarind to give it a hint of sourness. This sourness mellows down thanks to the use of tomatoes, curry leaves, garlic and ginger and the fish results in being absolutely delicious.


Click here for the full recipe of Chettinad Fish Fry


5. Tandoori Fish Fry
Who doesn't love tandoor flavours? The smokiness of coal just enhances the meat, making it mouth-melting and delicious. That is exactly what is done with the tandoori fish fry. Marinated in yoghurt, kasuri methi, tandoori masala and more, this dish is flavourful and masaledaar.


Click here for the full recipe of Tandoori Fish Fry.