South Indian cuisine is varied, bringing to the table regional delicacies from Kerala, Tamil Nadu, Karnataka, Andhra Pradesh and Telangana. Having easy access to the southern coastline, fish makes a prominent feature in the local food and for good reasons. You can savour a lip-smacking range of fish preparations that make mealtime an extremely satisfying affair. From quick fries and masala coated fish to curries, biryani and roasts, fish is used extensively and in many ways to impress different palates.


Some of the fish that you would commonly come across include seer, pearl spot, kingfish, Indian salmon, mackerel, tuna, baby shark and sardines among others. A popular fish preparation along the southwest coastline is to marinate the fish in masalas (red chilli powder, salt, turmeric), coat with semolina crumbs, and pan fry till crisp. This can be enjoyed as a quick snack, and also to spruce up regular meals of sambhar-rice.


For a more nourishing affair, fish is made into curries using a number of spices and herbs, such as black pepper, curry leaves, fennel, red chillies, cardamom, cinnamon, bay leaves, mustard seeds and the like. Tamarind, coconut milk, kokum and tomatoes are often used as flavour enhancers.
Are you now wishing for a flavourful South Indian fish dish to make dinnertime enjoyable? Worry not, we present our best south Indian fish recipes for you to try -
This classic Malabar Fish Biryani can be devoured at all times. Enjoy the delicious taste of this ever-charming dish.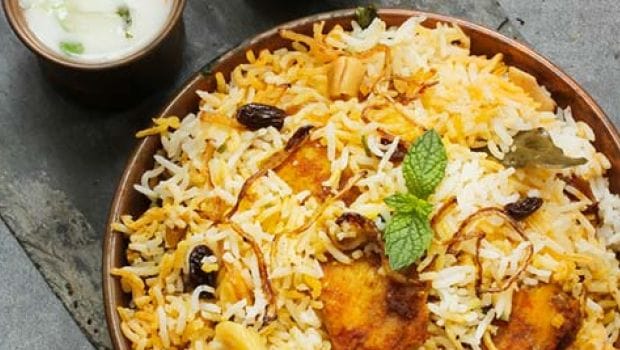 King fish or surmai wrapped in a freshly made Mangalorean masala and steamed in banana leaves.
Kerala style fish in coconut curry, flavored with green chilli, curry leaves and turmeric. Served with steamed rice.
Chapala Vepudu is a delicious fish preparation from Andhra Pradesh, South India. Sear fish marinated in masalas, deep fried and tossed with onions and lime juice.
Delicious fish stir fried in a coconut and masala paste, simmered in tamarind paste and coconut milk.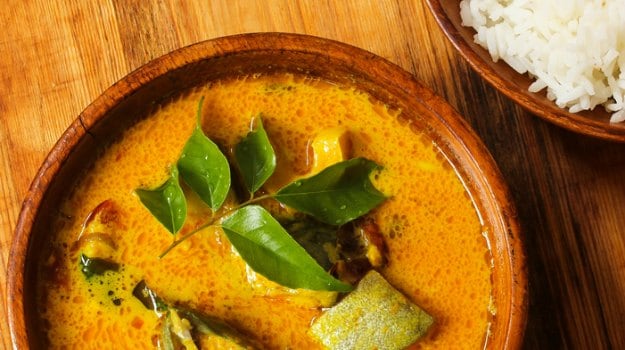 A whole fish curry cooked along with a range of spices but without a drop of oil. Team it with steamed rice for a relishing treat.
Marinated pearl spot fish wrapped up in a banana leaf and steamed till done. Serve with some steamed rice.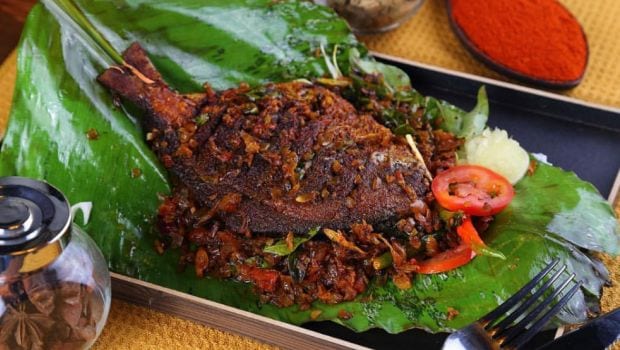 Surmai fish pieces marinated in a delectable masala and pan fried till crisp.
Marinated fish, fried and cooked in a rich gravy bursting with hot spices and mouthwatering flavours. Relish the gastronomic brilliance of this authentic Andhra fish curry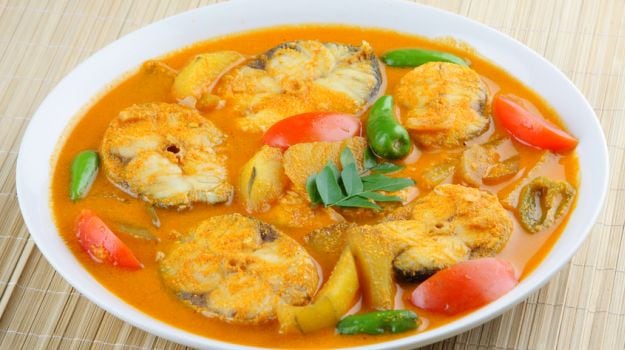 Meen Varutharacha is a fish curry from 'God's own country', Kerala. Marinated pieces of fish cooked in a gravy made with dry coconut, tamarind and red chilli paste. It's fresh, easy and quick!
A delicious fish curry that your wouldn't want to miss. Neymeen or king fish is used in the recipe to make a temting and mouth-watering curry that can be easily made at home for a festival or dinner part. Fish is cooked in a pool of tamarind water and spices that gives it a tangy, yummy taste to the dish.

Hope our list of best South Indian fish recipes has made you want to head to kitchen and try the recipes to surprise your near and dear ones. If your favourite fish recipe is not mentioned, we would love to hear it from you. Please share!