Baba Ramdev's Patanjali Instant Noodles Roped into a Controversy on FSSAI Approval
NDTV Food | Updated: July 13, 2017 10:36 IST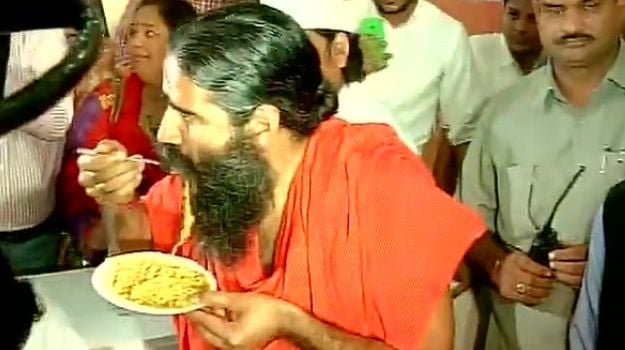 Photo Credit: Twitter/ANI

Amidst the revival of Nestle India's Maggi Noodles and the launch of Baba Ramdev's Patanjali Instant Noodles, a new controversy seems to have cropped up.

The FSSAI chairperson has been quoted saying that Patanjali atta noodles have not been approved by the food safety authority and the matter is being pursued. "For instant noodles, the companies need to take prior approval. They (Patanjali Ayurved) have not taken approval for it," said Chairperson Ashish Bahuguna. Patanjali had launched 'Atta Noodles' earlier this week in 70 gram packs priced at Rs 15, claiming to be cheaper than competitors, with an eye to take on market leader Nestle's Maggi.

"Patanjali Ayurved has approvals for other products but they don't have approval for instant noodles. As of now only 10 companies have approval for instant noodles," Bahaguna added.

Ironically, the noodle packets are flaunting the license number while the FSSAI spokesperson claims that it is not a standardised product and has been launched without their approval. If reports are to be believed, Patanjali Ayurved has not applied for approval yet. After the FSSAI approves a product, licenses are issued by the state government to manufacture them. Officials from the food safety authority allege that the approval has not been given yet the product has been launched displaying a license number which they are not aware how it was procured. A letter from the authority notifying the same has been doing the rounds on social media.

According to some sources, Patanjali Ayurved Ltd, Patanjali Food and Herbal Park has received licenses to manufacture products like fruit juices, ghee, mustard/coconut oil, salt, asafoetida, biscuit, sattu, oats, cornflakes, poha, whole wheat atta, pulses and pasta but that does not include noodles.
However, Patanjali has strongly denied these claims. "We have the license for 'pasta' in the central category from FSSAI. As per FSSAI, noodles come under the 'pasta' category. FSSAI has given us the license for relabeling it," Patanjali said in a statement.

The company further said that FSSAI has already admitted that it was no longer possible for the regulator to continue with process of product approvals, which was facilitated through an advisory in May 2013, following a Supreme Court order in August this year that upheld an order of Bombay High Court on the issue.

According to FSSAI's May 2013 advisory, food products covering a broad spectrum including "novel foods, functional foods, food supplements, irradiated foods, genetically modified foods, foods for special dietary uses or extracts or concentrates of botanicals, herbs or of animal sources" should apply for product approval. The High Court had ruled that the advisory does not have any statutory backing, but the FSSAI had approached the apex court against the verdict.



Last month, Patanjali announced a pact with Kishore Biyani-led Future Group to sell these noodles at Big Bazaar and Nilgiri's supermarkets across 240 cities. Baba Ramdev has been endorsing them as a 'healthy alternative' to snack on than the other instant noodles which are available in the market.

Baba Ramdev maintains that the company representatives are in talks with FSSAI officials to sort out the issue amicably. "Our representatives are going to the FSSAI headquarters with original copies of the selling licence and the manufacturer's license. There seems to be some miscommunication and it could be resolved by sitting together," Ramdev said.

Minister of Food Processing Industries Harsimrat Kaur Badal declined to comment, saying it's a matter "between the Ministry of Health and Baba Ramdev".

With inputs from PTI