Nearly five months ago the Food Safety and Drug Administration (FSDA) Lucknow found a few samples of
Maggi Noodles
to have lead beyond permissible limits along with the presence of
Monosodium Glutamate
(MSG). This led to many states banning the product followed by some more sampling and
testing
of Maggi Noodles samples across the nation. What followed was a nationwide
ban on Maggi Noodles
. The product was take off market and is nowhere to be seen since half a year now. This also led to the central and state level food regulating authorities crack their whip on other fast food brands as well.
Many other brands of instant noodles were tested. In the meanwhile, the apex consumer court ordered tests on 13 samples of Maggi noodles from nine batches to determine lead and Monosodium Glutamate (MSG) content. The decision was taken by a bench of the National Consumer Disputes Redressal Commission (NCDRC) in November. Later in the month of November a Nestle India spokesperson shared that, "In compliance with the orders of the High Court of Bombay, fresh samples from the newly manufactured batches will be sent for testing to the three accredited laboratories designated by the High Court. We shall commence sale only after the samples are cleared by these laboratories."
The first week this month seemed to have brought good tidings as Maggi Noodles samples got clean chit from the accredited laboratories and were deemed fit for consumption. "We have received the results from all the three NABL (National Accreditation Board for Testing Calibration Laboratories) mandated by the Bombay High Court to test newly-manufactured Maggi noodles samples," the company said in a regulatory filing with stock exchanges.
"All the samples of the Maggi noodles masala have been cleared with lead much below permissible limits," the statement said, adding this has validated their stand, maintained all along, that the noodles were and continue to be safe.
Maggi is on its way!
Nestle India today re-launched its popular Maggi noodles in India, five months after they were banned due to alleged presence of excessive lead content. Besides, the Swiss food major has partnered with online marketplace Snapdeal for the rollout.
Maggi has been re-launched in 100 towns through 300-odd distributors and will be rolled out in many more areas in the coming days
"The rollout has begun today. It has been a challenging period for the Nestle Organisation, and therefore, there is a feeling of satisfaction at bringing back Maggi noodles to the market," Nestle India said in a regulatory filing. The company said Maggi noodles will not be available in 8 states that have banned its sale.

Delighted to hand over MAGGI Noodles to consumers to whom it belongs #WelcomeBackMAGGIpic.twitter.com/Tfp1PCFBv2

— Nestlé India (@NestleIndia) November 9, 2015
Maggi is to be sold via unique "flash sale model" on e-commerce platform Snapdeal, with the online retailer seeking pre-registrations of buyers for the instant noodles brand that made a comeback today after a gap of five months. Flash sales or deal-of-the-day is an e-commerce business model in which a website offers a single product for sale for a limited period of time. Potential customers have to register to avail the deal. Snapdeal will open up registrations today evening and the sale will begin from November 12, it said in an emailed response. The eCommerce company, however, did not disclose the quantity of packets that will go on sale and said "limited stock will be available".Snapdeal seems to be celebrating the Maggi comeback quite enthusiastically on its social platform, take a look -

We're cooking something you won't be able to resist! Get ready to #WelcomeBack! pic.twitter.com/zq3kseJtUc

— Snapdeal (@snapdeal) November 9, 2015
Nestle India has also released a TV commercial announcing that the product is safe and that the trust of its loyal customers is safe with the product that is to hit the market soon.

Nestle India said all samples of Maggi Noodles Masala have been cleared by three National Accreditation Board for Testing and Calibration Laboratories-accredited labs as mandated by the Bombay High Court.
"Most states do not have a ban on sale of Maggi noodles. For states where specific directions are required, we are engaging with them," Nestle India said in a BSE filing. The company is presently manufacturing Maggi noodles at three locations - Nanjangud (Karnataka), Moga (Punjab) and Bicholim (Goa).
Nestle India has also come up with an official press release welcoming Maggi Noodles back in market and wishing one and all a Happy Dhanteras and Deepawali.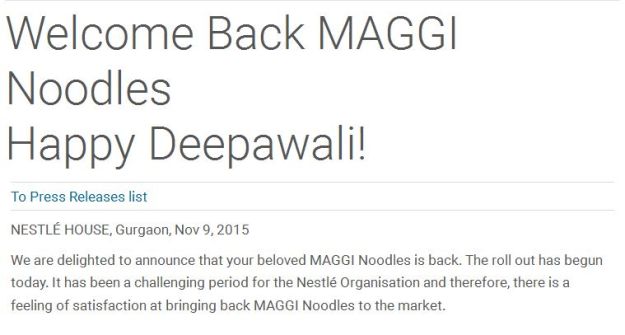 "With the commencement of sale of MAGGI Noodles Masala today, we will make our best endeavor to reach the product to our consumers at the earliest. We are in touch with our channel partners and distributors to achieve this. They are enthusiastic about the reintroduction of MAGGI Noodles and are helping us in ensuring that our beloved MAGGI Noodles are available to consumers soon. Separately, Nestlé India is pleased to partner with "Snapdeal" to roll out online offers to mark this special occasion," said the release.
(Beyond Maggi Noodles: Some of the Most Shocking Food Controversies)


Nestle India, which took a hit of Rs 450 crore, including destroying over 30,000 tonnes of the instant noodles since June when it was banned, had stated it would continue with the product's existing formula and would not change ingredients.
Reeling under the Maggi ban, Nestle India had reported 60.1 per cent decline in standalone net profit at Rs 124.20 crore for the third quarter ended September, 2015. Its net sales declined 32.12 per cent to Rs 1,736.20 crore as against Rs 2,557.80 crore in the July-September quarter a year ago. The company had reported a standalone loss of Rs 64.40 crore in the second quarter (April-June) for the first time in the last 15 years, due to the ban on Maggi. The Maggi issue had also impacted the bottomline of the
parent firm Nestle SA. The Swiss FMCG major had reported 2.5 per cent decline in its consolidated net profit at 4.51 billion Swiss Franc for the first half of 2015. Nestle said sales in Asia, Oceania and sub-Saharan Africa (AOA) markets were "overshadowed" by the issue in India.