I am obsessed with breakfasts. It is my favourite meal of the day. I like trying out different types of breakfasts and make it a point to seek out local favourites while travelling. However, I am not a morning person. When at home in Mumbai, I usually prefer to
breakfast at cafes
such as Candies or La Folie or Smoke House Deli or Salt Water Café or the Bombay Coffee House, in the suburb of Bandra where I live, and even work out of them. While I love cooking, I would never push myself to make my own breakfast in the morning.
Breakfast Stories From Vintage Mumbai
I rarely travel far for breakfast when in Mumbai, but if I was to, then I would head to South Mumbai for it. South Mumbai is the hub around which modern Mumbai was built. It has history, character, colour and life, and if I was to be a tourist in my own city, then this is where I would hang out. South Mumbai is home to many eateries which one could consider to be heritage restaurants. The age of these places could vary from anything between fifty to a hundred and fifty years old. Some are iconic, the others local favourites even if not very well known. The food here represents the food of the many immigrant communities who had come seeking their fortunes in Mumbai and the restaurants were first set up to feed them. It's usually lip-smacking and indulgent, not very expensive and is quite fresh too.The places are fairly neat and clean though they do not look very posh and most are not air-conditioned. These places are usually packed with regulars at meal times and sharing tables, if alone, is a norm. You will not get health food here so do not go in looking for
quinoa
and kale salads or cold pressed juices or
almond milk
cappuccinos or gluten free sourdough breads or tofu sausages. There are a number of new age cafes mushrooming in places such Kala Ghoda and Colaba where you could find them though. After all, Mumbai is a very accommodative city.
Here's a list of some of my favourite 'heritage' breakfast places in South Mumbai from where you could start your Mumbai explorations.
1. Colaba
Colaba is the southern tip of the city. Old Mumbai food mavens will tell you that the most legendary breakfast option here is to be found at the Olympia Restaurant, which is located opposite Leopold Cafe. This was once an Irani café. The current owners have retained the look and feel of yore in the ground floor and have run the place for around sixty years. You go there to have the
kheema
(minced goat meat curry) with
pav (soft bread buns)
and some hot milky
chai
on the side. The quality of the dish depends on the quality of the meat that day. You will know that you will have a good day when you have been served a stellar portion of
kheema
that day.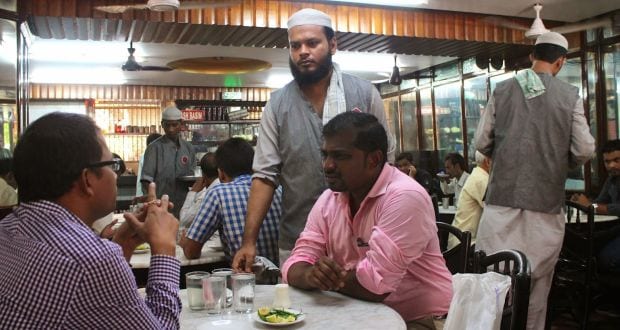 Olympia Restaurant is located opposite Leopold Cafe. This was once an Irani café. Photo Credit: Kalyan Karmakar
If vegetarian fare is what you are looking for, then Kailash Parbat at Colaba, is where you should head to. There are two of them located opposite each other in the lane after Theobroma. I have had the chhole bhatoore for lunch at one of them and the lovely jalebis at night. My food blogger friends, Alka Keswani and Jai Kumar Puri, who are Sindhi recommend Kailash Parbat as one of the most iconic places to try out a Sindhi breakfast. Of the two outlets, Kailash Parbat Hindu Hotel is the original one says Jai. Both have their share of loyalists. He says that you should try the
koki, dal pakwaan,
as well as
chaats
such as the
pakode chaat
and
samosa chaat
and, if are up to it, the
chhole bhatoore
which can make for quite a gigantic breakfast.If you want a more 'western' breakfast of sausages and eggs and coffee and toast, then Café Mondegar is the place to check out. It is not as old as Café Leopold next door but it can claim to be more of a favourite with Mumbai locals, Leopold is more the hub of the Lonely Planet lugging crowd.Colaba is also home to the one super posh breakfast experience in Mumbai that I would recommend splurging on. There is no better way to feel like royalty in Mumbai, I feel, than to go to the Sea Lounge at the Taj Mahal Palace Hotel for breakfast. Try to get the window seat as that's what makes the experience really special. There is nothing like a side order of the view of The Gateway of India along with your eggs benedict after all; and if you are lucky to have one of the more elderly wait-staff serving, you can expect to be really pampered.
2. Fort

Fort in South Mumbai was the city's original CBD (central business district). It has lost a bit of its sheen after places such as the Bandra Kurla Complex and Malad and Saki Naka developed as business hot spots. I had the good fortune of working out of a heritage office building at Fort for a few months, and since then Fort became my favourite place to eat at in Mumbai.If at Fort, you must go to the sixty-year-old Yazdani Bakery, which is down the Mahesh Restaurant Lane. Have some hot milky sugary chai at this Irani bakery, and dip freshly baked crusty brun or soft buns, sliced and then slathered liberally with
maska
(salted butter, usually Amul), into your tea. The confluence of the salt of the butter and the sugariness of the tea is as holy as it gets for food lovers. You would be likely to bump into one of the owners there and chatting with them can always give you interesting stories to dine out on in the future. Their ancestors had come to Mumbai from Iran some sixty years back and had set up this bakery.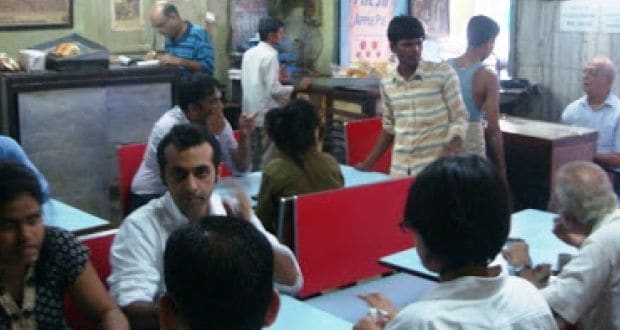 You must go to this sixty-year-old Yazdani Bakery.
Photo Credit: Kalyan Karmakar
If you want something more substantial than just bead butter and tea, then go to Café Military, which was established in 1933, for the best
kheema ghotala
that you will get in the city in my books.
Kheema ghotala
is a dish where an egg is scrambled into a
kheema
before it is served and is a specialty of Irani restaurants across the city. You should mop this up with soft bread and don't forget to have the caramel custard before leaving. This too is one of the best I have had in the city.(Also read:
The Best Irani Cafes in Mumbai
)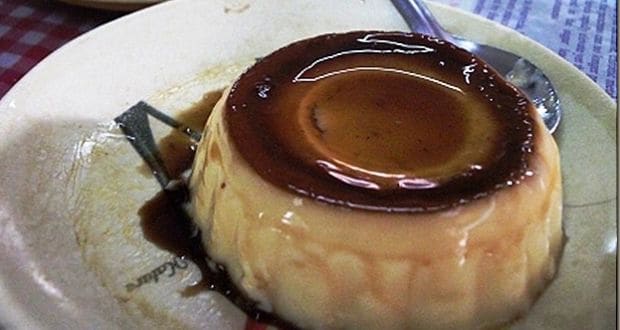 Café Military was established in 1933.
Photo Credit: Kalyan Karmakar
While Matunga is the hub for South Indian Udupi run restaurants in Mumbai, Fort is home to my favourite restaurant in this genre. I am talking of Hotel Swagath which is in the Strand Book Store Lane. This thirty-year-old place does some brilliant Udupi tiffin breakfasts featuring freshly made dosas and idlis and vadas, all served with coconut chutney and a
sambar
which is not too sweet. They serve a pretty good filter kaapi too. You can request them to not add sugar to it if you so wish.(Also read:
Where to Find the Best South Indian Food in Mumbai
)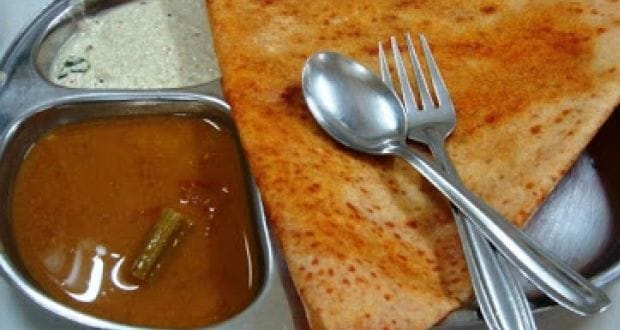 Matunga is the hub for South Indian Udupi run restaurants in Mumbai. Photo Credit: Kalyan Karmakar
Another interesting South Indian breakfast option at Fort is to be found at Hotel Deluxe. The breakfast menu there features Keralite favourites such as the egg roast which you can pair with freshly made appams or dosas too. This place is packed with Keralites who work in this area and that's the biggest stamp of approval that their food can get. I love the food here too.I had mentioned
dal pakwan,
the Sindhi breakfast of champions (it's quite a heavy dish) earlier. Well, you can also get it at Punjabi Moti Halawai at Fort too. This is a sweet shop which is located in the lane leading to Yazdani. The place was set up by a Punjabi family which had moved to Mumbai after the partition and who, through the dint of their hard work, rebuilt their lives again, serving some lovely and honest meals in the process. Do not, and I say this most seriously, do not leave the shop without having a
lassi
here. It has the power to keep you going through the day.
3. Chhatrapati Shivaji Terminus
A short walk from Fort and opposite the CST, is Mumbai's oldest running restaurant, Pancham Puriwali. The eatery was set up century and a half back by a gentleman named Pancham who had walked down to Mumbai from what is now known as Uttar Pradesh. He had taken close to forty days to cover the distance. There was no train service back then and the CST, earlier known as the Victoria Terminus, did not exist then.Mr Pancham had set up a stall from where he sold puris, five to a plate. A play on his name, Pancham, which means five or fifth, or so the folklore goes. The restaurant is now run by the seventh generation of his descendants. It is still a humble eatery though it has grown from what was just a
puri
stall with just some benches, and has had a recent facelift. They still serve five puris to a plate here and you can choose puris with a variety of stuffings and with a variety of vegetarian side dishes to choose from. The traffic is constant through the day and puri makers at Pamcham keep frying the puris relentlessly and that's what ensures the freshness of the puris. These puris are made with whole wheat flour.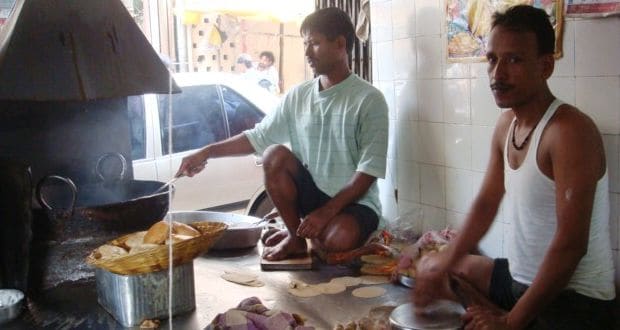 These puris are made with whole wheat flour. Photo Credit: Kalyan Karmakar
Located further down from Pancham Puriwala, and just before the start of the J J Flyover, is the Grant House Hotel. The place is also referred to as the 'police canteen' among its regulars. The owner, Laxman Varma, had come to Mumbai from Hyderabad in the 1940s and did odd jobs in local restaurants. In 1950 he opened a small shack where he sold basic breakfast dishes such as tea and toast and omelettes. His patrons included members of the local constabulary from the police station next door and students of the Sir JJ College of Arts. The building where his stall is was once the home of Governor Grant.In 1996, Varma set up a little restaurant next door to the Grant House premises and named it the Grant House Hotel. The restaurant is run by his sons now. The
kheema
here is much sought after by
kheema
lovers in the city. I loved it when I tried it once for lunch but you can have it for breakfast too.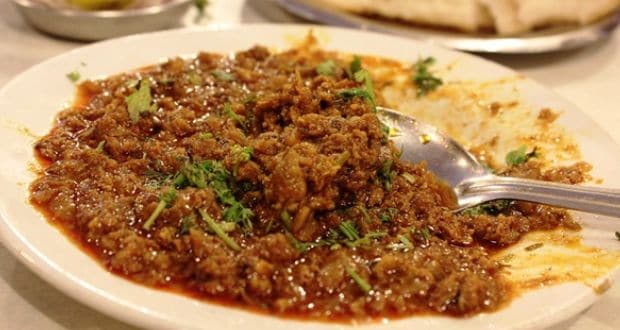 The kheema here is much sought after by kheema lovers in the city. Photo Credit: Kalyan Karmakar
4. Churchgate Station

CST is primarily the hub for long distance trains in Mumbai. The Churchgate Station close by is where the local trains of the busy Western Railway route end up. If this is where you get off, then you could hop into the Stadium Restaurant for breakfast. The folks at Stadium, like Café Military whom I spoke of earlier, make a delicious
kheema ghotala
. The meat quality is good, the seasoning of the dish perfect, spicing well balanced and with no excessive garam masala (a problem with
kheemas
at many Irani joints), and the egg combines beautifully with the
kheema
. Have this with some soft
pav
and you will start the day feeling as if you are the King of Mumbai.
5. Dhobi Talao

From CST head down to Dhobi Talao and to the area near the Metro Cinema. You can go to the Parsi Dairy Farm for some lassis or traditional Parsi sweets such as the mava na khaaja or sutarfeni. Or head to heritage Irani restaurants which had started off as bakeries such as the Sassanian Boulangerie or Kyani and Co.I am a recent convert to the already huge fan club of Kyani & Co which is championed by students of the nearby St Xaviers' College. The bakery was founded in 1904 by an Irani gentleman named Khodamarad Marzban who had come to Mumbai from Yezd as did most of those who set up Irani restaurants in Mumbai. The ownership changed hands and the family of the current owner who is Irani too, Mr Farokh Shokri, has run the place from 1954.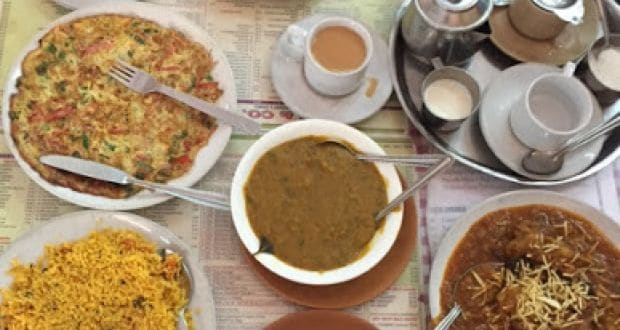 The bakery was founded in 1904 by an Irani gentleman named Khodamarad Marzban. Photo Credit Kalyan Karmakar
My favourite picks here are the poro (masala infused Parsi home styled flat omelette), the akoori (Parsi styled creamy but
masala
infused scrambled eggs) and the chicken patties with the most delectable béchamel sauce infused stuffing. The
kheema
here is a good bet as the quality of meat is good and do finish your meal with the mint infused
Parsi chai
. The pav is exceptionally soft too and they do a killer caramel custard which could match up to the one at Military Cafe.
6. Girgaon
You might be wondering about why I have covered Parsi/ Irani, Udupi, Keralite, Sindhi, Punjabi and UPite breakfast places but no Maharashtrian ones. Well most of the popular Maharashtrian vegetarian eateries such as Prakash, Mama Kane, Ladoo Samrat and Aaswad, where you can try local breakfasts, are located in localities such as Parel, Dadar and Bandra east. One place where you can go to in South Mumbai for a Maharashtrian breakfast, is Vinay Health Home at Gamdevi. This is a bit far from the CBD area though. Located close by is Khotachiwadi which is worth checking out for its Portuguese influenced architecture.Vinay Health Home is quite a neat and clean restaurant. The owners are most happy to show you their kitchen which would make any grandma proud with its cleanliness. The owners take pride in the fact their restaurant is a favourite among those who live in the neighbourhood and who come here in search of home-like food. Vinay Health Home is run is by the current generation of the Tembe family whose ancestors had started the restaurant close to eighty years back. You can try Maharashtrian breakfast favourites such as
missal, sabu dana vada, pohe, thali peeth
here. The food is not too spicy and everything is made fresh and is vegetarian.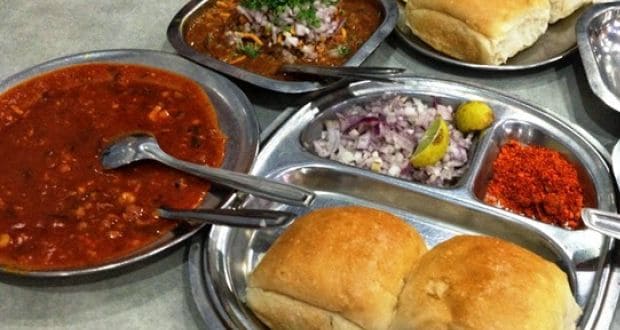 Vinay Health Home is quite a neat and clean restaurant. Photo Credit: Kalyan Karmakar
So there you have, a list of iconic
breakfast joints
from South Mumbai which I am sure would inspire you to wake up early one day and make a trip to them. Come to think of it, I might do so too!
About the Author:Kalyan loves to eat and he loves to talk about all that he eats. His wife urged him to start writing about it, otherwise she would have to hear it all. He blogs as 'finelychopped' and is the author of The Travelling Belly published by Hachette Publications.Disclaimer:The opinions expressed within this article are the personal opinions of the author. NDTV is not responsible for the accuracy, completeness, suitability, or validity of any information on this article. All information is provided on an as-is basis. The information, facts or opinions appearing in the article do not reflect the views of NDTV and NDTV does not assume any responsibility or liability for the same.