Definitely dunkable: Ruby Tandoh's blackberry oat crumble cake (left) and white chocolate honey oat biscuits. Photograph: Jill Mead for the Guardian
Using oats lends subtle texture to your baking. Try them in this tender blackberry oat crumble cake and this crunchy batch of white chocolate honey oat biscuits.
There's a lot more to oats in baking than flapjacks. They can lend body, texture and a subtle flavour to cakes and biscuits, a pleasing robustness to a tin loaf or a crunch to crumble topping. There's no need to shell out for the good oats, either. In fact, the cheaper the oat, the better your results will be. Fat, steel-cut rolled oats, jumbo oats, organic Scottish porridge oats – each of these will take too long to hydrate in doughs and batters, leaving the finished thing oddly chewy, bitty and dry. Stick with the bog-standard oats that are part broken and dusty in their packet.
White chocolate honey oat biscuits
These are much like Hobnobs – oaty, rubbly and butter-rich, though here daubed with white chocolate to pair with the honeyed sweetness of the biscuit. You can swap in dark chocolate if you've less of a sweet tooth, or forgo the chocolate altogether if you're a purist in these things.
The key to a crisp finish is in the bake: too long and they'll quickly brown and become bitter, cook for too short a time and they'll quickly soften and crumble. Bake in batches if you're not sure about how well heat circulates in your oven, and swap shelves mid-bake if necessary.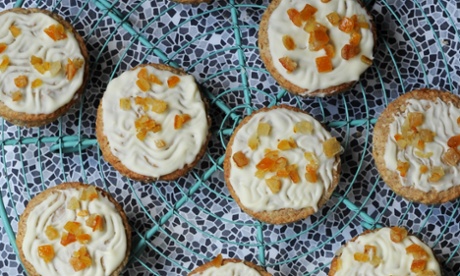 Makes around 30
100g plain flour
100g wholemeal flour
75g caster sugar
1 tsp baking powder
A pinch of salt
150g unsalted butter, firm but not chilled
150g porridge oats
4 tbsp honey
1-2 tbsp milk
250g white chocolate
25g candied ginger or orange peel, finely chopped (optional)
1 Preheat the oven to 180C/350F/gas mark 4. Line a couple of large baking trays with baking parchment.
2 Combine the plain and wholemeal flours, caster sugar, baking powder and salt in a large bowl. Cube the butter and add to the bowl then use your fingertips to rub it into the dry ingredients, working quickly but lightly until there are no chunks of butter left and the mixture is sandy. Stir in the oats.
3 Whisk the honey with 1 tbsp milk then pour into the dry ingredients. Use a small knife to "cut" the liquid into the mix, working until no dry flour remains and the dough is beginning to clump.
4 Gather the dough together, pressing into a flattish disc. Roll out on a lightly floured work surface until it's 5mm thick. If the dough's too sticky to roll, wrap it in clingfilm and refrigerate for 20-30 minutes before continuing; if it's too dry to hold together, add the remaining milk. These biscuits are supposed to be rubbly and crumbly, so it's important not to overwork the dough, a couple of light kneads under the heel of your palm can help to give it the strength to hold its shape during rolling and baking.
5 Use a 6cm round pastry cutter to stamp out the biscuits, then arrange these on the prepared baking trays. Gather up any offcuts, re-roll and cut out the extras.
6 Bake for 12-13 minutes in batches, rotating the shelves halfway through if you're not using a fan oven. They're done when the edges are just on the cusp of browning. Leave to cool before moving the biscuits.
7 Once the biscuits are ready, melt the white chocolate in a heavy bowl propped over a pan of simmering water. Use a silicone pastry brush to spread the top of each biscuit liberally with the melted chocolate. Decorate with finely chopped candied ginger or orange peel while the chocolate's still wet. Alternatively, just run a fork gently through the chocolate as it sets to mark a wiggly pattern in it. Leave to cool before storing in an airtight container.
Blackberry oat crumble cake
There's a double dose of oats in this comfort cake: in the batter, creating a nutty, tender crumb, and in a buttery crumble on top. It's very autumnal in feel – blackberries, cinnamon, toffee-ish brown sugar and hearty oats – but I can't see any reason why it can't be enjoyed now, too, on cooler days when spring slips back into drizzle and dreariness. It's the kind of cake to be eaten still warm from the oven, with custard, from under a duvet.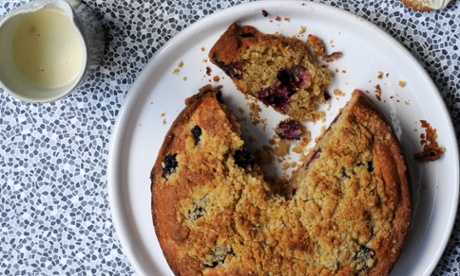 Serves 8
150g unsalted butter, softened
125g soft light brown sugar
3 large eggs
50g porridge oats
125g plain flour
2 tsp baking powder
½ tsp cinnamon
¼ tsp salt
150g-200g blackberries, halved
For the crumble topping
50g plain flour
50g porridge oats
50g soft light brown sugar
50g unsalted butter, softened
1 Preheat the oven to 180C/350F/gas mark 4. Grease a 20cm round springform cake tin and line the base with baking parchment.
2 Beat the butter and sugar together in a large bowl for 3-5 minutes, working the mixture until very light and creamy. If you slack now, you'll find the mixture will really clump and curdle when you come to add the eggs. Whisk the eggs, one at a time, into the butter and sugar, followed by the oats. In a separate bowl, stir the flour, baking powder, cinnamon and salt together, then add this to the wet ingredients. Fold lightly together then mix in the blackberries, taking care not to squash the fruit as you go.
3 For the crumble topping, combine the flour, oats and sugar in a bowl then add the butter in small pieces. Rub the butter into the dry ingredients using your fingertips. Don't worry if the mixture feels a little sticky or greasy. With a high proportion of butter in the mix, the crumble should quickly come together in small clumps.
4 Spoon the batter into the prepared cake tin and level with a spatula. Sprinkle the crumble all over the top, then place in the oven. Bake for 30-40 minutes, or as long as it takes for the cake to rise, brown and set through. Leave to cool completely before serving. Works particularly well with custard.