Image via Zomato
In a country like India, there are very few things that assume iconic status and find a permanent place in the hearts and minds of people. Food, Cricket and
Bollywood
are certainly the ones to top the list. Building on this connect with their fans, many cricketers and movie stars have also entered the food business and opened
new restaurants
and
bars
across the country. These include Tendulkar's, a restaurant by former Indian cricketer Sachin Tendulkar, Zaheer Khan's ZK's, LAP by Arjun Rampal and many other restaurants, bakeries and bars opened by celebrities like Perizaad Zorabian, Dino Morea and many more.
The fans are now giving back the same love as restaurateurs team their passion for food with their love for some of the most loved stars of Bollywood. The start of the year saw opening of 'Bhaijaanz' - the brain child of five friends - Rahul Kanal, Tabrez Shaikh, Sohail Siddique, Kursheed Khan and Zafar Sayed Yusuf who decided to open a theme restaurant dedicated to Salman Khan.
And the latest to join the bandwagon is 'Garam Dharam, Dhaba Te Theka' co-owned by Micky Mehta and Umang Tiwari. When NDTV Food contacted them to know more about the restaurant, co-owner Micky Mehta was more than happy to share a few anecdotes about the coming around of the restaurant.
"I was in Mumbai for some work when I met Dharam ji and learned about his love for food. It was then when the idea of opening a restaurant popped in my mind. Dharam ji comes from Punjab, I wanted to start an eating space that would be purely Indian, predominantly Punjabi with food that is inspired by the rich dhaba culture of the country," shared Mickey Mehta.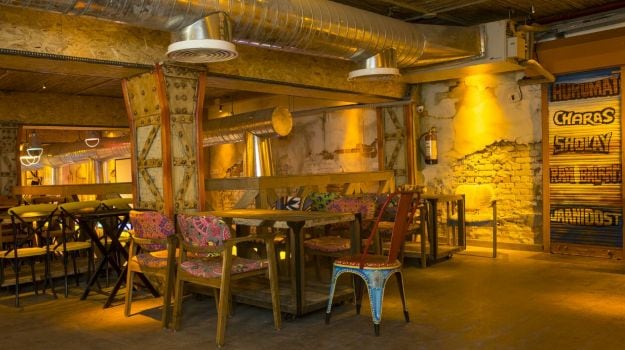 The owner co-owns several other restaurants in the city like Uber Lounge, Zai at GK 2, Skooter (currently under renovation) and The Vault Café at Connaught Place.
"When I proposed the idea to Dharam Ji, he was first a little skeptical and wanted to see the restaurants that I currently run in the city. After his visit, he was more than happy to be an active part of this. He has been very involved right from the inception, from sharing recipes to guiding our chefs, he has been a great help and inspiration through and through," added Mickey.
The Interiors
A first-of-its-kind outlet in Delhi's Connaught Place area, the restaurants takes inspiration from the movies, dialogues and songs of the 'He-Man' of Bollywood. 'Dharam Garam- Dhaba Te Theka', has everything from the decor, to the cutlery and even the walls framed movie posters, paying tribute to the legendary actor.
As a special bonus, the place also features the classic bike from the movie Sholay. The restaurant is decorated with all popular movie posters of the actor including Chupke Chupke, Dharam Veer and Sholay. Pasted on the walls are Dharmendra's popular dialogues, from his classic Basanti line to the very recent ones.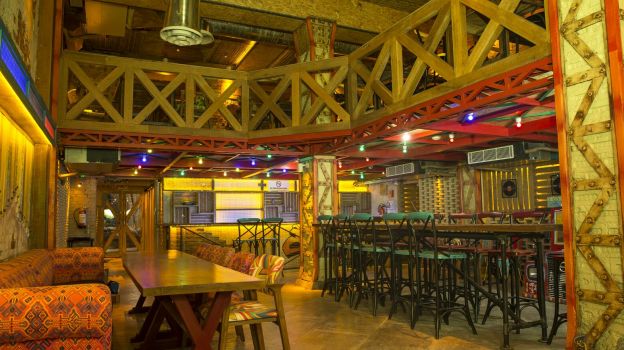 The restaurant is the one that will transport you to the era of Dharmendra's superstardom.
"The interiors are rustic, Indian, dhaba-like with Dharam ji being the central theme running in the entirety. Like many other restaurants of ours, this one has also been done by Tutu and Anchal's team," shared Mickey Mehta.
The Food
The restaurant offers 'desi' themed mocktails and cuisines, served in a big-glass and huge steel-plate, earthy and down to earth as the actor himself.
"Dhabas are usually found in the small by-lanes of big cities, so who would have thought that both, a dhaba and a theka will co-exist together in a place like central Delhi," he said.
"This is a place suitable for all age groups. It is a warm, cosy, and comfortable 'Dhaba Te Theka' style restaurant where each meal is a treasured time to relax and share a bounty of wonderful food with family and friends," said Umang Tewari.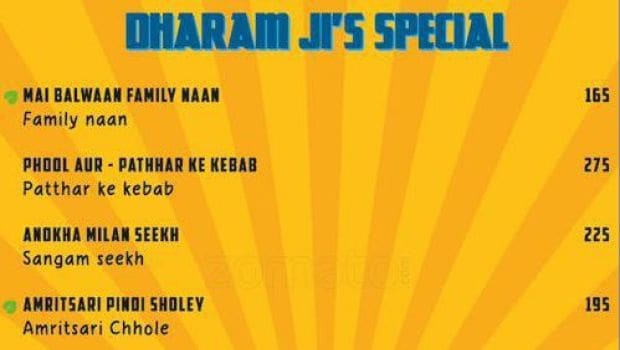 You will also have some of the best loved preparations of Dharmendra such as Shalgam Gosht, Dal Tadka and many more.
Meal for two would cost around Rs.800 to Rs.1,000, exclusive of tax.
The Grand Opening - Inauguration by Bollywood's 'He Man'
The restaurant was inaugurated by Bollywood's veteran actor Dharmendra himself on 9th September, Wednesday in Connaught place. The 79-year-old actor looked suave in a shirt, trousers, a waistcoat and a hat.
"I was not ready to do it because I don't know the ABCD of this (restaurant) business. I can't do anything except acting. I'm a son of a farmer and my upbringing is like that only... but seeing all this love and support made me feel special."
Dharmendra is sure foodies will love 'Garam Dharam, Dhaba Te Theka'.
"Everyone loves me so I am sure people will love this place too that has my vibes everywhere," he added.
Asked if he enjoys a 'dhaba' or at a restaurant, he said he loves using his hands to eat.
"I'm quite shy about all these dining etiquette. I don't know how people enjoy eating with a fork and a knife. Till the time I can't use my hand, I can't enjoy food. I feel like slurping my fingers," he said.
"I had never imagined that I will have a restaurant in Delhi's Connaught Place area and it will be named 'Garam Dharam'. Over the years I have got so many tags, from 'Action Man' to 'He-Man' and even 'Garam Dharam', for which I am thankful to everybody," Dharmendra said at the inauguration of the eatery.
"Garam Dharam is for all those people who just want the best at best prices. I'm sure we will get a lot of acceptance for Garam Dharam, as we are not compromising on anything and ensure to give customers an experience to cherish," he noted.
Inputs from PTI and IANS