There are only a few things that can make you feel like you've been transported back home, to the familiar scent that would linger in every corner when your favourite dishes were prepared in the kitchen, which is probably your most memorable childhood memory too. The sheer bliss upon hearing the much-awaited '
khana ready hai
' (food's ready), and rushing to the table to share a hearty meal with your loved ones is priceless. No matter what pinnacles of success we reach, or which corner of the globe we're in, our desire for homely things never leaves us; especially when we sit down to eat.No amount of burgers or French fries can replace the all-time favourite
dal chawal
- soul comforting food at its best! A plate full of piping hot, fragrant Basmati rice with some mouth-watering dal topped with crackling
tadka
is always a welcome change.(
10 Best Dal Recipes - How to Cook it to Perfection
)A staple vegetarian dish in every Indian household,
dal chawal
and
dal roti
have become synonymous with home-made food and are relished by the young and old alike. There are various types of lentils that are used to make dal in India. The lentils are first pressure cooked and then spiced up with various condiments like red chilli powder and
garam masala
, and also diced onions and tomatoes. And while all types of dal are absolute favourites at home and in restaurants alike, the one that does justice to 'best taste, no time waste' is the classic
Tadka Dal
.

(How to Make the Perfect Naan Bread)
Usually had by topping it with a generous dollop of ghee, Tadka Dal is one of the few dishes that is indulgent and healthy at the same time - the lentils are packed with proteins and the tempering of various condiments in hot oil or ghee does a good job of unlocking not only a mind blowing aroma but also the nutrition of the spice(South India's Spice Hero: How to Make the Famous Gunpowder)
The Regional Variations
Different regions within different states have their own unique recipe of Tadka Dal. Yes, it is that divergent! While some recipes play around with different types of lentils, most use different combinations of spices to tune up the flavour.(Blog: My Love-Hate Affair with Kerala's Cuisine)
The renowned Jiggs Kalra of Made in Punjab says, "The most popular and commonly found combination of lentils in Tadka Dal is that of Moong-Masoor and there are various types of tadka used - one is of jeera and the other is grilled onions, where the onions are lightly browned. There are also some dhabas where you will find a tadka of fresh garlic, onions and tomatoes."
What is called tempering in English, has over a dozen manifestations in India - tadka for Punjabis, vagharne for Gujaratis, the Hyderabadis call it baghar, while the Maharashtrians refer to it as phodni. Mustard seeds and curry leaves are a regular feature in south Indian cooking and also hold significance in Tadka Dal recipes. Cumin seeds are used for tempering the dish in northern states of Punjab and Haryana. While chana dal is used in Kolkata, toor dal is usually used in the south and masoor in the north.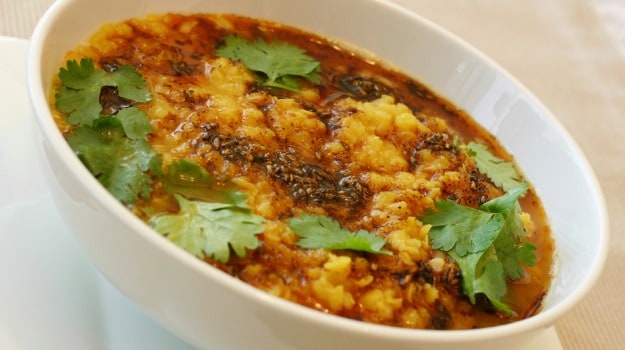 So what makes Tadka Dal stand out from other lentil preparations in the country? Well, it isn't the list of ingredients but its unique preparation that takes the taste buds on an ambrosial journey. Unlike other dals, the tempering ingredients are not mixed with the lentils during the cooking process, but poured on top of it just before serving. However, there is a quintessential recipe that runs common all over the country. (Word of caution: never call it the authentic recipe or diehard fans with a different version might actually take offence).
Here's a simple recipes that you can make at home for an enjoyable meal with family -
Dal Tempered with Clay - Recipe by Chef Marut Sikka
Dhaba Dal - Recipe by Chef Seema Chandra