Chill in the kitchen
Mid-day , Mumbai | Updated: August 06, 2012 15:53 IST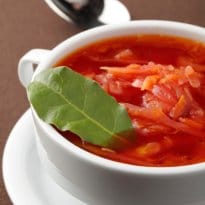 Ideal summer cooking is one that allows you to spend minimum amount of time in the kitchen. Ditch those lengthy recipes and lunch on these easy-to-make cold soups

Cold yogurt and cucumber soup

Ingredients:
1 cucumber
2 cups yogurt
2 teaspoons lemon juice
1 teaspoon olive oil
2 teaspoons mint leaves (chopped)
2 teaspoon dill (chopped)
1 clove garlic (chopped)
Salt and pepper to taste

Method:
Cut cucumber into two halves and scoop out all the seeds.
Grate the pieces into tiny shreds and keep aside.
In a blender place all the remaining ingredients. Add the grated cucumber to it.
Whisk the mixture until you get a thick liquid.
Transfer this mixture into a bowl and season it with salt and pepper.
Refrigerate for a few hours and serve chilled.

(Recipe by home chef Shikha Goyal)

Chef Talk
"Nothing helps beat summer like this concoction. While cucumber helps get rid of body heat, yogurt has a calming effect on the stomach. Both these ingredients are natural coolants that help keep de-hydration at bay. Team this soup with a loaf of crusty French baguette for a wholesome meal."

Thai style beetroot and coconut soup
Ingredients:
1 stalk lemongrass
3-4 basil leaves
1 teaspoon lemon juice
1/4 cup water
Handful of kafir lime leaves
1 small onion
1/2 carrot
1/4 inch piece galangal/ginger
1 green chilli (slit and deseeded)
1 medium beetroot (par-boiled)
1-2 teaspoon of rice vinegar
300 ml vegetable stock
2-3 teaspoons olive oil
1/2 cup coconut milk
Salt and black pepper to taste
Method:
Fill a small pan with water and add sliced lemongrass, torn basil leaves and salt to it.
Bring this concoction to a boil and allow it to cool down.
Add lemon juice and blend this into a smooth liquid.
Place torn pieces of kafir lime leaves in an ice cube tray and pour the liquid on top.
Freeze the cubes and leave aside.
Now, roughly chop all the vegetables into large chunks and grate the galangal.
In a pan, heat olive oil and sauté the onions, carrots, galangal and the slit chilli.
Add beetroot pieces to this and stir for another minute.
To this add the vegetable stock, vinegar, salt, pepper, basil leaves and bring it to a light boil.
Reduce the flame and add coconut milk.
Simmer this mixture for about 10 minutes.
Once it cools down slightly, blend it into a smooth puree.
Serve the soup slightly warm in shallow plates, with a cube of flavoured ice.

(Recipe by food blogger Arina Suchde)

Chef Talk
"Beetroot is a rich source of vitamins and iron which can keep one going in the scorching heat. It helps prevent heat strokes and boosts the immune system. Coconut milk has a cooling effect on the body while the lemongrass adds a refreshing character to the soup."