There's nothing quite like the taste of jamun to herald the start of summer. Even as a little girl, I remember sitting amidst a pool of jamuns, my fingers and mouth stained a rich purple, the delightful astringency of the fruit coating my tongue. The more mature they were, the sweeter the fruit; I would finish half a kilo in one sitting, and hanker still, for more. To be honest, not much has changed since then. I can still demolish half a kilo of my beloved purple fruit, without batting an eyelid. The only difference is that nowadays, I have started cooking with it. Here are a few ways in which you can incorporate jamun into your daily meal. As you can imagine, the fruit lends itself far more to sweet dishes than to mains, but it does make an interesting sauce / side to a protein main. Happy cooking!
1. Jamun Fizz
This makes a wonderful, summery, light drink that can be served in both, alcoholic and non-alcoholic versions.
Jamun 12
Lemon soda 200 ml
Vodka 75 ml
Apple juice 500 ml
Method: Combine the soda and apple juice into cocktail shaker, and keep shaking until properly blended. Pour into cocktail glasses, and drop in the jamuns. Let them steep for a few minutes in the liquid, then just before serving, top up the glasses with the fizzy lime soda. For a non - alcoholic version, just leave out the vodka.(Also read: Summer Special: Indulge in Jamuns, the Purple Hued Fruit of the Gods)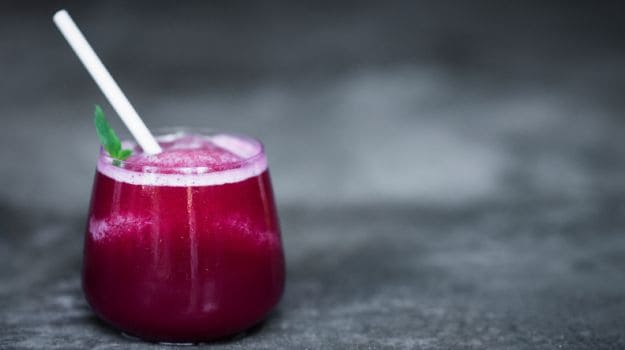 2. Jamun Salad
This quick, healthy salad makes a refreshing side to pork or chicken, the savoury heaviness of the meat soothed by the fresh flavours of the salad. The emollient sweetness of the mango soothes the astringency of the jamun.
Mango 1 (I like Alphonso, but any firm-fleshed one will do)
Jamun 1 cup
Cucumber 1/2, peeled
Chilli flakes 1 to 2 tsp
Extra virgin olive oil 1 tbsp
Lemon juice 2 tsp
Salt, to taste
Method: Peel and cube the mango and cucumber, and then deseed and chop the jamun. Mix them all together in a bowl. For the dressing, combine the remaining ingredients, then pour over the chopped fruit and vegetable. Cool in the fridge before serving.(Also read: 10 Best Salad Recipes)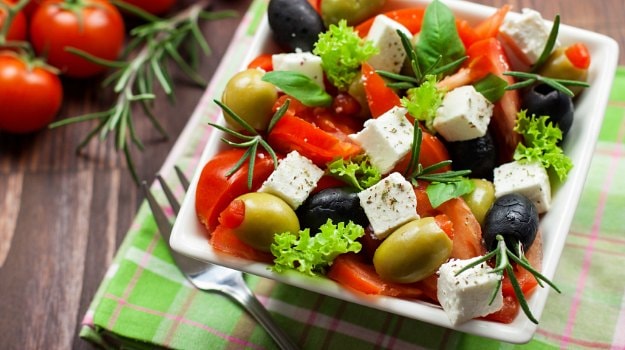 3. Fish with Jamun Sauce
A simple recipe, which is the perfect treat for hot summer afternoon. You need to use fresh fish fillet of pomfret or any other white fish, season it mildly and then pan fry.
Jamun 1 kg
Sugar 1 cup
Chilli 1 tsp
Garlic cloves 6, minced
Powdered cumin 1 tsp
Fish fillet 300g (pomfret, or any white fish)
Semolina 1/2 cup
Salt, to season
Method:
De seed and chop up the jamuns, as small as you can. Place them in a saucepan, with the sugar and a cup of room temperature water, and bring to a boil. Once it all comes to a boil, turn down the heat and cook for fifteen minutes, until you feel that the fruit has softened. Cool until it is room temperature, then purée it all in your mixer. In the meantime, rinse out the saucepan thoroughly.
Pour the jamun mixture back into the saucepan, adding in the spices and garlic, and reduce for about two hours, until it thickens considerably. Let it cool, then season with salt, and set aside.
Dredge the fish through the semolina, and pan fry until crisp and golden on both sides. Season, and then serve with the jamun sauce, and wilted spinach.
(Also read: 10 Best Fish Recipes)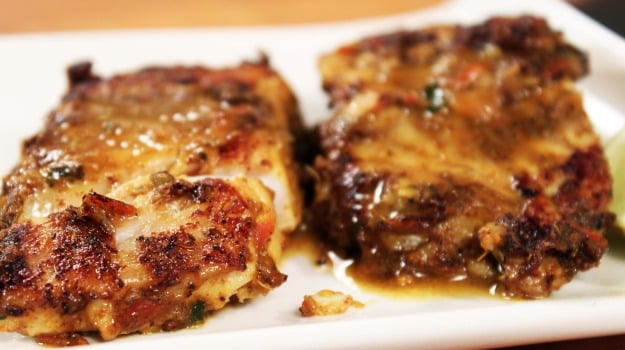 4. Jamun Pie
You can serve this hot, with vanilla ice cream, or cold. It is a slightly more involved recipe, but worth the effort.
For the Crust
Maida 1 and 1/4 cup
Butter 75g, chilled and cut into cubes
Iced water
Caster sugar 1/4 cup
Salt 1/2 tsp
For the Filling
Jamun 3 cups
Caster sugar 1.5 tbsp
Cornflour 1 tsp
Cinnamon 1 tsp
Cardamom 1/2 tsp
Method:
Add the maida, butter, caster sugar, and salt into a large mixing bowl and knead with your hands, until the mixture starts clumping and resembles breadcrumbs. You can also cut the butter into the flour in a mixer or a food processor, to ensure that the butter stays chilled - it should take about 20 to 30 pulses of your mixer. Don't overdo it, or your crust will suffer. The colder the butter, the crumblier and flakier the pie crust will be.
Add a little chilled water, and keep kneading, until it all forms into a dough. Knead for a few minutes, then shape it into a ball. Wrap the dough ball in cling film and and then let it rest in the refrigerator for at least two hours.
Preheat the oven to 160 degrees C. While the dough is resting, deseed and chop up the jamuns, and add them to a saucepan. Cook for five minutes. Then add in the sugar, and let it cook for another ten minutes. Stir in the cornflour and let the mixture thicken. Add the cardamom and cinnamon, and stir through, making sure it they are fully mixed. Then take it off the fire and let it to come down to room temperature.
Meanwhile, take out the rested dough and roll it out. Then flatten it into a buttered baking tin, and blind bake for 30 minutes. Let it cool a little, then pour over the jamun mixture, and bake T 180 degrees until golden brown and cooked through.
5. Jamun SorbetFresh and refreshing, what's not to love?
Jamun 300g, deseeded
Sugar 150g
Method: Cook the sugar and the jamuns together for about five minutes until the sugar melts and the jamuns become softer and start releasing their juices. (Cooking the jamun reduces its bite considerably, and sweetens the fruit.) Cool for a little while, then blend, and chill in the freezer for an hour. At this stage, you may transfer it to your ice cream machine. If you don't have one though, use a fork to scrape the proto-sorbet and put it back in. Do this again, thrice, every hour, at which time, it should be ready to serve. You can flavour the sorbet with vanilla or rock salt or ginger or lime, if you like.

About the Author:
Meher Mirza is an independent writer and editor, with a focus on food and travel. Formerly with BBC Good Food India, she loves anime, animals and artsy things but also comics, technology and death metal.
Disclaimer:
The opinions expressed within this article are the personal opinions of the author. NDTV is not responsible for the accuracy, completeness, suitability, or validity of any information on this article. All information is provided on an as-is basis. The information, facts or opinions appearing in the article do not reflect the views of NDTV and NDTV does not assume any responsibility or liability for the same.