Photo credit: @purereflection via Instagram
Christmas 2016 is right around the corner! If you have been feeling guilty for nibbling non-stop on sinful Christmas goodies, don't let it get the worst of you. It is the season of merriment and there's no better way to celebrate than relishing home-made treats made by near and dear ones. While Christmas plum cakes and gingerbread houses are customary to the festival, you can try and bring some variety to the table by making other equally delicious treats to spread the cheer. Introducing - Nougat.
Nougat, also known as nut cake, is considered to be a traditional French confectionery that is commonly prepared during the Christmas season. However, some theories draw its origin to Persia, from where it is said to have been borrowed by the French. In countries like Turkey, Iraq, Syria and Uzbekistan, it is commonly found across sweet stores.
Nougat, pronounced as nu-get or noo-gaa, is made using honey or sugar, a range of nuts and dry fruits, and whipped egg whites. It is chewy in nature but the nuts add a nice crunch to the treat. You can use different kinds - pistachios, cashews, almonds, macadamia, walnuts, hazelnuts, etc. Many confectioners also coat the nougat with a layer of chocolate to make it more delectable. You will often come across two different types - one which is stark white and the other which is deep brown. The difference is in the usage of egg whites. Some chefs prefer making nougats with egg whites and honey while others give egg whites a skip.
Photo credit: Plavaneeta Borah
How to Make Nougat
This Persian origin sweet is popular in various others parts of the world where it is known by different names and has become as much as a part of their culinary lineages as any of their local delicacies. Take Greece for instance, where it is known as mandolato or mandola; or Sicily where it is called cubbaita; and Spain refers to it as turron.
Nougat is commercially produced as well and widely available in departmental stores in Europe and US. Making slight tweaks to the traditional recipe, ingredients such as sucrose, corn syrup, gelatin, vegetable fats and/or milk powder are included. Needless to say, nothing can compare to the home-made version.
Step one to the process of making nougat requires you to whisk the egg whites till you achieve stiff peaks. Then heat sugar/honey with a little water till soft ball stage, and slowly pour the hot syrup into the egg and continue beating till well incorporated. Add in the nuts, dried fruits and melted butter, mix well and pour into a square dish to let it set at room temperature or in the refrigerator. You can also add in flavouring agents like vanilla, if you want to spruce things up a little.


An Easy Nougat Recipe to Try
Nougat is an easy recipe, without requiring you to put in much effort. But for first timers, a little trial and error is expected. You only need to get the hang of it. So here's presenting a sure-shot recipe on how to make nougat at home. This wonderful recipe has been shared by Chef Vikas from Bengaluru Marriott Hotel Whitefield. We'll pass on your gratitude...tis the season to share the joy, after all.
White Christmas Nougat
Ingredients:
150g water
440g castor sugar + 20g extra
90g liquid glucose
70g egg white
350g honey
150g cocoa butter
80g pista
130g almonds
75g apricot
75g prunes
130g glazed cherries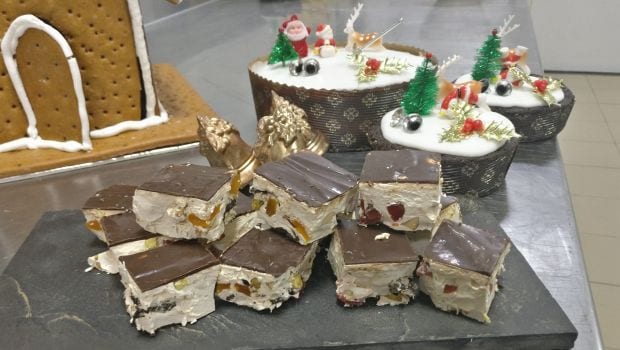 Photo credit: Bengaluru Marriott Hotel Whitefield
Method:
1. Cook 440 gm of sugar with water and liquid glucose till it reaches 156 degrees C.
2. Cook the honey till the temperature goes to 120 degrees C.
3. Whip the egg white with 20 gm of castor sugar and add the cooked honey into the mixing bowl.
4. At the same time, add cooked sugar mix. Let the mix whip for some time.
5. Add the warm toasted nuts, chopped prunes, sliced apricots and small pieces of glazed cherries.
6. Add the warm melted cocoa butter into the mix.
7. Pour the mix into the pre-lined square or rectangular frame.
8. By using the palate knife, make the surface smooth and shiny.
9. Cool it down. Keep it in the refrigerator for at least 3 hours.
10. Apply dark chocolate on both the sides. Cut and serve.