December has got to be one of the most favourite months of the year. It is the time for merriment and wrapping up on all work to spend time with family and dear friends as Christmas and New Year celebrations draw near. In India,
Christmas
is not really a foreign festival. It is celebrated with as much fervour as any other festival in the country, with streets, houses, malls and eateries being decorated with lights, Christmas trees, Santa socks and the like. The food too is a celebration.Indian Christians may have inherited the traditional roast goose and turkey culinary customs, but have transformed them into something inherently
desi
. Salted beef is flavoured with
garam masala
,
Christmas cake
is supplemented with
coconut
and
jaggery
, and sweets and curries have become an indispensable part of an Indian Christmas. Different communities have their own customs and special ways of celebrating.
Anglo-Indian Christmas
Perhaps the closest approximation to a proper English Christmas comes, unsurprisingly, from the Anglo-Indian community. My mother's charming and gracious friend, Mrs. Twigg, tells me about the Christmases she enjoyed as a child."
Breakfast
was always something porcine, either
bacon and eggs
or
ham
and
eggs
. At lunch, we usually had
biryani
(yes!). Otherwise, I remember eating turkey. Of course, the Christmas dinner always had to be a proper, traditional
roast turkey
with crispy
roast potatoes
and all the stuffings and trimmings."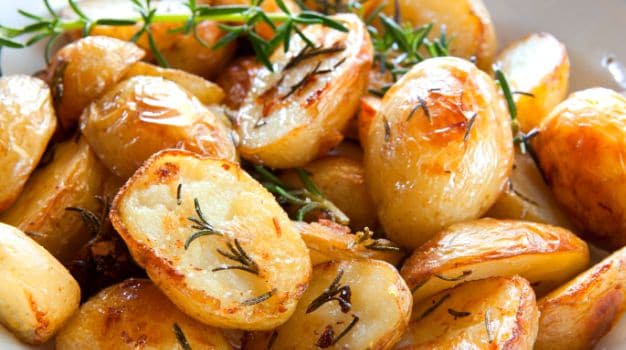 Roast potatoes
The family always gathered for
drinks
and with them, went round plates of the remarkable Indo-English creation, salted beef. This salted beef was no chewy, dry strip of beef. "The beef was marinated one week before Christmas in
jaggery
, salt petre,
limbu
and whole
garam masala
," reveals Mrs Twigg. "Finally, on Christmas day, it was removed from its marinade, sliced and then served."For sweet, the Anglo Indian household enjoys Christmas cake and
plum pudding
, perfumed with
brandy
,
nutmeg
and other
spices
. In the evening, it is time for
kul kuls
, rose cookies,
dol dols
and marzipan. The table is always groaning with so much food that it could easily last until Easter.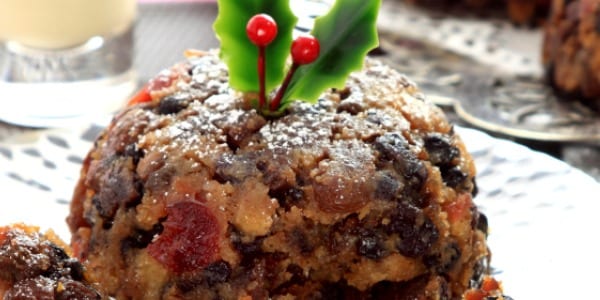 Plum pudding
Goan Christmas
"
Dol dols
and
kul kuls
and marzipan are such a typical part of a
Goan
Christmas," sniffs my friend Cheryl Coelho, when I mention the Anglo-Indian Christmas celebration to her. When I ask Mrs Twigg about this, she is outraged. "These are Anglo-Indian
sweets
, borrowed by the Goans," she insists.Whatever the case, I am always greeted by a colourful tray of sweets when I go to Cheryl's house. "When I was a little girl, I remember my mother sitting in a circle with all the neighbours and preparing boxes and boxes of sweets," says her mother. "We used to make
marzipan
,
boros
(coconut sweets),
dodols, kul kuls
(delicious but remind me of larva) and
neuris
. The smell of baking was everywhere and the taste was something else."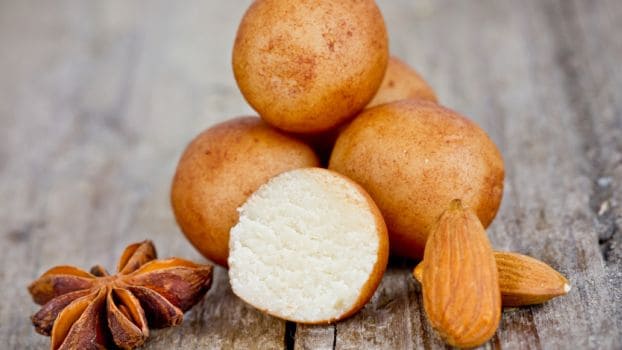 Marzipans
I cannot vouch for the tastes of yore, but Mrs. Coelho is no slouch when it comes to the kitchen. The
neuris
she serves are crisp and not too sweet. In the mouth, they are a crumbly explosion of
coconut
and jaggery. The quivering, jelly-like
dodols
have Portuguese roots and are delicious also, although not so much to my liking. The plum pudding is flambéed dramatically with Cointreau (Cheryl is an avid watcher of MasterChef Australia).A
Christmas dinner
at the Coelho household involves plenty of food, naturally. There is salami, mince,
potato chops
,
xacuti
,
choris
(the spicy, fatty, unmistakably Goan, sausage) and
sorpotel
, an unctuous pork curry eaten with warm
sannas
(a spongy, fermented, white bread that looks like
idli
but tastes rather different) and rice. There is always
bibinca
, coconut cake and Christmas cake, stuffed with fruits plump from their long bath in
alcohol
. Naturally, it is all washed down with glasses of home-made wine, made by an Aunty Edlyn or Aunty Rose.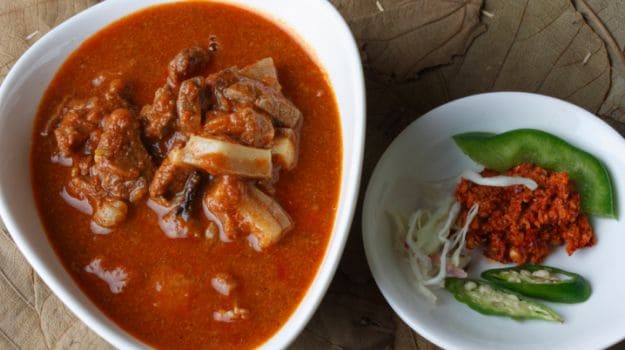 Sorpotel
Syrian Christian Christmas
Eva Mathew tells me about Christmases that she celebrates in
Kochi
. "My grandmother is extremely particular about serving certain dishes on Christmas. One is a
duck
curry or a duck roast; she even used to keep ducks and chickens at home at one time. If we don't find good enough duck, we sometimes substitute it with beef stew, which she simmered till it was a thick, deep, delicious dish." There is usually cake, and sometimes
fish curry
or a
fish moilee
, fragrant with the aromas of
coconut
milk and spices and served with fluffy
appams
.Vegetable side dishes are a must and sometimes, a glass of wine is totted up as part of the festivities. Egg roast is sometimes served too. But "the duck was an indispensable dish for Christmas," insists Mathew. "Granny loved to prepare duck, and even though her beef roast was very good and we all loved it, for her, the duck really made the meal."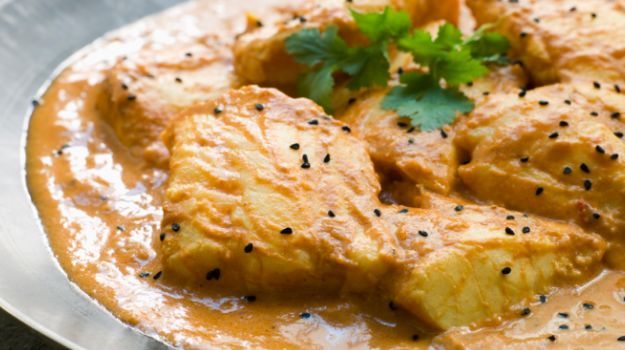 Fish curry
Close by, in Mangalore, the Christians offer the crimson pork indad (a silky, sweet-savoury aromatic stewed pork) as the centrepiece of the festive table. Afterwards, there are deep-fried
gulios
,
rice
cookies and
laddus
to satisfy one's sweet tooth.
East Indian Christmas
That leaves us with the East Indian Christmas. The East Indians are the Marathi-speaking, Catholic community settled in
Mumbai
and along India's north Konkan coast in Vasai, Goa, Daman, Diu and surrounding areas. Their traditions are a mix of
Maharashtrian
, Portuguese and Christian customs and their cuisine reflects this delicious hodge-podge of cultures.
The East Indian table
groans under the weight of
potato
chops, croquettes, mince and chicken
khudi
, a piquant curry made with a base of the famous bottle
masala
. Often, this is consumed with fugeas (little ball-shaped breads made with
maida
and
eggs
) and rice-flour
appas
. The East Indian bottle
masala
is a crucial element in the community's cooking - the dry spices were usually hand-pounded, and then filled into dark bottles to preserve their flavour.East Indian Christmases are well-known, much as the Goan Christmas, for their sweetmeats such as
neuries, boros
(coconut and
sooji
dish), rose cookies, intensely sweet date rolls, fudge,
milk
creams (
sugar
, milk and
cashew nut
sweet laced with vanilla) and
rekejaos
(a delicate sweet made with almonds and sugar).
Disclaimer:
The opinions expressed within this article are the personal opinions of the author. NDTV is not responsible for the accuracy, completeness, suitability, or validity of any information on this article. All information is provided on an as-is basis. The information, facts or opinions appearing in the article do not reflect the views of NDTV and NDTV does not assume any responsibility or liability for the same.