Cooking Beans at Home, Leaving the Can Behind
Melissa Clark , The New York Times | Updated: January 13, 2016 17:22 IST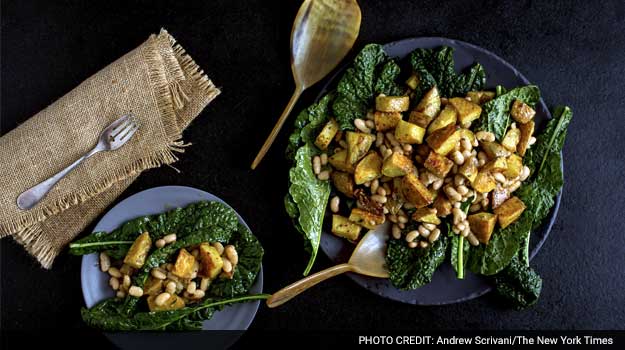 White bean and roasted potato salad with rosemary, in New York, Dec. 24, 2015. Canned beans are never going to be as good as home-cooked dried beans -- even the simplest recipe for dried beans yields amazing results.

Let's get one thing straight.

Canned beans are never going to be as good as home-cooked dried beans, no matter how many seasonings you add to your pot. They're like any other convenience food: a wan simulacrum, fine in a pinch but never transcendent.

You can do a whole lot better for not much more work cooking your own dried beans, once you get over the notion that they are fussy or in any way intimidating. Cooking up a pot of beans is one of the easiest ways to get dinner on the table. It may not be the fastest, but you can't get any simpler.

Whether your resolution for the coming year is to eat more healthfully, cut back on meat, be more frugal, do more home cooking or prepare food ahead for the week, simmering a big pot of beans will help you get there and then some.

But here's the most compelling argument in their favor: A bowlful of home-cooked beans bathed with their own magically delicious, creamy broth — served on rice, farro or polenta, or as part of a salad, soup or stew — makes a terrific meal.

Even the simplest recipe for dried beans yields amazing results. Rinse your beans, put them in a pot covered with water and a spoonful of salt — yes, salt; more on this later — and let them simmer until they are tender but not mushy. This can take as little as 15 minutes for red lentils or as long as four hours for large, recalcitrant lima beans. Keep simmering. They will come around. And if they don't seem to ever get tender, it's not the salt's fault. It could be that your beans are very old; they start to deteriorate after a year, and by two years go completely downhill. (Once that happens, toss them.) Or the culprit may be hard water. Water with a high mineral content can notoriously impede bean softening. So can adding an acidic ingredient to the pot. Save that squeeze of lemon juice or drizzle of vinegar for after the beans are cooked.

But do salt at the beginning, rather than at the end or in the middle of cooking, ignoring the conventional wisdom that beans cooked in salted water will never soften. It's just not true.

And salting early has many benefits. It seasons the beans to their velvety cores. It also intensifies the flavor of the cooking water, which will transform into a rich and flavorful broth that you can serve with your beans or save to use separately as a base for soups and stews. (It freezes for up to six months.) If you add salt later in the cooking process, you'll need to add a lot more of it, and even then you could end up with oversalted broth and blandish beans.

That's one bean myth shot down. Here's another: You don't really need to soak your beans.

Soaking does have benefits. It will help beans cook faster and more evenly, and it can help leach out the intestinal-distress-causing sugars that some people are particularly sensitive to (though as you eat more beans, your gut adjusts). But it's not do or die. If you are a planner or have a sensitive digestive system, go ahead and soak. You don't need to do this the day before; even four hours of soaking will help the cause.

More spontaneous cooks can skip this step and just cook the beans a little longer; an extra hour or two should do it depending upon the variety of bean. One thing to note: Adding salt to the soaking water helps speed up cooking by breaking down the beans' skins.

Whether or not you've soaked your beans, be sure to use lots of water for cooking them, covering them by at least 2 inches. And keep the water at a simmer (tiny bubbles) rather than a vigorous boil (rapidly bursting large bubbles). Cooking them gently stops them from moving around too much in the pot, which can burst their skins and make them mushy and waterlogged on the surface but still crunchy within. You're aiming for uniformly creamy beans, and a low and slow simmer will get you there.

If you've got a pressure cooker, you may already know that you can use it to take hours off your bean cooking time. A slow cooker takes longer, but gives you superbly and evenly cooked beans. (To use a slow cooker, cover beans with two inches of water, add salt and any aromatics you like, and cook on the low setting until done, usually between three and six hours.) My fuzzy-logic rice cooker set for brown rice works wonderfully well, too. Note that kidney beans need to be boiled on the stove first for 10 minutes to become digestible before using rice or slow cookers.

In any case, keep an eye on your beans so they don't overcook and burst. Beans are done when they are tender all the way through but still firm and intact. If you blow on a spoonful of beans fished out of the pot, the skins will wrinkle and curl back. But tasting a bean is the best way to see if it's ready.

Adding aromatics to the bean pot helps turn the liquid into a heady, rich-tasting broth. Whatever you'd normally put into a chicken or meat stock will go well with beans — think garlic, celery, herbs, chilies, ginger. Or get creative and throw in some spices or a chunk of ham or bacon. Even a humble onion and a bay leaf works wonders for beans. And you won't need to do much more than spoon them into a bowl to slurp up, preferably with a drizzle of good olive oil or hot sauce, a little vinegar or lemon juice and a lot of pepper.

These three recipes — one for a hearty roasted potato and bean salad, one for a fragrant, hearty stew, and one for a classic ham and bean soup — really shine when made with home-cooked dried beans. If, however, you must use canned beans, go ahead, at least this once.

But next time a bean craving descends, give yourself the time and space to cook them yourself.

———

Sidebar:

And to Drink ...

Beans, greens and ham are a favorite combination, one that goes with many different wines. I think first of savory reds, like syrahs from the northern Rhône, either St.-Josephs and Crozes-Hermitages, which you can drink fairly young, or a Cornas with a few years of age. Cool-climate syrahs from California would likewise pair well. Gigondas, good cru Beaujolais and cabernet francs from the Loire would also be delicious, as would some of the lesser-known reds of the Loire, like pineau d'Aunis, côt and grolleau. You could try a trousseau from the Jura or Northern California. And speaking of Beaujolais, some really good gamays are coming from California, too. If you prefer a white, riesling would be my first choice, preferably a dry version from Austria, Alsace or Germany. — ERIC ASIMOV

———

Recipe: White Bean and Roasted Potato Salad With Rosemary

Yield: 8 servings

Total time: 2 1/2 hours, plus soaking

1 1/2 cups dried cannellini or Great Northern beans

1 1/2 tablespoons plus 1 teaspoon coarse kosher salt, more to taste

2 bay leaves, torn

1 garlic clove, smashed

6 tablespoons extra-virgin olive oil

1 3/4 pounds Yukon Gold potatoes, scrubbed and cut into 1/2-inch chunks

1/4 teaspoon black pepper

8 cups hearty winter greens, kale, collard greens, cabbage or mustard greens

2 teaspoons lemon juice, more to taste

4 anchovy fillets

2 garlic cloves

2 tablespoons red wine vinegar, more to taste

Large pinch kosher salt, more to taste

1/2 cup extra-virgin olive oil

Finely grated zest of 1 lemon

1 tablespoon chopped rosemary

Large pinch red chili flakes

1. Put the beans in a bowl or pot, cover with water by 2 inches and add 1 1/2 tablespoons salt. Let soak 4 to 12 hours. Drain before using.

2. Put the soaked beans in a pot, cover with water by 2 inches and add 1/2 teaspoon salt, 1 bay leaf, the smashed garlic clove and 2 tablespoons oil. Bring to a boil, then simmer until tender, about 40 to 75 minutes, stirring occasionally. Season with more salt if needed.

3. Meanwhile, prepare the potatoes: Heat oven to 425 degrees. On a rimmed baking sheet, toss potatoes with 2 tablespoons oil, the remaining 1/2 teaspoon salt and the pepper and arrange in a single layer. Top with remaining bay leaf. Roast for 15 minutes, flip potatoes, then roast until golden and very tender, another 15 to 25 minutes.

4. While potatoes roast, make the dressing: In a blender, combine anchovies, garlic, vinegar and a large pinch of salt; blend until smooth, then blend in oil. Taste and add more salt or vinegar, or both, if needed. Transfer to a large bowl, stir in lemon zest, rosemary and chili flakes.

5. In a separate large bowl, toss greens with remaining 2 tablespoons oil, the lemon juice and a large pinch of salt. Arrange on a large serving platter.

6. Toss the warm potatoes and beans into the bowl with the dressing and mix well. Taste and add more salt if necessary, and vinegar. Arrange on top of greens and serve.


Recipe: North African Bean Stew With Barley and Winter Squash North African bean stew with barley and winter squash, in New York, Jan 2, 2016. Canned beans are never going to be as good as home-cooked dried beans -- even the simplest recipe for dried beans yields amazing results. (Andrew Scrivani/The New York Times)

Yield: 8 to 10 servings

Total time: 1 hour 45 minutes

1/3 cup extra-virgin olive oil, more for serving

2 leeks, white and green parts, diced

1 bunch cilantro, leaves and stems separated

1 cup finely diced fennel, fronds reserved (1/2 large fennel bulb)

3 garlic cloves, finely chopped

2 1/2 tablespoons baharat (see note)

1/2 cinnamon stick

2 tablespoons tomato paste

2 quarts chicken or vegetable broth

1/2 cup pearled barley

2 1/2 teaspoons kosher salt, more as needed

Large pinch saffron, crumbled (optional)

4 cups cooked beans or chickpeas

2 cups peeled and diced butternut squash (1 small squash)

3/4 cup peeled and diced turnip (1 medium)

1/2 cup red lentils

Plain yogurt, for serving

Aleppo pepper or hot paprika, for serving

1. In a large pot over medium heat, heat oil and cook leeks until they begin to brown, 10 to 12 minutes.

2. Finely chop cilantro stems. Stir into pot, along with diced fennel and garlic. Cook for 2 minutes. Stir in baharat, cinnamon and tomato paste, and cook until paste begins to caramelize, about 2 minutes.

3. Stir in broth, 3 cups water, the barley and the salt. Bring to a gentle boil, stir in saffron, if using, and reduce heat to medium. Simmer uncovered for 40 minutes. Stir in beans, squash, turnip and lentils; cook until barley is tender, about another 20 to 30 minutes. Taste and adjust seasonings, if desired. Remove cinnamon stick.

4. Ladle stew into bowls. Spoon a dollop of yogurt on top and drizzle with olive oil. Garnish with cilantro leaves, fennel fronds and Aleppo pepper or paprika. A bowl of baharat, a Middle Eastern spice mix of sweet paprika, cumin, turmeric, black pepper, nutmeg, cardamom and allspice, for North African bean stew with barley and winter squash, in New York, Jan 1, 2016. Canned beans are never going to be as good as home-cooked dried beans -- even the simplest recipe for dried beans yields amazing results. (Andrew Scrivani/The New York Times)


Recipe:

Ham and Bean Soup With Collard Greens

Yield: 6 to 8 servings

Total time: 1 hour

4 tablespoons extra-virgin olive oil or bacon fat

1/2 pound diced cooked ham (about 2 cups)

2 large white onions, finely chopped

2 celery stalks, finely chopped

2 jalapeño peppers, finely chopped

1 green bell pepper, finely chopped

1 bay leaf

2 teaspoons kosher salt, more to taste

1/2 teaspoon black pepper

4 garlic cloves, minced

6 cups ham stock or chicken stock

4 1/2 cups (2 14 1/2-ounce cans) cooked pinto, red kidney or pink beans

1 large bunch collard greens, leaves only, thinly sliced (8 cups)

1/4 cup flat-leaf parsley, chopped

1 teaspoon apple cider vinegar

Hot sauce (optional)

Sour cream or whole milk Greek yogurt (optional)

1. In a large pot over medium heat, heat 2 tablespoons oil or bacon fat. Add ham and cook until beginning to brown, 8 to 10 minutes. Use a slotted spoon to transfer ham to a bowl.

2. Raise heat to medium-high and add remaining 2 tablespoons oil or fat to the pan. Add onion, celery, jalapeño peppers, bell pepper, bay leaf, 1 teaspoon salt and the black pepper; cook until lightly browned, 8 to 10 minutes, stirring frequently. (Add a little water, if necessary, to prevent burning on the bottom of the pot.) Stir in garlic and cook another 2 minutes.

3. Add stock, beans, collard greens, reserved ham and remaining 1 teaspoon salt. Bring to a boil, then reduce heat, party cover, and simmer for 30 minutes, stirring occasionally. Add parsley, vinegar and more salt to taste. Serve topped with hot sauce and sour cream if you like.


© 2016 New York Times News Service