Dinner Parties: Make Them Fun For Everyone
Reuters | Updated: July 12, 2017 15:06 IST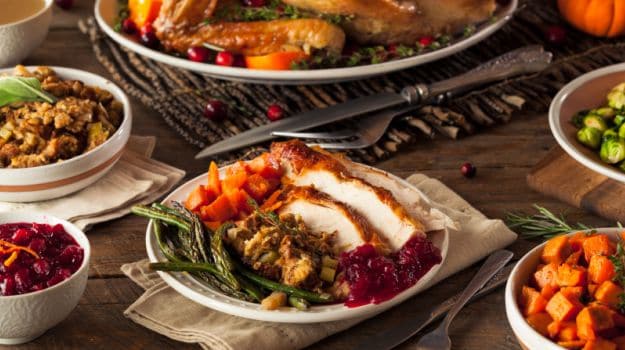 Image via iStock

Cooking for dinner parties should be fun. If the occasion is a holiday, a birthday or a personal landmark, celebrating at home with a meal cements relationships with friends and family. But when preparing the meal is too much work, the fun goes away. With relative ease, chef Nicole Heaney shows how to create a flavorful dish featuring a filet of fish that is perfect for entertaining. The key for a dinner party, as she demonstrates, is a little planning.

In the kitchen at Schooners Coastal Kitchen & Bar in Monterey, California, chef de cuisine Heaney shows how to prepare sablefish with crispy skin in a brown butter sauce. Adding flavor, Heaney pairs the rich, fatty fish with al dente Brussels sprouts, creamy farro cooked risotto-style and savory apple puree to add acid and sweetness.

Key to making the festive plate is the combination of four elements, each of which takes very little effort to create. And of the four, three can be made ahead. The Brussels sprouts, farro and apple puree can be made hours ahead of the dinner or even the day before. Then, just before serving, reheat the three components and cook the sablefish as your guests are sitting down ready for a celebration.

For a delicious vegan and vegetarian meal, leave out the fish and serve the Brussels sprouts, farro and apple puree.

A kitchen with a view

Schooners Coastal Kitchen & Bar is the main restaurant at the Monterey Plaza Hotel on Cannery Row. Working with executive chef James Waller, Heaney cooks in a kitchen with a view of Monterey Bay. Growing up in Wyoming and working in Colorado and New Mexico, Heaney was an adult before she saw the Pacific Ocean.
She confesses that, even after a year at the restaurant, when baby humpback whales swim close to the restaurant, she joins the other kitchen staff members to rush outside for a closer look from the dining patio. There they watch as the whales breach for a long moment before disappearing in the cold blue water.

Her cooking is influenced by the time she spent in Sedona at Mii amo Café. Preparing meals for health-conscious guests of the resort and spa, Heaney learned the importance of clean, fresh flavors. Fats were kept to a minimum. The kitchen did not use butter or cream. Asian ingredients and techniques were frequently used.

The regime is not as strict at Schooners, but Heaney still creates dishes with distinctive flavors and innovative ingredients like the kelp noodles she uses to make her version of pad thai.

An avid reader of Harold McGee's "On Food and Cooking: The Science and Lore of the Kitchen," she knows that the more you understand the chemistry of cooking, the better you can control the results. In her video demonstration, she points out the importance of using acid to round out flavors, as in the savory apple puree and farro risotto.

Apple Puree

The apples Heaney uses are grown locally on the Gizdich Ranch in Watsonville, California. She recommends using Gala apples in the recipe. Heaney leaves on the peels to add flavor and color. Because the apples will be pureed, there is no need to cut them precisely.

Prep time: 5 minutes

Cooking time: 15 minutes

Final assembly time: 5 minutes

Total time: 25 minutes

Yield: 3 cups sauce

Ingredients

4 large Gala apples, washed, pat dried, peels on

1 yellow onion, washed, peeled and trimmed, roughly chopped

2 to 3 tablespoons extra virgin olive oil

1/2 cup bourbon (optional)

Unsweetened apple juice to cover

Freshly squeezed lemon juice to taste

Kosher salt to taste

1 tablespoon apple cider vinegar

Directions

1. Heat a large saucepan on a medium flame.

2. Cut open the apples. Remove and discard the core and seeds. Do not peel the apples. Cut the apples into large pieces.

3. Drizzle olive oil into saucepan, add onion and apples and sauté together until translucent.

4. Add bourbon (optional). Cook off the alcohol, which may catch fire. Be careful not to singe your eyebrows as chef Heaney once did.

5. Cover with unsweetened apple juice. Simmer on medium heat until reduced by half and the apples soften and begin to break down.

6. Puree in a large blender. Start blending on a low speed and progress to a higher speed until the puree is smooth.

7. Taste and season with lemon juice, apple cider vinegar and kosher salt.

8. If preparing ahead, store refrigerated in a sealed container.

9. Just before serving, reheat. Taste and adjust the seasoning and, if the puree is too thin, continue reducing on a medium flame to thicken.

Farro Risotto Fit for a Dinner Party

Cooking farro risotto-style means heating and hydrating the grain as if it were Arborio rice. Substituting farro for rice adds a nutty flavor. Heaney prefers her farro al dente but that choice is entirely personal. Many people prefer their risotto softer rather than al dente.

Better quality ingredients yield a better result. With risotto, that means using quality rice or, in this case, farro. The stock is as important. Canned stocks are available, but they are high in sodium content and can have an off-putting aroma. Homemade stocks are preferable. Any good quality stock can be used -- beef, pork, chicken or seafood. For vegetarians and vegans, the farro can be prepared with vegetable broth and without the butter or Asiago cheese.

The cooking time may vary depending on the farro.

Like other whole spices, pepper has volatile oils. To preserve the freshness of its flavor, Heaney prefers to grind the peppercorns just before using.

Prep time: 5 minutes

Cooking time: 30 to 45 minutes

Final assembly time: 5 minutes

Total time: 40 to 55 minutes

Yield: serves 4

Ingredients

64 ounces hot stock, preferably homemade, can be vegetable, beef, pork, chicken or seafood

1 tablespoon extra virgin olive oil

1 yellow onion, washed, peeled, trimmed, small dice

1 large carrot, washed, peeled, trimmed, small dice

2 large celery stalks, washed, peeled, trimmed, small dice

3 garlic cloves, washed, peeled, rimmed, minced (optional)

16 ounces farro

1/2 cup dry white wine

1 tablespoon sweet butter (optional)

1 bunch Italian parsley, washed, pat dried, leaves chopped fine

1 tablespoon chives, washed, chopped fine

1 tablespoon fresh thyme, washed, chopped fine

1 cup shredded Asiago cheese (optional)

1 teaspoon fresh lemon juice

Kosher salt to taste

Black peppercorns, freshly ground, to taste

Directions

1. In a saucepan, heat stock on a low flame.

2. Heat a separate medium saucepan over a medium flame. When hot, add olive oil and sauté onions, carrots and celery until the vegetables are translucent.

3. Add farro. Stir well and sauté until lightly toasted.

4. Add garlic (optional) and sauté until translucent but do not brown.

5. Deglaze the pan with white wine. Cook until alcohol is fully cooked out.

6. Add hot stock in 6- to 8-ounce portion. Stir well.

7. As stock is absorbed, add more stock and stir well. Do not scald the farro.

8. Each time the stock is absorbed, add more stock until the liquid becomes cloudy and the farro softens.

9. If the farro is being made ahead, when the farro is soft but not yet soft enough to eat, or 75 percent cooked, remove from the burner, allow to cool and refrigerate in a sealed container.

10. If continuing to cook or if reheating, taste and continue cooking the farro until it is al dente or to your liking. Set aside until the fish is cooked.

11. Just before serving, to finish, add sweet butter (optional) and stir into the heated farro until melted.

12. Add Asiago cheese (optional) and stir well to melt.

13. Taste and season with fresh lemon juice, salt and freshly ground black pepper.

14. Just before plating, sprinkle in chopped fine parsley, chives and thyme and stir well.

15. Serve hot and plate as described below.

Caramelized Brussels Sprouts

Heaney prefers her Brussels sprouts al dente. Some people like them softer, in which case, after the Brussels sprouts are washed, trimmed and halved, blanch them in salted boiling water for two minutes, drain and then sauté as directed below.

Prep time: 5 minutes

Cooking time: 10 minutes

Final assembly time: 5 minutes

Total time: 20 minutes

Yield: serves 4

Ingredients

1 tablespoon extra virgin olive oil

1 pound medium-sized Brussels sprouts, washed, discolored leaves removed, ends trimmed, halved

Kosher salt to taste

Freshly ground black peppercorns to taste

Directions

1. Heat a large sauté pan.

2. Add extra virgin olive oil and halved Brussels sprouts.

3. Season to taste with kosher salt and black pepper.

4. Stir well to prevent burning. Sauté until Brussels sprouts are caramelized on both sides.

5. If the sprouts are to be served later or the next day, when they are cooked 75 percent, remove from the burner, allow to cool and refrigerate in an airtight container.

6. When the fish is cooking, heat the sauté pan with a small amount of olive oil. Add the cooked Brussels sprouts to reheat and plate with the fish, farro risotto and apple puree.

Crispy-Skin Sablefish in a Brown Butter Sauce

Also called black cod, sablefish is not actually cod. Heaney uses sablefish caught in nearby Morro Bay. She likes cooking the fish because it is almost "bulletproof." The flesh is difficult to overcook and is almost always moist, flavorful and delicate.

In order to achieve a crispy skin, Heaney has developed a simple technique described in the directions. She recommends buying a wooden-handled fish spatula with a beveled edge, which helps remove the fish from the pan. The spatula is preferable to tongs, which tend to break apart the filets.

Prep time: 5 minutes

Cooking time: 5 to 10 minutes

Final assembly time: 5 minutes

Total time: 15-20 minutes

Yield: serves 4

Ingredients

4 6-ounce skin-on filets of sablefish or black cod, washed, pat dried

1/2 tablespoon extra virgin olive oil

1/2 teaspoon kosher salt

1/2 teaspoon freshly ground black pepper

1 tablespoon sweet butter

1 teaspoon freshly squeezed lemon juice

1 tablespoon Italian parsley, washed, pat dried, leaves only, finely chopped

Directions

1. Season each filet with kosher salt and black pepper on both sides.

2. Heat a large sauté pan on a medium-high flame. When the pan is hot, reduce the flame to medium-low.

3. Add the olive oil. Allow the oil to heat.

4. Place the filets into the pan, skin side down. Do not overcrowd the pan, allowing space between each filet. If the filets are crowded together, the skin will not crisp. Sear but do not burn the skin. Jiggle the pan. That will help prevent the filets from sticking to the pan. If they do stick, use the fish spatula to gently release them from the bottom of the pan.

5. Add sweet butter to the pan and swirl around the filets.

6. Let the filets cook without fussing too much. The fish is cooked when the flesh is opaque.

7. Using the fish spatula, gently flip each filet over. Swirl the filets into the melted butter, being careful to brown but not burn the butter. After 30 seconds, use a spoon to baste the filets with the melted butter.

8. At this point, the fish is cooked. Add parsley for color and season with lemon juice. Put the saucepan to the side.

Assembling the dish:

Plate the fish when everyone is seated at the table.

All of the elements -- fish, apple puree, Brussels sprouts and farro risotto -- should be hot and ready to serve.

Select a large plate. Using the back of a soup spoon, spread a tablespoon of the apple puree across the plate. Add a good portion of the farro risotto in the middle of the plate, then the caramelized Brussels sprouts.

Gently add the sablefish filet, crispy skin side up. Spoon a little bit of the brown butter on top of the filet, farro and Brussels sprouts. And as chef Heaney says, "That is it."

Serve the dish hot with a crisp white wine and let the festivities begin.



© Thomson Reuters 2015