Don't fuss, I'll be fine
Melissa Clark , The New York Times | Updated: November 28, 2013 14:02 IST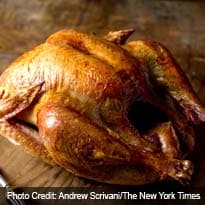 For all the elaborate attention we lavish on Thanksgiving turkeys year after year, the truth is: more work doesn't necessarily yield better birds.

I've roasted a flock of turkeys in my time. Six of them already this year. I have brined them, marinated them, slipped herbs under their skin. I have stuffed them, trussed them, smoked them and grilled them. Once I attempted to inject a poor bird with garlic butter. It seemed brilliant, but ended up shooting all over the kitchen floor.

You don't need to do any of those. I am convinced less is actually more when it comes to turkey roasting. That is, I swear by no brining, no stuffing, no trussing and no basting.
Instead of a messy wet brine, I use a dry rub (well, technically a dry brine), which is really just a salt and pepper massage administered a few days, or even a few hours, before roasting. It locks in moisture and seasons the flesh.

Keeping the bird unstuffed and untrussed allows it to cook more quickly (no more waking up at dawn to get that 22-pounder into the oven), with the white and dark meat finishing at about the same time.

And if you oil your bird but don't baste it, you'll get skin as crisp as a potato chip without slowing the cooking by constantly opening the oven door.

So this year, take the easy way out. We promise it's the best way, too.


















Simple Roast Turkey

Time: 3 1/2 hours, plus 1 to 3 days' brining
Yield: 10 to 12 servings

1 turkey (10 to 12 pounds)

Coarse kosher salt

1 tablespoon black pepper

1 lemon, zested and quartered

1 bunch fresh thyme or rosemary

1 bunch fresh sage

12 garlic cloves, smashed and peeled

1 bottle hard apple cider (12 ounces)

Dry white wine, as needed

2 onions, peeled and quartered

3 bay leaves

Olive oil or melted butter, as needed

1. Remove any giblets from the cavity and reserve for stock or gravy. Pat turkey and turkey neck dry with paper towel; rub turkey all over with 1/2 teaspoon salt per pound of turkey, the pepper and the lemon zest, including the neck. Transfer to a 2-gallon (or larger) resealable plastic bag. Tuck herbs and 6 garlic cloves inside bag. Seal and refrigerate on a small rimmed baking sheet (or wrapped in another bag) for at least 1 day and up to 3 days, turning the bird over every day (or after 12 hours if brining for only 1 day).

2. Remove turkey from bag and pat dry with paper towels. Place turkey, uncovered, back on the baking sheet. Return to the refrigerator for at least 4 hours and up to 12 hours to dry out the skin (this helps crisp it).

3. When you are ready to cook the turkey, remove it from the refrigerator and allow it to come to room temperature for one hour.

4. Heat oven to 450 degrees. In the bottom of a large roasting pan, add the cider and enough wine to fill the pan to a 1/4-inch depth. Add half the onions, the remaining 6 garlic cloves and the bay leaves. Stuff the remaining onion quarters and the lemon quarters into the turkey cavity. Brush the turkey skin generously with oil or melted butter.

5. Place turkey, breast side up, on a roasting rack set inside the roasting pan. Transfer pan to the oven and roast 30 minutes. Cover breast with aluminum foil. Reduce oven temperature to 350 degrees and continue roasting until an instant-read thermometer inserted in the thickest part of a thigh reaches a temperature of 165 degrees, about 1 1/2 to 2 hours more. Transfer turkey to a cutting board to rest for 30 minutes before carving.

Braised Turkey
Time: 3 hours
Yield: 10 servings

2 tablespoons olive oil

1 pound Italian sausage, cut into 2-inch pieces

1/4 pound pancetta, guanciale or not-too-smoky bacon, cut into 1/2-inch dice

4 turkey thighs

Salt and black pepper

1 turkey breast, boned to yield 2 halves

1 ounce (more or less) dried porcini or other mushrooms

1/2 pound carrots, peeled and diced

1/2 pound celery, trimmed and diced

1 large onion, sliced

Several sage leaves or sprigs of thyme or rosemary

1/2 pound shiitake or other mushrooms, sliced

Stock or water as needed

Chopped fresh parsley leaves for garnish

1. In a large skillet over medium heat, heat olive oil. Add sausage, pancetta and as many thighs as will fit comfortably, skin side down; sprinkle thighs with salt and pepper. Brown all well, removing pancetta first (it will brown first), then sausage; set aside. Turn thighs when they are well browned and cook a minute or so on skinless side. Remove them, too, and repeat with remaining thighs if necessary. Add breast to pan and brown it well, skin side down, then flip and cook for just a minute or so and remove. Set pan aside.

2. Heat oven to 300 degrees. Soak porcinis in hot water to cover. In pan used for turkey, cook carrots, celery, onions, sage and shiitakes in leftover fat. When all vegetables are tender and beginning to brown, add drained porcini, reserving liquid. Return pancetta and sausage to pan. Cook another minute and turn off heat.

3. In a large roasting pan, put thighs in corners, browned side up; there should be room for breasts all in one layer. Fill space between thighs with vegetables; leave breasts out for now. Add mushroom soaking liquid, leaving any sand and grit behind. Add stock or water as needed to come about halfway up sides of thighs.

4. Put in oven and roast, uncovered, for 2 hours, checking occasionally to make sure liquid level remains sufficiently high and stirring vegetables if they threaten to brown too much. When thigh meat is tender, lay breasts on vegetables and cook until they are done, about a half-hour longer.

5. To serve, put vegetables on a platter; slice breasts and lay them on top; shred thigh meat and pile that on the rest.

(Adapted from Mark Bittman)

© 2013 New York Times News Service