We are well into the festive season of the year and Hindus across India are celebrating one of the major festivals - Navratri. Navratri coincides with the Bengali festival of Durga Puja, which is marked during the last four days of Navratri (from the sixth to the ninth day). This year, Navratri started on September 26, 2022 and will end today (on October 4, 2022). The next day is marked as Dussehra (or Vijaya Dashami by the Bengali community) that further leads to Diwali after 21 days.


Dussehra (or Vijaya Dashami) is marked with much enthusiasm all over the country. It signifies the victory of good over evil. In North India, people burn effigies of Ravana (Ravan Dahan) to celebrate the victory of Lord Rama - it is believed that setting fire to the effigies of mythological demon also extinguishes the devils within us. On the other hand, Bengalis mark Vijaya Dashami by immersing the idol of Goddess Durga - which signifies sending off the daughter back to her home, after a vacation.


Also Read: Watch: Kajol And Son Yug Celebrate Durga Puja By Serving Bhog
Dussehra 2022: Date And Time Of Vijaya Dashami:
This year, Dussehra will be celebrated on October 5, 2022 (Wednesday).


Vijay Muhurat - 02:07 PM to 02:54 PM


Aparahna Puja Time - 01:20 PM to 03:41 PM


Dashami Tithi begins - 02:20 PM on October 04, 2022


Dashami Tithi ends - 12:00 PM on October 05, 2022


Shravana Nakshatra begins - 10:51 PM on October 04, 2022


Shravana Nakshatra ends - 09:15 PM on October 05, 2022


(Source: www.drikpanchang.com)
Dussehra 2022: Celebration And 5 Classic Mithais For The Festive Feast:
As mentioned earlier, the day is marked with Ravan Dahan and also immersion of Goddess Durga. After that, friends and family gather together to exchange sweets and greet each other. Considering this, we bring you a list of some classic mithais that you can include in your festive feast. Take a look.
Jalebi:
One of the most popular mithais across India, jalebi is a crispy delight, dunked in sweet sugary syrup. You can enjoy it as is or pair with cold rabdi or dahi to experience a burst of flavours on your palate. Click here for a quick and easy halwai-style jalebi recipe.
Gulab Jamun:
Gulab Jamun has a dedicated fan following of its own. It is soft, sweet and melts in mouth in just no time. If fact, it tastes the best when served hot. Here we bring you an easy recipe that will help you prepare soft, halwai-style gulab jamun at home. Click here to know more.
Rasgulla:
The classic Bengali mithai, no celebration (in Bengal) seems complete without rasgulla. Soft, cheesy roundels, soaked in light syrup, rasgulla defines indulgence. This festive season, make rasgulla at home and enjoy with friends and family. Click here for the recipe.
Rasmalai:
Although it has its origin in Bengali cuisine, today the popularity of rasmalai breaks the barriers and goes beyond the region. In fact, you will find rasmalai in every sweet shop across the country. That's not all. You can easily make it at home too. We found the perfect recipe for you. Click here to know more.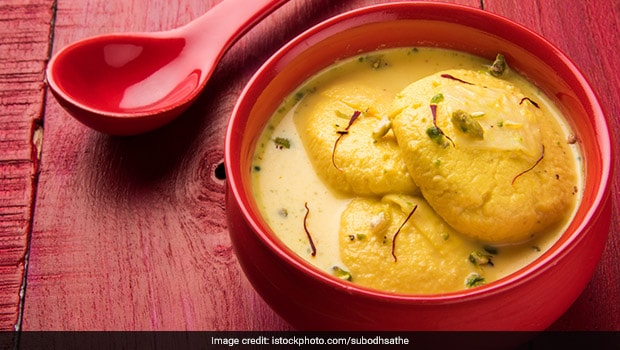 Kalakand:
Another creamy desi mithai, kalakand makes a popular choice across the country. All you need is milk and cottage cheese to make this halwai-style creamy dish. Click here for an easy kalakand recipe.


Now that you have the recipes handy, we suggest, make the sweets at home and celebrate Dussehra and Vijaya Dashami on an indulgent note.
About Somdatta SahaExplorer- this is what Somdatta likes to call herself. Be it in terms of food, people or places, all she craves for is to know the unknown. A simple aglio olio pasta or daal-chawal and a good movie can make her day.