Duval Timothy (foreground) with Groundnut colleagues Folayemi (centre) and Jacob (at the back). 'I like to make my salads slightly differently,' says Duval. 'I borrow a lot of the incredible seasoning combinations used across African cuisines.' Photograph: Elena Heatherwick for the Guardian

Experience has taught Duval Timothy of The Groundnut supperclub trio that a bit of ingenuity can go a long way – especially in a salad. Here he combines toasted surplus rice with tantalising flavours for a salad with a difference.
Every now and then, when I was growing up, Mum would make a salad for dinner, using up the odd bits and bobs lingering in the fridge towards the end of the week. Salad dinners weren't good news; we'd start whining and begging for rice and chicken instead. Better yet, chicken and chips from one of south London's finest fast-food purveyors. Morleys! King Rooster! Sometimes this actually worked, but on most occasions Mum would tell us to stop moaning, or Dad reminded us about the importance of eating our vegetables before turning to Mum to ask what we were having with the salad.
"Just salad?!" Yes, really, just salad.
Luckily, Mum has a great love for fresh fruit and vegetables and always managed to shake off our initial criticism by producing something plentiful, colourful and with loads of natural flavour. Iceberg lettuce, bell peppers, tomatoes, avocado and radish were chopped and tossed with watercress or rocket, and within these piles of vegetables you'd find morsels of leftover chicken pulled cold from the carcass, as well as nuts, dried fruit, bits of hard cheese and chunks of potato dressed simply with olive oil, salt and black pepper. We'd all leave the dinner table with our huge appetites sated, and proved wrong about salads.
Nowadays, it's me, not Mum, who insists on making salads for a dubious crowd. Some of the best I ever made were during the years following uni, when I was trying to find my way as an artist. There wasn't much money and the days had little structure. Generally, the usual suspects would hang out in our New Cross flat, exchanging stories and jokes while my brother produced instrumental beats and danced with himself in the mirror. That's pretty much how the day would go until the conversation turned to food, singing out above the bass as our appetites grew, and reverberating down the narrow hallway. Everyone would count up their change and weigh up the potential options offered by each of the African and Caribbean takeaway spots close by – Bola Cuisine maybe, or Smokey Jerky. It was at times like this that I'd insist on making something for everyone to share, using whatever ingredients we had in the flat. Often a salad. Just like Mum.
I like to make my salads slightly differently, and borrow a lot of the incredible seasoning combinations used across African cuisines. The cardamom, mustard and lime used in the recipe here is similar to the seasoning of a Yassa sauce from Senegal, for example, or sometimes I'll use crushed garlic, ginger and scotch bonnet inspired by the Sierra-Leonean Jollof sauce. Another method I've taken to using is cooking down onions for an hour until you achieve a dark, mushy sauce like an Ethiopian Wot stew, and then balancing this soft, sweet pulp with the juice and zest of tangerines to create a dressing for green salad. When I need to create a tasty dressing or sauce to elevate basic ingredients like lettuce and peppers, I always make sure I have fresh herbs, dry spices, good oils, citrus and vinegars for acidity, honey and molasses around. Invest in some of these for your storecupboard and they will start to show their true value.
Pulses and grains – often rice – usually play a key role, too. My partners in The Groundnut, Yemi and Jacob, have their own ways of steaming rice that supposedly never fail them, while I use a technique my dad showed me as a kid. It has stuck with me, even though I don't always get it right! I measure a thumbnail of water above the rice in a pan for the perfect ratio. Still, my rice-making is famously inconsistent, with only one thing guaranteed: too much rice at the end. I often get ridiculed by the boys for this, so I've come up with an idea for the leftovers: baking it for salads. As it bakes, the rice becomes more like a nut or seed and has a slightly chewy, dried texture and a toasty taste.
In the recipe below, this chewy rice compliments the crunchy radish and juicy cucumber, and absorbs the rich dressing. The cardamom, lime and honey lend big, bright flavours that demand another mouthful, then another. It's decent. It's actually really good – for a salad. Thanks, Mum.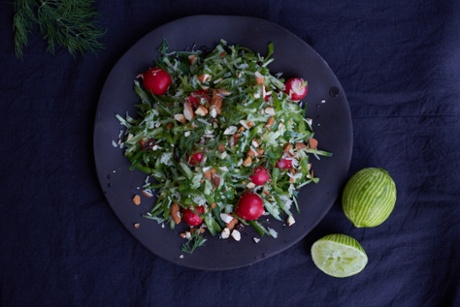 Duval's rice salad
We always serve a range of cooked and fresh salads at our Groundnut dinners and it's not unusual for them to be the star of the show. This one is a worthy and complete meal on its own.
Serves 5
300g cooked rice
A pinch of salt
1 cucumber
200g radish, trimmed
2 green bell peppers
100g raisins
1 tbsp fresh dill, roughly chopped
200g almonds, crushed
For the dressing
½ tsp whole black peppercorns
20 cardamom
pods
1 tsp salt
1 tsp English mustard
1 tbsp honey
1 lime, zest and juice
2 tbsp extra virgin olive oil
1 Preheat the oven to 200C/400F/gas mark 6. Put the cooked rice in a wide baking tray so that it is as spread out as possible. Sprinkle it with a pinch of salt and put it in the oven for 20-30 minutes. Stir the rice with a fork now and then. There's no need to add oil.
2 Remove the rice from the oven when the grains begin to turn slightly yellow in colour and have a nice, dry, chewy texture. Leave to cool.
3 To make the dressing, crush the black peppercorns and cardamom in a pestle and mortar. Remove the papery shells of the cardamom and continue to crush until you have a fine powder. Then add the remaining salt, mustard, honey, lime juice and zest and the olive oil and mix to a smooth dressing.
4 To matchstick the cucumber, slice it lengthways into thin strips (or use a mandolin). Place a few slices on top of each other and slice each bunch as thinly as possible in the other direction working from one end to the other. You should be left with short strips of juicy cucumber. Slice the bell peppers into similar-sized strips.
5 Finally, toss the rice, whole radish, sliced bell pepper, cucumber and raisins with the dressing before sprinkling the roughly chopped dill and almonds over the salad. Add extra lime or salt to taste.