Story Progress
Back to home
Pork Sorpotel Recipe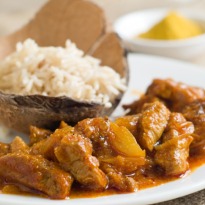 Sorpotel is a popular Goan delicacy. It is a dish of Portugese origin, where diced meat is cooked in a vinegary gravy.
Total Cook Time

40 mins 20 seconds

Prep Time

10 mins 20 seconds

Ingredients of Pork Sorpotel
1 kg pork leg
1/4 cup oil
1 cup onions-chopped
1 Tbsp ginger-chopped
2 tsp garlic-chopped salt to taste
1/2 tsp turmeric
1 Tbsp chilli powder
1/4 tsp clove powder
1/2 tsp black pepper powder
1 Tbsp vinegar
2 tsp cumin seed powder
1.
Boil pork for 5 minutes, cool and dice into small pieces, removing the bones.
2.
Keep stock aside. Heat oil and saute meat over high heat till opaque, and fat separates.
3.
Remove meat pieces and put back into the stock.
4.
In a pan, heat oil and saute onions, garlic and ginger till they turn light brown.
5.
Add the meat mixture to it, along with the turmeric, chilli powder, clove, black pepper, vinegar and cumin.
6.
Bring to a boil and simmer till cooked through.