Summer pudding is best made the day before so the bread can soak up the juices and completely set. Photograph: Yuki Sugiura for The Guardian
Put a new spin on your strawberries by steeping a great bowlful in booze and gradually transforming them into this trio of summer puds and a decadent daiquiri
For me, a perfectly ripened strawberry is a cosmic and nostalgic experience. A good strawberry's zing, flavour complexity and divine sweetness makes my eyes close reflexively and remember the time when I used to pick them in the fields as a child.
I used to work on a strawberry farm in Thorncombe in Dorset, picking with travellers and locals from my village. We were paid by the punnet: some people were making as much as £80 a day - picking furiously, bent over in the sun - a reasonable wage for five hours' work in 1995. We'd pick from early morning until the sun got too hot. I was only 15 so had a slightly more laidback philosophy of "one for me, one for you" - "you" being the punnet. Every now and again I would come across a strawberry ripened to perfection and gobble it down.
Summer strawberries are here and it was so worth the wait. Fruit undoubtedly tastes best when it is in season, but there is also a psychological change that comes into play when we haven't tasted an ingredient for a long period of time. Strawberries are a prime example of this and taste infinitely better when eaten in season. The anticipation of their flavour and the memories this invokes all add to the enjoyment we experience when the season comes around again.
Of course, a strawberry is perfect as it is, eaten unadulterated, bitten directly from the stalk. But, after the initial gorge, it's time to start experimenting with them, making the most of the seasonal glut. Marinating strawberries in grappa (or macerating) really intensifies their flavour and is a good way to preserve an abundance of soft fruit. These will keep in the fridge for up to five days and can be used as a base ingredient for a number of other delicious recipes.
To macerate your strawberries
1200g strawberries
8 tbsp grappa
4 tsp caster sugar, plus extra to serve
1 Hull the strawberries by pulling off the green tops (cut them if they are under-ripe.)
2 Cut the strawberries in half from top to tail. Put them in a bowl with the grappa and caster sugar. Allow them to sit in the fridge for 30 minutes - all the juices will begin to seep out and the strawberries will soften. Turn every now and again to cover them with grappa.
1. The classic dessert: Sourdough summer pudding (pictured above)
An all-time summer favourite of mine and so quick to assemble. I like to experiment with different fillings and fruits. Summer pudding is best made the day before so the bread can soak up the juices and completely set. I find sourdough works particularly well.
Serves 4-6
300g macerated strawberries
200g mixed summer fruits (raspberries, redcurrants and blackberries)
Juice of a lemon
50g honey, or to taste
4-6 slices sourdough bread, cut 1-2 cm thick, crusts removed
Double cream, to serve
1 Put the macerated strawberries in a saucepan with the mixed summer fruits. Add the lemon juice, honey and 50ml of water. Taste and add more honey if required. Bring to the boil, reduce the heat and simmer for 2 minutes, then put aside.
2 Line a 1-litre pudding basin with the slices of bread. Place a disc of bread in the bottom, then run pieces up the sides, overlapping them slightly. Press the joins together to seal them with a little dab of water. Fill the bread case with the summer fruits, saving a few tablespoons of the juice for later. Cover the top of the fruit with bread and seal against the walls.
3 Place a small plate on top and then a weight on top of that. I use my pestle and mortar but anything clean and heavy will do.
4 The next day, carefully turn the pudding out on to a plate. Use the saved juices to paint over the top to freshen it up. Serve with plenty of fresh cream.
2 The quick pud: a five-minute fool
Fool is such an easy dessert to make, yet feels suitably luxurious - as any dessert should. This recipe works well with any seasonal fruit, either macerated in alcohol or cooked down into a compote.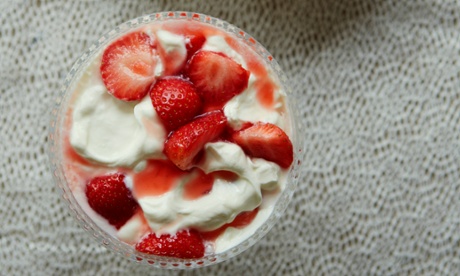 Serves 4-6
100ml double cream
150ml yoghurt
300g macerated strawberries
50g raw cane sugar
1 Whip the cream to form soft peaks, being careful not to over-whip. Cream isn't very nice when it is over-whipped, buttery and full of air bubbles. Gently fold in the yoghurt, two-thirds of the macerated strawberries and the sugar with a metal spoon. Fold gently so that you don't knock the air out of the cream. Leave ripples of strawberry juice throughout the mixture.
2 Serve in four or more glasses topped with the remaining macerated strawberries.
3 An indulgent strawberry and mascarpone ice-cream
This is a very easy recipe to make and it doesn't require an ice-cream machine. This keeps well in the freezer for a couple of weeks so it can be made well in advance.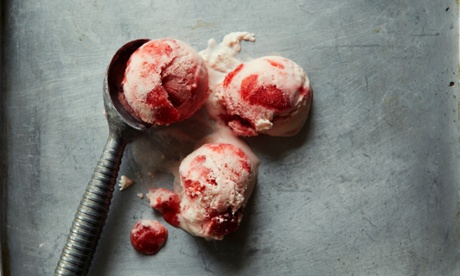 Serves 8-10
300g macerated strawberries
80g raw cane sugar
250ml double cream
150g mascarpone
1 First, bring the macerated strawberries and sugar to the boil. Remove from the heat and allow to cool to room temperature.
2 Place in the freezer for 1.5 hours until the strawberries have just started to freeze.
3 Whisk the cream until soft peaks form, then incorporate the mascarpone and the near-frozen strawberries just enough to create a ripple effect.
4 Put into a freezable container and put in the freezer. Remove after an hour and whisk with a fork then return to the freezer. Repeat two or three times until the ice-cream is almost set.
5 Remove from the freezer 5 minutes before serving. Heat up a spoon in boiling water to scoop out the ice-cream and serve.
4. The cocktail: Strawberry daiquiri
A lip-smacking summer cocktail that looks every bit as decadent as it tastes. The fresh fruit makes this taste healthy as well as delicious - a dangerous combination.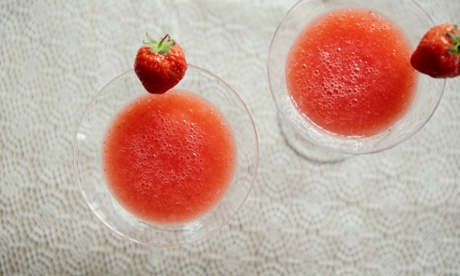 Makes 4-6
300g macerated strawberries
2 tbsp sugar
3 handfuls of ice
150ml grappa or vodka
4-6 strawberries, to serve
1 Using a tall blender, blend the ingredients together until smooth. Serve immediately in martini or wine glasses with a strawberry on the side to decorate.
Tom Hunt is an eco chef, the director of Poco restaurant in Bristol and the author of The Natural Cook (Quadrille). Twitter: @TomsFeast