Getting 'Caned': Indian alcohol's New High
IANS , Panaji | Updated: March 20, 2013 11:14 IST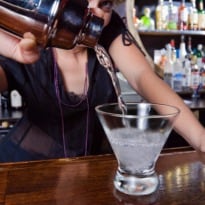 No longer fancy your molasses-based rum and whisky? Now get your high on pure sugar cane.

With 'Pure Cane', an alcohol double-distilled directly from sugarcane juice, IIT-ian Desmond Nazareth has just qualitatively upped the ante for liquors.

While most Indian liquors swim in ethanol derived from smelly molasses, a by-product of sugar production, Nazareth's 'Pure Cane' is derived directly from cane juice, which is fermented and double distilled into premium liquor like they make it in the French West Indies or Brazil.

"Most Indians follow mass production that involves high volumes and low quality. I have tried to improve the profile of Indian liquor, keeping in mind the international processes," says Nazareth, who manufactures the alcohol at his micro distillery in Chittoor in Andhra Pradesh but markets it from Goa.

As a maker of premium alcohol brand, Nazareth earned his pips some years ago by manufacturing 'Agave,' India's first tequila made from 'Blue Agave', a cactus variety found in Andhra Pradesh. Nazareth could not call it tequila because of proprietory conflicts.

And while his new cane liquor is similar to the Brazilian Cachaca and French West Indian sugarcane juice rum Rhum Agricole, he prefers to call it 'Pure Cane'.

"I hope this is an inspiration to other companies. If people can look at us and say we have done it, so can we. That will be great," Nazareth told IANS.

He said that a lot of local natural resources can be used to make premium spirits.
Nazareth said that the Indian date, toddy, coconut palm and various indigenous fruit could be tapped by alcohol-brewing enterprises to make top class products.

"Goa has its own feni and it is being exported, but there is no monitoring. No checks on quality," he said, adding that the sugarcane used to manufacture 'Pure Cane' was grown in farms in and around his distillery in Andhra Pradesh.

Each bottle of 'Pure Cane' is priced at Rs.520 in Goa, while an imported bottle of liquor costs up to four times more.

Nazareth said that liqour companies in Goa need to take their brands to the high-end premium market because most of them do not have a national or a sub-national profile.

"Marketing and distribution are key areas which need to be mastered to make an alcoholic brew popular," Nazareth said.

(Mayabhushan Nagvenkar can be contacted at .n@ians.in)