The main road connecting Abu Dhabi with Dubai is a long stretch of highway that runs through the desert - a stark reminder of how this country on the eastern tip of the Arabian Peninsula once looked just 40 years ago before an oil boom.
In both metropolises, foreigners far outnumber the locals. The two emirates are home to countless Western food chains and ultrachic, reservations-only celebrity-chef restaurants imported from London, New York and Los Angeles. They both boast ultramodern skylines with architecturally stunning skyscrapers, opulent hotels and huge shopping malls, a testament to the Gulf's penchant for swagger, luxury and Western imports.
However, the road linking Abu Dhabi to Dubai is surprisingly unadorned, functional and subdued. It seems only natural that the austere chain of Emirates Guest Cook Restaurants found a home along this highway.
Emirati dishes of lamb, chicken and fish are served on heaping beds of spiced rice in a down-to-earth environment at bargain prices. It's where Emiratis and Gulf Arab visitors come for the region's most important meal of the day - lunch. The place is busiest between noon and 3 p.m.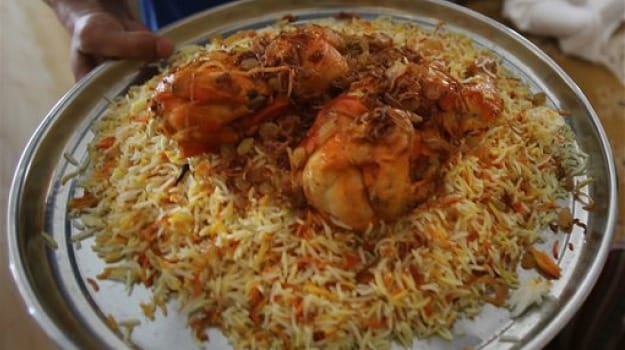 The simple formula here is heavy portions that are light on the wallet. Dishes range from around 20 dirhams ($5.50) for single portions to 40 dirhams ($10.50) for full-sized meals for two or more people. All meals at the Emirates Guest Cook Restaurants include a side of tomato and onion salsa and a few cucumber, carrot and lemon wedges.
The platters are served two ways: either on dining tables downstairs or in traditional Arabian-style upstairs. Upstairs is where guests sit on a carpeted floor in private nooks lined with pillows. Waiters bring each party a large platter to share and eat by hand.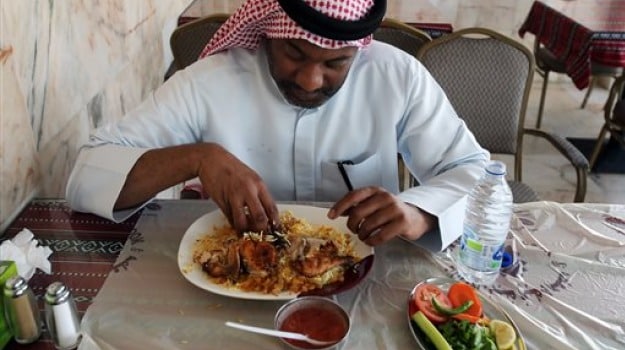 I went for the chicken majboos, also known as kabsa across the Gulf. Unlike some Indian cuisines, Emirati dishes are not particularly spicy. The majboos was steamed and boiled with black pepper, cumin, coriander seeds, ginger, bay leaves, cinnamon and cloves. The rice was topped with copious amounts of tangy dried red currants.
For my husband, I ordered a take-out portion of the chicken madfoon, cooked underground in a clay oven. The rice was infused with pieces of fried onion. My colleague, who hails from Iran, had the fish, which is cooked in a similar way across both sides of the Persian Gulf.
Other popular Emirati dishes on the menu include mandi, an originally Yemeni meat and rice dish slow-cooked in a tandoor clay oven, and biryani, a uniquely South Asian import. And just to be clear, here is what you won't find on the menu: kitsch dishes like camel burgers and Lebanese mezze like hummus and baba ghanoush. That's because neither is true in form to the local cuisine.
The menu at Emirates Guest Cook Restaurants is an authentic fusion of South Asian and Iranian spices, flavors that for centuries have landed on the shores of this ancient trade route linking India with the British Empire.
Just take the owner Nasser Ibrahim Hossein, who goes by the name Abu Mansoor. An entrepreneurial 40-year-old man with a wide smile, two young children and a third on the way, Abu Mansoor is originally from Shiraz in southwest Iran. He moved to the Emirates in the early 1990s, married an Emirati woman and acquired Emirati citizenship. He opened three restaurants next to one another in the same roadside strip of sleepy storefront shops. One offers Iranian food, the second Emirati food and the third grilled meats. So how hard was it to find a locally-owned restaurant that serves only local food? Well, very hard.
Most website searches for Emirati restaurants direct you to malls or hotels that offer a loose mix of Mediterranean cuisine and a few local dishes. Emirates Guest Cook Restaurants has no website or Facebook group, and the few references to it online list the wrong number. I heard about it through word of mouth from a colleague whose Emirati mother orders from there.
Not without irony, it's easy to spot across the highway from a giant European hypermarket and mall named Deerfields Townsquare.
Image Credits: Associated Press