Tanu Weds Manu, Revolver Rani and others have received great reviews wherein she has managed to impress everyone with her acting skills. The national award winning actress can walk the talk and how. She is as much in the news for her incredible performances as for her bold, opinionated nature. Despite the mixed response to her recent film Rangoon at the box office, Kangana's performance was lauded by all. A stunner, a phenomenal actor, Kangana Ranaut never fails to amaze us whenever she's back on the screen. A spew of excellent performances stand testimony to it.

Kangana Ranaut has carved her very own path and scaled great heights despite many hurdles, and this is probably what makes her such an inspiration to aspiring actors and her fans. She is hard-working and dedicated, which reflects in her work. So how does she manages to stay at the top of her game? While beauty does not solely comprise outward appearances, for most, being healthy and fit is of utmost importance. After all, feeling healthy is a prerequisite to looking good.

(Read: The 5 Mantras Behind Katrina Kaif's Fitness: Her Secrets Revealed)


(Read: Sonam Kapoor's Weight Loss Journey: Fitness Tips Straight from Her Trainer)
Kangana's Fitness Mantra
For the actress, fitness and a toned body are extremely crucial. As a person who follows a vigorous workout regime, this process is facilitated by a strict diet regimen. The secret to her glowing skin is her diet along with yoga that she practices every day without fail.
In an exclusive interview with a TV channel, Kangana shared her diet and fitness mantra. She had said, "Under the influence of Western culture, most actors and celebrities are inspired by Western clothes and are determined to fit into them and that makes it important for us to shrink in size." Her determination for a good figure is not restricted to upcoming movies alone. Sweat, strength and courage to get fit helped her strive to attain her goals. She asserts that other actors do not influence her, however, when prompted, she shared that it is Sridevi's beauty that has left her spell bound.

(Read: Deepika Padukone: Giving Us Serious Fitness Goals Even at 31)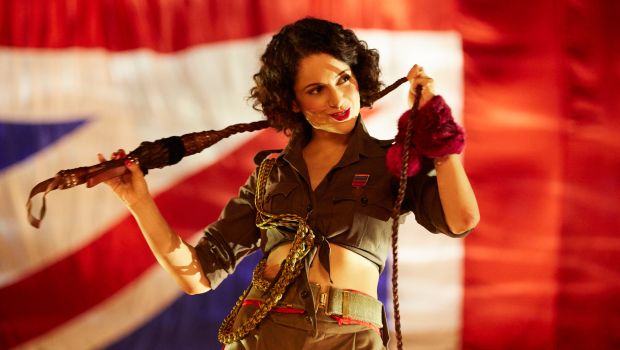 (Also read: Phillauri Movie Is Out : What Makes Anushka Sharma Stay Fit And Beautiful )

Credit Goes to Yoga
Kangana has always managed to maintain her figure and she credits it to yoga. In an interview in NDTV's Glamour Show, she gave all the credit to her yoga instructor and also demonstrated a few asanas that would be beneficial to all. She also claimed that yoga transformed her life altogether. She said, "Yoga helped me achieve this kind of focus and concentration. Initially, my mind was bombarded with thoughts, which were directionless. However, with yoga, I found purpose and focus, which helped me attain stability."
Kangana has graced many magazine covers with great style and poise. There isn't someone who carries those curls with more grace than she does. She is the epitome of strength and fearlessness. What sets her apart from the rest is her versatility, and the fact that she speaks her mind with any inhibitions. Her capability to mold into any role with great ease and outshine everyone has placed her at the top of the ladder.
Her fitness trainer Leena Mogre shares that Kangana is an ectomorph which means it's difficult for her to gain weight and that could be the reason for her fit body. She has always been on the lean side and has never needed drastic weight loss strategies for any of her roles.
Actress Kangana Ranaut would be ringing in her 29th birthday today. The actor has wowed us all with her applause-worthy performances and her brave and bold remarks. Her films like Queen,