Happy Birthday Salman Khan! Want to know how the Bajrangi Bhaijan star looks so good even at 51? Scroll down for Salman's daily diet and workout routine.
Salman Khan, now lovingly called Sultan by his fans and well-wishers, is among the most popular stars in
Bollywood
. His fan following is enviable, so much so that all his movies are a huge commercial success within a few days of release. Apart from his incredible acting skills, the star's good looks and well-sculpted body have also kept him in the spotlight.
The
Kick
star
has always been a fitness enthusiast, inspiring the world over with his extraordinary build for years. During the BodyPower Expo 2016 in Mumbai, Salman said: "More than in the gym, the body is made out of the gym. You might spend about one to two hours in the gym, but it is your discipline and strong mind that plays a greater role in achieving your desired body". That's perhaps the secret behind Salman Khan's envied physique, even at 51.
On days when he has a tight schedule and can't make it for his workout, Salman heads to the gym as late as 1 am or 2 am. He loves cycling, and often cycles for three hours to Panvel (near Mumbai) when he's having a bad day.

Salman Khan's Diet Plan
Salman has always had a weakness for Indian and Italian cuisine, but ever since Manish Advilkar took the role of his gym trainer, Salman's diet plan was completely restructured. The
Prem Ratan Dhan Payo
star now follows a strict
protein-rich diet
comprising
fish
, egg whites, meat and milk to complement his intense fitness regimen.Salman kick starts his day with four egg white whites and low-fat milk. His lunch usually includes five
chapatis
, grilled vegetables and salad. When he feels a snack attack coming his way, he reaches out for a protein bar and a handful of nuts. For dinner, he eats two
egg whites
, fish or
chicken
, and
soup
. Before his workout, Salman enjoys a protein shake and two egg whites. For his post workout snack, he has oats, almonds, three egg whites and a protein bar.According to Salman, the kind of food you eat is as important as your workout. He loves leading a healthy lifestyle, but completely avoids processed and sugary food.
Dnt stop eating. Jst eat right. Read Dr Muffi's book. #EatRight#DrMuffihttps://t.co/kfEKx5wzvCpic.twitter.com/1S9undCjMl

— Salman Khan (@BeingSalmanKhan) May 18, 2016
Workout RegimeSalman works out for two to three hours daily and follows a disciplined workout regime that consists of weight training for three days a week, and cardio for three days. Sunday is typically his rest day. He usually focuses on only few body parts - biceps, triceps, abs, legs and back. Salman Khan can reportedly do 2000 sit ups or 1000 push ups or 500 crunches at a time.Weight Training: Monday, Wednesday, FridaySalman starts his workout with warm up exercises such as jumping jacks, squats and push ups. He performs deadlifts for defining his back and leg muscles, and does the bend press for his chest and biceps. He performs 4 sets of 6-8 reps for his arms, and 6 sets of 12-14 reps for his chest. To conclude his workout, Salman runs on the treadmill. Fitness freak, no doubt.Cardio: Tuesday, Thursday, SaturdayThe Bajrangi Bhaijaan star starts his cardio session by running on the treadmill for 15 minutes, and then moves onto the abs circuit which includes crunches, reverse crunches, back extensions and side planks. Next up is 1000 push ups.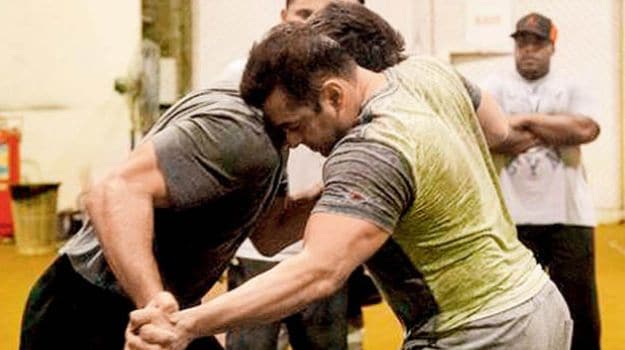 Salman Training for Sultan
While training for Sultan, Salman had to gain some muscular weight for a bulkier look. Reportedly, that had nothing to do with what he ate. He followed his usual protein rich diet, but decided to train harder. He focused on becoming stronger, and started MMA (Mixed Martial Arts). Salman started with 3-4 kicks every day but eventually increased that to 150-200 kicks daily.