United States citizen, home and abroad, are celebrating their Independence today, also fondly referred to as the Fourth of July. The day marks the official independence of the States from their British Predecessors, in 1776. The historic American Revolution came to a close when Great Britain decided to legally set free the 13 British colonies on American land. The Declaration of Independence was originally set to come out on 2nd July but the Congress held it back and finally released it on the Fourth of July, giving entire America a reason to rejoice forever. The Fourth of July emerged to be much more than just a historic date; it became a nationwide festival for all American citizens. Globally too, Fourth of July is one of the most talked about occasion.
The Fourth of July is a national holiday across the entire State. The celebrations typically take place outdoors, making most of the pleasant summery weather. Several families go to watch the ritualistic parade and carnivals. Politicians and diplomats take the podium to address the citizen and talk about the great heritage of America and the current day challenges and developments of the state. Later in the day, families and relatives often celebrate by hosting or attending a picnic or barbecue. It is also a common tradition to decorate the streets and houses in red, white, and blue - the colours of the American flag . The lavish fireworks after dark at parks, fairgrounds or town squares concludes the day.
Food plays an integral part in the celebrations too. Did you know that across the State there is a common practice of celebrating the occasion with red, white and blue foods? Intriguing, right? One could add them all together in a dessert (Think: A white parfait topped with blueberries and strawberries) or have them singled out in red weenies, BBQ sauce, red baked beans, a white cake or ice cream or a blue lemonade or cocktail. Fourth of July is the day to go wild with imagination and patriotism for Americans.
Here are the foods one can typically find in a Fourth of July feast -
1. Barbeque DelightsSince Family get-togethers or picnics are such a common fixture on 4th July, families often attend or host barbeques. Tender meat pieces marinated in a blend of hot spices and the lip smacking sauces, served hot with favourite accompaniments like beans and dips.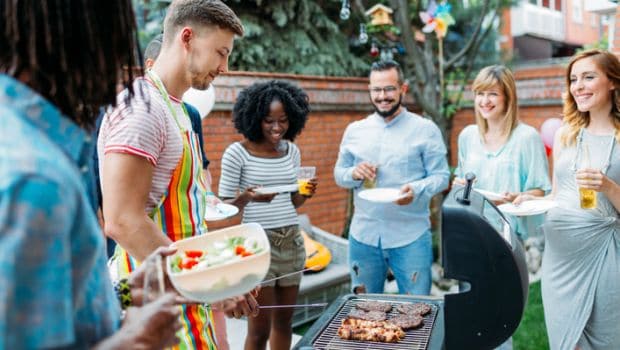 2. Hot dogsHot dogs or weenies are a common sighting on the grills. Sandwiched between a hot dog bun with Romanian lettuce, cheese mustard and a variety of sauces, this all-time favourite American snack has to be there. In fact no Fourth of July get together is complete without a hot dog.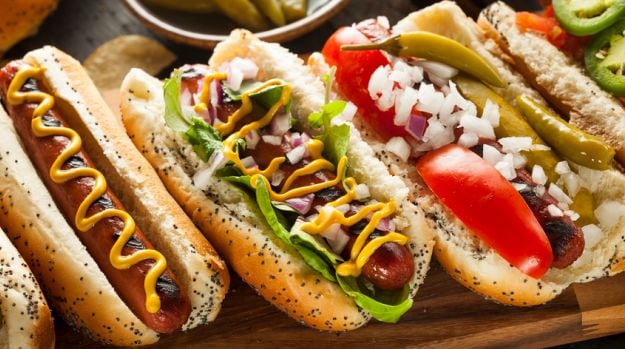 3. Burgers
Can there be an American festival without burgers? America loves relishing on this greasy and sumptuous delight. Lamb, chicken, pork or vegetable patties thrown in between the burger buns with an eclectic mix of sauces and veggies. If Fourth of July is the nationwide excuse to indulge, the burgers lend their savoury contribution to the tradition with much aplomb.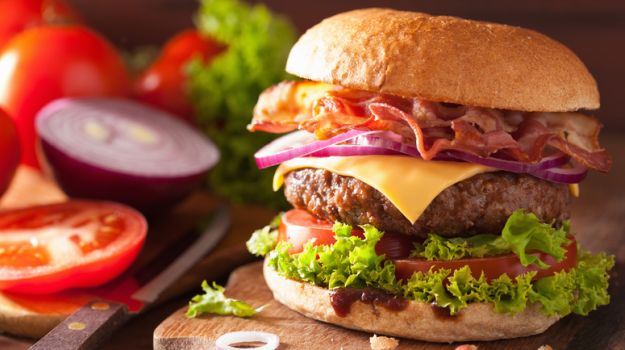 4. Wedges, Fries and DipsThe fries, chips and wedges are other munching delights associated with the Fourth of July. Some even serve their regular potato wedges and French fries with cheese, lamb, bacon, herbs, along with dips and pickles.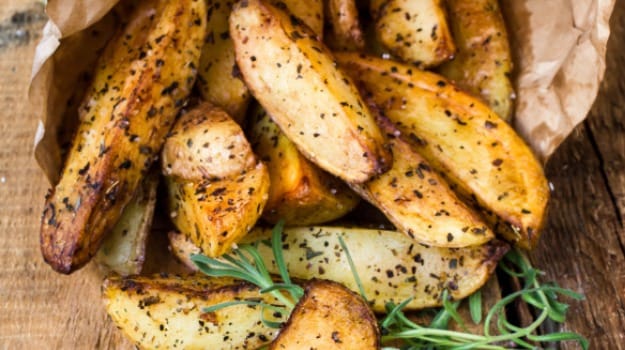 5. Cool SaladsIn the hot month of July, cold salads serve not only as a respite, but also as a break from the indulgently heavy culinary affair. Chicken Caesar Salad, Potato Salad and Creamy Coleslaw are some of the favourites.

6. PiePies are an essential part of every American household, be it any festival or gathering. Sweet or savoury pies are always the most awaited treat of any party. Cherry and strawberry pies are favourites, along with meat pies.
7. Strawberry ShortcakeStrawberries play an integral role in several Fourth of July dessert preparations, maybe due to its seasonal availability. They are part of parfaits, cakes, pastries and pies, and can also be enjoyed alone dipped in chocolate or tricoloured cream. However, one of the most loved desserts associated with Fourth of July is Strawberry Shortcake. A layered cake with strawberries, strawberry sauce and whipped cream.
8. Fruit Parfait
Fruit parfaits are an absolute hit in the Independence day celebrations, and also the preparation where one can go super imaginative with the red, blue and white additions.
9.Lemonade
The ultimate summer chiller is a must in any 4th of July party.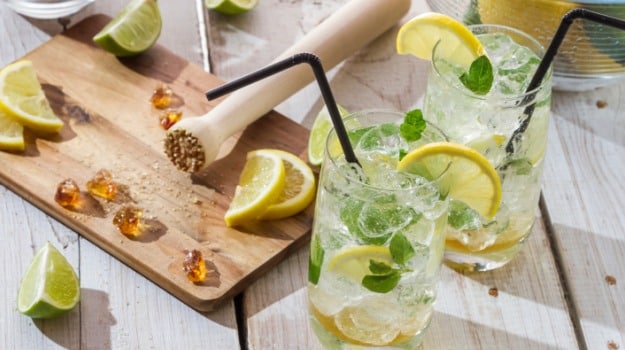 10. Grilled vegetables
You thought 4th of July was an absolute meat fest? Think again. Barbequed Veggies, Ranched Potatoes and Baked Beans are favourites too. There is enough in store for the vegetarians, Grilled Corn and Veggies gives a strong competetion to its non veg counterparts.
Happy 4th of July!
About Sushmita SenguptaSharing a strong penchant for food, Sushmita loves all things good, cheesy and greasy. Her other favourite pastime activities other than discussing food includes, reading, watching movies and binge-watching TV shows.