Claiming to be too busy for breakfast? There are few excuses with this one - a breakfast option that is popular with health conscious, busy city-dwellers around the world. It's also one of the easiest things that even the most hopeless of cooks can make. Moreover, it is inexpensive, and a great source of energy that will keep you up and about until lunchtime. Yes, we are talking about oats!(
Seven Ways to Make Your Breakfast Healthy
)
There are just two simple ingredients that you require to kickstart your morning - half a cup of rolled oats and half a cup of milk. The best part: you can toss them together the night before and put it in the refrigerator to chill until morning. It is a great summer refresher as well!
All the Goodness
Before we go into interesting ways to spruce up your bowl of oats to make it a fun breakfast treat, here's a little note on what makes it such a bit hit.
High in fibre and low in sugar, oats are known to lower cholesterol levels because of which they are beneficial for the heart. Diabetics can consume oats as it is known to stabilise blood sugar (and reduce the risks for potential Type 2 diabetes).
(Eat Oats for a Healthy Heart: New Study)
Oats contain antioxidants which help in keeping those pesky colds away and make your skin look clean and healthy. The reason why they are extremely popular with the weight watchers is because they contain negligible calories when consumed as part of a healthy diet. Additionally, oats have enough copper to keep your hair healthy and prevent greying.
Since oats are loaded with essential vitamins and minerals, especially Vitamin B1, regular consumption is excellent to keep the skin, hair, eyes, and liver healthy. However, oats are considered on the lower scales of the gluten food spectrum, so for those concerned about gluten, it may be wise to try them in moderation.
(5 Good Reasons to Eat More Oats)
Milk, the common accompaniment, is obviously a great source of calcium that is essential for the development of strong bones in growing children and aids in preventing osteoporosis as one ages. If you don't fancy dairy milk, you can substitute it with Greek yoghurt, soya milk, or almond milk; which are also loaded with nutrients.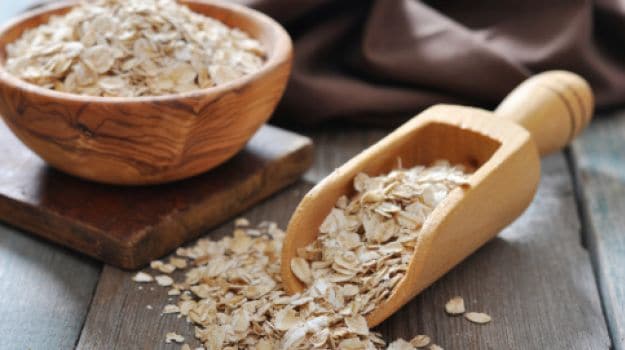 Hooked on Oats
The fun part about having oats is that you can modify the basic recipe of mixing it with milk to include interesting flavours. You can get creative, tweak it however you want it and change it on a daily basis with whatever ingredients that might be handy in your fridge. Here's sharing a simple recipe to get you started -
(Recipe: Oatmeal, Yogurt and Fruit Breakfast Medley)
Overnight Oats
(Serves 1, change quantities according to number of people)
1/2 cup rolled oats
1/2 cup milk/ almond milk/ Greek yoghurt/ soya milk
Optional:1/2 cup chopped fruits: strawberries, mangoes, blueberries, apples, pears, bananas, kiwi, papaya, strips of coconut or even pineapple
1-2 tbsp chia seeds (another great energy booster)
1 tsp honey or agave nectar
1/2tsp cinnamon powder or unsweetened cocoa powder
(Recipe: Detox Breakfast Cereal)
Presentation is the next fun thing about this breakfast - it's totally up to you if you want to mix everything together in a big bowl, cover it, and leave it to set in the fridge overnight or if you want to layer each ingredient separately into a beautiful glass mason jar and put it in the fridge (again covered). You could even triangle the ingredients separately into the bowl and drizzle honey in a smiley face across it to get your morning off to a happy start!
In the US, instagrammers post images of their overnight oats loaded with variable extras such as peanut butter or pumpkin seeds. But the beauty of this recipe is that it is all entirely up to you!
Disclaimer:
The opinions expressed within this article are the personal opinions of the author. NDTV is not responsible for the accuracy, completeness, suitability, or validity of any information on this article. All information is provided on an as-is basis. The information, facts or opinions appearing in the article do not reflect the views of NDTV and NDTV does not assume any responsibility or liability for the same.