Source: Daily Mail
We're not sure what Hitler has in common with ice cream, but unknowingly the Nazi-leader has been chosen as the brand ambassador of a small ice-cream cone enterprise, which in fact is also named after him: 'Hitler Ice Cream Cone'. On some packets you'll see his piercing eyes stare right at you and on others you'll see him in a full military get up. On one of the packets, he's dressed in a tuxedo with a red bow tie and has been made to replicate the pose of Uncle Sam. Uncle Sam is nothing but a nickname for United States federal government. It also seems like a caricature of Charlie Chaplin, who ironically, was rumored to have Jewish origins.(
10 Totally Bizarre Restaurant
)It would be wrong to say this brand of ice-cream cones is popular across India, because it is not. But since the pictures started to appear on the internet, it's sparked a real outrage, especially amongst the Germans.
Ice cream cone named after Adolf Hitler in #India sparks anger in #Germany

— Dus News (@Dus_News) May 28, 2015
Some say it stems from ignorance while others say it's purely tasteless.
Height of tastelessness; Indian ice-cream named after Hitler. Would the Germans name a sausage after Godse? https://t.co/fr4KuvQ15h

— Shashi Tharoor (@ShashiTharoor) May 29, 2015
But some just can't help themselves!
They're selling Hitler Ice Cream in India I bet they taste Nazi pic.twitter.com/GXZWnFdP1i

— Lukehoostawking (@LukeHoosTawking) May 27, 2015
#hitlericecream would have that with a Luftwaffle

— paul uttley (@stealthley1) May 28, 2015
#India popular #HitlerIcecream#Cyanid flavour ...... ? pic.twitter.com/9QZIAmhHJv

— orli sagi (@SagiOrli) May 28, 2015
This isn't the first time India's been pulled up for using Hitler as a brand name. In 2006, BBC and Reuters put out a story of a restaurant named after Hitler in Mumbai after which Israel's consul general started to receive calls from countless Jews across the world. A request was sent to the authorities of Navi Mumbai who requested the restaurant owner to change the name. The Israeli authorities said that a gimmick like this hurts the sentiments of a community and is thereby a criminal offence.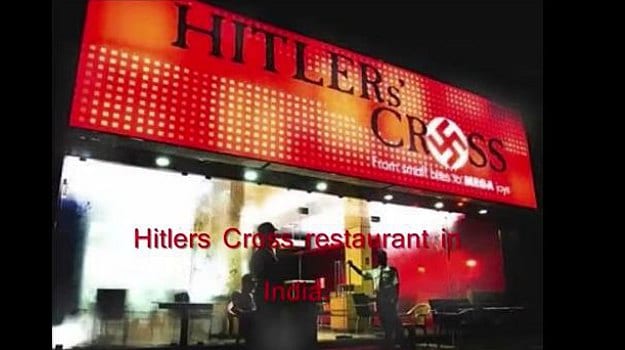 Source: Youtube screen grab
Also see:
The Most Disturbing Meal Ever
Halloween Horror: Rat on a Stick
8 Bizarre Foods Indians Eat