Take a lot of the stress out of the big day by picking just a few favourites - such as the turkey, gravy and stuffing - and focusing your energy on getting them right
The key to enjoying Christmas day if you are cooking is this: do not attempt to do too much.
I met a man called Steve a few weeks ago. The only time he cooks for his family is on Christmas day. He was complaining about how stressed it made him.
"What did you cook?" I asked.
"Oh just the standard stuff," he replied. "Smoked salmon and blinis to start with. Then turkey. And ham of course. Chipolatas. Pigs in blankets. Devils on horseback. Two kinds of stuffing. Roast potatoes. Roast parsnips. Carrots. Broccoli. Sprouts with bacon and chestnuts. Red cabbage - you have to have red cabbage. Gravy. Cranberry sauce. Bread sauce. Oh, and apple sauce because my wife likes that. Mustard. Christmas pudding. Mince pies. And brandy butter."
I assumed Steve was completely mad and that no one else would dream of cooking that much. But my curiosity was piqued. I began asking friends what they put on their Christmas table. And it turns out that most people are trying to cook over 15 different things. No wonder tempers become frayed.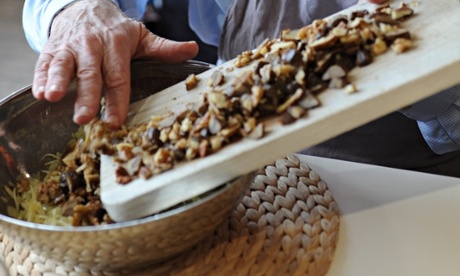 Every restaurateur knows - the shorter the menu, the better the food. It's simple logistics. Concentrate your energy on fewer dishes and you'll execute them better, without getting into a flap. In my household, this is all we will be having this year (and it still seems dangerously abundant to me): turkey (I am tempted to try deep-frying it - it can be done, apparently - but my wife says she will never forgive me if the entire clan ends up in A&E for Christmas); stuffing; gravy; brown bread sauce; cranberry sauce; sprouts; roast potatoes; mince pies (does anyone actually like Christmas pudding?); and rum butter.
I can make all this the day before, except the turkey, sprouts, gravy and potatoes - and those can be prepped in advance. As a result, the food will be better, and I'll have plenty of time to open my stocking.
Here are our other top tips for simplifying your Christmas day, plus a recipe for stuffing.
Turkey
These are the main points to remember when cooking a turkey:
The day before:
1 Check that your bird fits into your roasting dish. Then check it fits in the oven.
2 Make the stuffing (see below) and let it cool.
3 Prepare the bird. For something fancy, try mixing 200g of softened butter with a pinch of smoked paprika, chopped tarragon and some garlic paste. Rub under the skin of the breast. Smear any left over on to the turkey breast.
4 Put the stuffing in the neck cavity (cook any left over separately). In the main cavity, add some tarragon, a whole orange and a peeled onion.
5 Put the turkey in the fridge inside a clean plastic bag.
On the day:
1 Take the bird out early in the morning so it reaches room temperature before you roast it. You can do this the night before if you have a cool room in the house.
2 Preheat the oven to 210/425F/gas mark 7. Sit the turkey on some chunks of onion, carrot, swede and celery, then add the giblets and a bottle of dry vermouth to the roasting tray to flavour the gravy (see below). Cook for 45 minutes, then turn the oven down to 140C/275F/gas mark 1 and continue to cook for another 2-3 hours, depending on the size of the bird. A rough rule is to cook the bird for 40 minutes per kilogramme, including the 45 minutes at the higher temperature. If the bird is colouring too much, cover it with foil.
3 To check that the bird is cooked, stick a skewer in at the thickest part of the thigh: the juices should run clear. Alternatively, probe the thigh with a meat thermometer. It is done when the temperature is 74C/165F or above.
4 Rest the bird breast-side down and covered in foil. It will stay warm for over an hour, so aim to have it done well in advance.
Gravy
1 With the turkey resting, scrape the bits off the bottom of the roasting tray so they mix into the juices and chopped vegetables. Strain it all into a large frying pan. Skim and reserve the fat for drizzling over your potatoes before roasting.
2 Boil the gravy mix for 40 minutes or until it is thick enough for your liking. Season. Extra chicken stock can be added if you are worried about quantity - but there should be loads. I quite like to stir in a little double cream at the end.
Stuffing recipe
You can substitute any other chopped nuts for walnuts or pecans, but the chestnuts are an integral part of this recipe. If you omit the sausage meat, the stuffing makes a great filling for a vegetarian pie (use the pastry recipe from the September 12 issue of Cook. Serve it with a Cumberland sauce.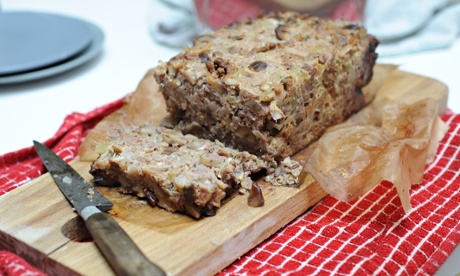 Preparation time: 20 minutes
Cooking time: 1 hour 10 minutes
Serves 10-12
1 onion, chopped
1 tbsp olive oil
1 stick celery, chopped
A pinch of dried thyme
1 tsp marjoram leaves, chopped
1/2 celeriac, finely chopped or grated
1 garlic clove, crushed
150g peeled chestnuts, chopped
50g walnuts, chopped
50g pecans, chopped
2 eggs
Grated zest 1 orange plus juice
A slug of brandy
250g pork sausage meat
A pinch of cayenne pepper
Salt and black pepper
1 In a large pan, sweat the onions in the oil with the celery, herbs and celeriac for 10 minutes over a medium heat or until the celeriac is soft. Add the garlic and cook for another minute. Remove from the heat and allow to cool.
2 In a large bowl mix your cooled celeriac mix with the chopped nuts. Beat the eggs and add them to the bowl along with the orange zest and juice, brandy and sausage meat. Season with cayenne, salt and black pepper.
3 Fry a little of the stuffing mix in a small pan and adjust the seasoning to taste.
4 The stuffing can now be used to stuff the neck of the turkey or cooked in a loaf tin separately (or as stuffing balls). If cooking in a loaf tin, line the tin with greaseproof paper and bake covered in a preheated oven (180C/350F/gas mark 4) for about an hour or until firm to touch.
5 There is always a huge amount of "oven juggling" so you may have to start the stuffing off at a higher temperature and finish in a lower oven. Just keep an eye on it and make sure it's covered, so it doesn't dry out.
Henry Dimbleby is co-founder of the natural fast-food restaurant chain Leon(@henry_leon). Recipe by Jane Baxter
Stick to a few family favourites and you can't fail on Christmas day ... Photograph: Tony Robins/Getty Images