Lean, healthy and packed with protein, chicken has many takers in world of fitness. Not just healthy treats, the ever-so versatile chicken does not disappoint in
decadent and indulgent preparations
too. Take a sandwich, burger, curries, broth or a salad; you know that only a few juicy and tender chunks of chicken can give you a winner dish. And, the best part about chicken is that you can store the bit you are not using presently in a deep freezer. According to experts, poultry pieces are safe in the refrigerator for 1-2 days and safe in the freezer for up to nine months. Cooked poultry is safe refrigerated for 3-4 days and in the freezer for 2-6 months. Yes, you heard us! You can store them for up to months and when you want to use it, just defrost the bit you want to use and you are good to go. Defrosting chicken is not that tough a nut to crack either. You just need to keep a few pointers in mind to make sure your chicken is not contaminated by bacteria.
Here's all you needed to know about how to defrost chicken.
How To Defrost Chicken: When Thawing Chicken In The Refrigerator
1. You can defrost your chicken in your refrigerator too. All you need to do is remove your frozen chicken from the freezer and place it in the refrigerator. But, before you do that, here are some tips to ensure:
Place your chicken in front of the bottom shelf of the refrigerator. This would prevent excess juices from getting on other food in the refrigerator. If you have taken the chicken out of the wrap, make sure you store it in a bowl so that the juices leak only in the bowl.
This is one of the easiest and safest method out there to thaw your chicken, but may take long. About 450 grams may take 5 hours to defrost in refrigerator. A whole chicken may take even a day; hence it is advised you plan accordingly.
Once your chicken is thawed, you would see there is no trace of frost. It would not be hard and stony but very squishy to touch. If you still see some ice crystals. Refrigerate it for a while longer.
Do note, once the chicken is thawed it should not be refrozen. Once you have thawed the chicken, you can store it in the fridge for up to 1-2 days. But, make sure you store your thawed chicken in the coldest part of your fridge to avoid contamination by bacteria.
How To Defrost Chicken: When Thawing Chicken In The Sink
If you do not have so much time to defrost your chicken in the fridge, you can opt for a quicker way by defrosting it in your kitchen sink. Follow these steps to ensure you get it right:
Place your bit of chicken you want to defrost in a Ziploc bag, this would ensure your chicken do not contaminate due to bacteria during the thawing process.
Now, find yourself a bowl in which you can fit your chicken. It is to be noted that the bowl should be large enough for your whole chicken to submerge in water.
Put your chicken in the bowl along with the Ziploc bag.
Fill the bowl with cold water. Hot water tend to promote bacterial growth, if any. So, make sure you use cold water.
Fill until the top of the chicken is covered in water.
Change water every 30 minutes. According to expert estimation, about 450 grams of chicken would take an hour to thaw. Similarly, about 3 pound of chicken may take about 3 hours to thaw using this method.
(Also Read: 6 Yummy Ways To Have Chicken In Breakfast, Lunch and Dinner)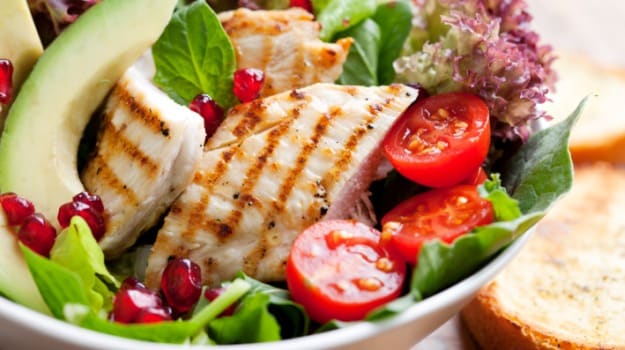 How To Defrost Chicken: When Thawing Chicken In The Microwave
This is the perhaps the quickest way to defrost your chicken, but beware once you have microwaved your chicken, you have to consume them immediately. This is why it is not recommended to microwave the whole chicken at once. You may not be able to cook them immediately, and if you let that lie, it will also be depleted of its nutritive quotient. To defrost your chicken using microwave, follow these tips:
Unwrap your chicken and then place it carefully in a microwave safe bowl. This would prevent the leaking of juices in the microwave. (You have to ensure extra caution when defrosting your chicken in the microwave. If you warm it for too long, there are chances you may make your chicken more open to bacterial growth. Always avoid thawing whole chicken in the microwave. Thaw only a section of it.)
Next, place this bowl in the microwave, set the microwave to defrost. Start by defrosting chicken for two minutes. Take the chicken out. Let it stand for one minute, examine the texture, see if it is squishy and ready to cook. If it needs more thawing, put it back in the microwave. Do check that you do not heat it, too, much that your chicken does not start cooking.
Once defrosted, it is advised to use all the thawed chicken for cooking. It is not advisable to store the chicken defrosted in microwave back into the fridge. It may run a risk of contamination.
Now, that you have the ultimate guide on how to defrost chicken. Go ahead and cook yourself a treat!
About Sushmita SenguptaSharing a strong penchant for food, Sushmita loves all things good, cheesy and greasy. Her other favourite pastime activities other than discussing food includes, reading, watching movies and binge-watching TV shows.