(Also Read -5 Ways to Make Healthier French Fries: No, Seriously)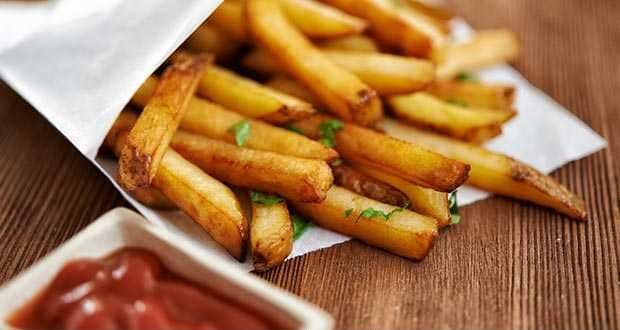 French fries are perfect slim in shape and have the right golden colour


But, before we tell you how to fry French fries, let's learn how and why to rinse the French fries. When you are frying French fries at home, you want them to be golden, crispy and healthy. Therefore, rinsing them before frying is an important step. We all know that potatoes are full of starch and natural sugars. As we cut the potatoes length-wise, the natural sugar in potato releases onto the surface of the strips. If we fry them without rinsing, the sugar on the outside will caramelise in the hot oil and burn before the interior part of the potatoes, which can result in brown and distasteful French fries. Therefore, it is important to soak them for half an hour in room-temperature water. This will rinse away the surface sugar and starch present in them. Don't forget to dry the potatoes before you fry them with the help of a dry cloth or kitchen towel.

(Also Read -5 Reasons Why They Say Potatoes Are Bad For You)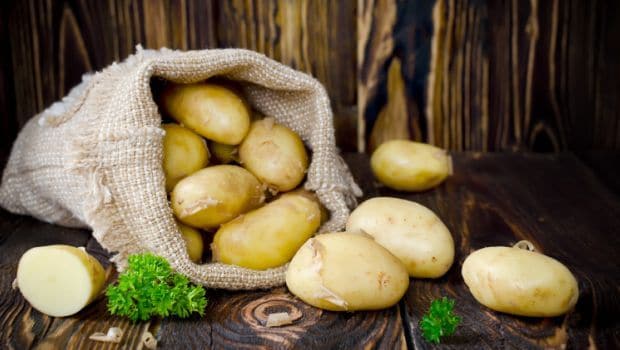 Potatoes are full of starch and natural sugars

How To Fry French Fries In A Pan
Ingredients:
Instructions:
Once you are done with the rinsing process, it's time to fry them.
Take a medium-sized pan and add your preferred cooking oil. Heat the oil till you can see small bubbles on the side.
Now, add the sliced potatoes to the pan. Make sure you don't overcrowd the pan so that they are not stacked on top of each other.
Fry them for 5-6 minutes or until they are light golden in colour.
Take them out and allow them to cool down to normal room temperature.
Return the fries into the pan and fry them for 2-3 minutes or until crispy and dark golden brown in colour.
Place fries on paper towel to absorb excess oil, if any.
Sprinkle salt over the fries. Fries will be crispy on the outside and soft on the inside.
(Also Read -10 Quirky New French Fries That Will Make Munching Even More Delicious) Fries will be crispy on the outside and soft on the inside


How To Fry French Fries In An Air Fryer
Ingredients
4 large potatoes
2 tablespoons pure virgin coconut oil
1 teaspoon salt
1 teaspoon paprika
1 teaspoon garlic powder
1/2 teaspoon pepper
1/2 teaspoon onion powder
Instructions
Once you are done with the rinsing process, it's time to fry the potatoes with the help of an air fryer.
In a large mixing bowl, toss the sliced potatoes and add oil and seasoning (mix of all the above mentioned ingredients) so that everything gets coated well.
Cook in the air fryer at 356 fahrenheit for 15-20 minutes. After the first 10 minutes, toss the fries in the basket (be careful as it's hot) so that all pieces get nice and crispy.
Air fried French fries are ready to be savoured.
(Also Read - Your Love for Potatoes or French Fries Can't Hurt You, Right?) There you have it, two very best French fries recipes that you can make at home. So, grab some potatoes and a hungry friend and try these easy recipes today!
So, you want to know how to fry perfect French fries, do you? Let's face it, it is not easy to fry French fries that look and taste exactly the same as the ones served in fast food restaurants. If you want to recreate those perfect golden-yellow fries at home, the best option is to buy a packet of frozen French fries and fry them in a pan or cook them in a fryer. However, the real do-it-yourself, homemade French fries have more advantages than the ones we get in restaurants, as the homemade version of fries are healthier (starch-free with less fat) than the ones we get in restaurant. Of course, these homemade French fries take a little planning and some careful temperature control. So, make sure your French fries are perfect slim in shape and have the right golden colour; the best part is that they are the tastiest accompaniments to any meal.
About Shubham BhatnagarYou can often find Shubham at a small authentic Chinese or Italian restaurant sampling exotic foods and sipping a glass of wine, but he will wolf down a plate of piping hot samosas with equal gusto. However, his love for homemade food trumps all.