Don't get me wrong, I LOVE
French fries
. Everyone has their vices, and French fries are my kryptonite. And with a side of mayo? Don't even get me started... I can eat them for
breakfast
,
lunch
and
dinner
. (Really!)Sadly, they've always had a bad rap - famous for clinging onto your waist and never letting go. Presenting:
healthy
fries.No, that is not an oxymoron.
Potatoes
are actually quite healthy - an open secret that most of us overlook. If prepared the right way, French fries can actually make for a very satisfying, guilt-free snack. They may not be exactly taste like the
deep fried
, salty, fatty ones that come straight out of a restaurant-grade fryer basket, but these 5 ways to make guilt-free French fries will blow your mind (and taste good too.)
1. Bake, Don't Fry
Traditionally, fries are cooked in vegetable
oil
which results in extra fat and calories. And while you're undoubtedly cutting back while baking fries, it's still easy to go overboard. Measure about 2 tablespoons of
olive oil
before pouring or spraying onto potatoes.Total Time: 30-40 minutesIngredients:
2 potatoes
2 tablespoons olive oil (for spraying)
Salt to tasteInstructions:
1. Preheat oven to 450 degrees F.
2. Cut the potatoes, as evenly as you possibly can.
3. Place in a pot with enough water to immerse the fries completely.
4. Bring the water to a boil and turn off after two minutes.
5. Immediately drain the potatoes and soak out any moisture, using a kitchen towel.
6. Lightly spray an oven-safe baking dish with oil. Then place the potatoes on the dish in a single layer. Note: Do not to overlap them.
7. Lightly spray on another coat of oil. Place in the oven and bake for 20 minutes. Flip over, once halfway through the baking. Start checking your fries about 10 minute in, so they don't burn.
8. Season the fries lightly, and voila!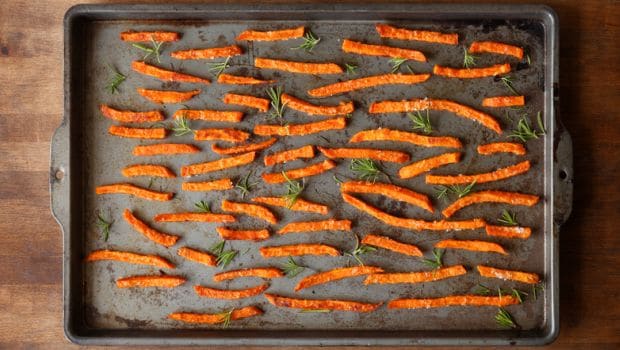 2. Grill 'em!
Another way to make yummy French fries minus the guilt, it to grill them. Prepare just like you would in order to bake fries in the oven, and then fire up the grill. Keep turning to prevent the fries from sticking.
3. Opt for Sweet Potato Instead
Skip your standard white potato, and make a healthier version by going with
sweet potatoes
. Sweet potatoes are a complex carb that will not turn into
sugar
directly; any extra glucose will be stored as fat. Be sure to keep those nutrient-rich skins on the sweet potatoes, and then you can slice them however you want. You can bake them in the oven, rather than cooking in a frying pan. Coat the fries with a tablespoon of
olive oil
, then toss them in your favourite seasoning and spread out on a
baking
sheet.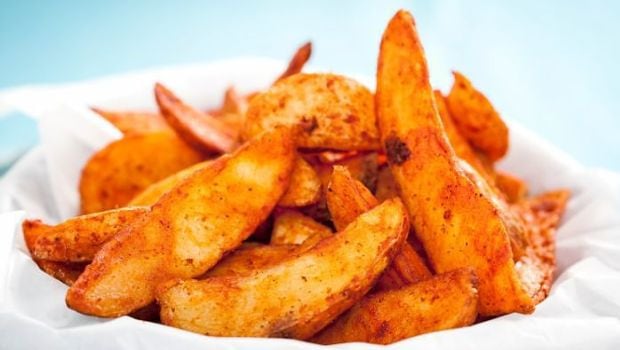 4. Skip the Salt
Salt is far from your only option when it comes to flavouring French fries. Opt for flavourful
spices
that pack a punch without adding extra sodium. Think: fresh
garlic
,
cumin
, chili powder, paprika, thyme, and rosemary. Even sweeter spices like
cinnamon
and nutmeg work well, especially if you're using sweet potatoes.
5. Zucchini Fries
The next time your burger calls for a side, try these easy, oven-baked, breaded
zucchini
strips. It's a
healthy alternative
and ideal for that crunch that you crave.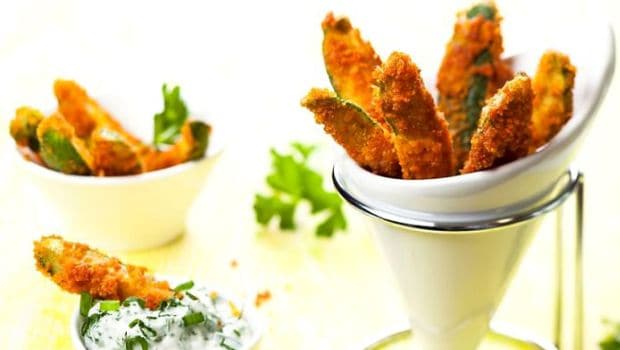 It's true, you can now enjoy your fries minus the guilt and extra fat!
​