Nothing can beat the joy of taking a bite into your favourite sandwich after a long and tiring day. It's easy to prepare and makes for a light and healthy snack. There are different kinds of
sandwiches
one could relish, and one such is Panini. An Italian grilled sandwich, Panini or panino literally refers to bread roll. This sandwich uses soft breads without the crusts, which is then loaded with delectable fillings like
chicken
, ham, seasonal vegetables and a range of seasonings and sauces. Ideally, a Panini is made on a Panini sandwich grill or Panini press. If you haven't been able to make the best Paninis at home, here are some tips to make the perfect sandwich at home -
Tips to Make the Perfect Paninis
1. Choose Your Breads Right
Choosing the right bread is the utmost important step. If you are choosing moist and soft fillings, then take drier and denser bread that will absorb the moisture of the filling. Best breads for a Panini sandwich include baguette, michetta and ciabatta. The breads should be cut horizontally and filled with the ingredients of your choice.
(Also read: Know Your Bread Basket: From Baguettes to Croissant and More)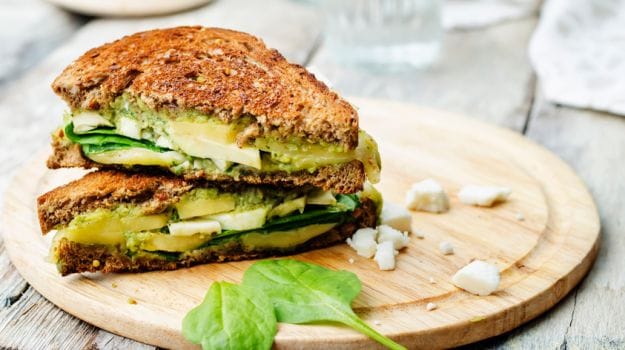 If you are choosing moist and soft fillings, then take drier and denser bread
2. Get Rid of the Sogginess
Not matter how good your sandwich may look, if it is wet and soggy, it is inedible. To avoid soggy foods hampering the whole sandwich, just spread mayonnaise, butter or cream on the edges of each slice of bread that you choose. The spreads will help to create a seal against the wet ingredients. Also, to avoid wet sandwiches, you must add the 'watery' ingredients like cucumber, tomato or pickles just before the sandwich is ready to be eaten.
3. Cut the Bread with a Straight-Edged Knife
Cutting well-made Panini can be a grueling task considering its fillings. Instead of using a serrated knife (saw-like knife), use a straight-edged knife to cut the sandwich. This will ensure a smooth and neat separation for the prepared sandwich.
4. Add Butter to Get the Crunchiness
You would agree, grilled sandwich taste best when crunchy. To add to the crunch, all you need to do is put butter on the Panini press before placing the breads on it. This will ensure a crunchy grilled delight.
You would agree, grilled sandwich taste best when crunchy
5. Believe in Slow Cooking
Patience is the virtue of the perfect sandwich. Always ensure that the Panini is not grilled on an overheated press. The breads take time to toast and so do the fillings inside. The cheese inside should melt, vegetables should attain a perfect crunchiness and meats should become soft and tender.
Here is an amazing recipe of Panini that you could try and enjoy as a snack. Take a look:
Roasted Broccoli and Blue Cheese Panini
Recipe by Chef Vicky Ratnani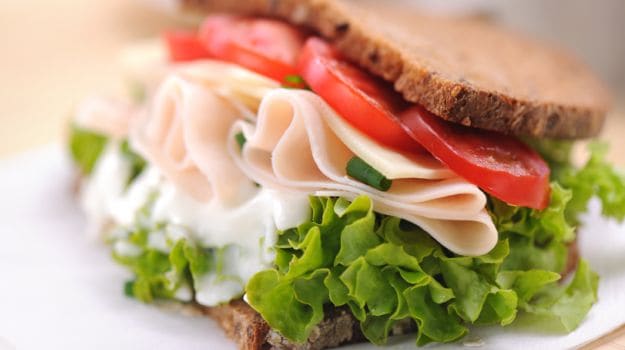 Make a yummy panini sandwich in the corners of your kitchen with this simple recipe
Ingredients
2 small broccoli cut into florets
3 spring onions, cut into half, lengthwise
3 tsp of chili oil
2 tsp of a ready-made relish (made up of gherkins, sweet cucumber, sugar, vinegar &bell peppers)
2 heaped Tbsp of egg-less mayonnaise
60-70 gm of blue cheese
2-3 stalks of garlic chives, finely chopped
3-4 marinated green olives with their marinating olive oil
4-5 cherry tomatoes, cut into half
2-3 fresh basil leaves
1/2 tsp balsamic vinegar
4-6 marinated olives
2 slices of multi-grain bread
Salt to taste
Cracked black pepper to season
Method
Arrange the broccoli florets on a baking dish and season them with salt and cracked black pepper. Drizzle 1 tbsp of pickling oil from the marinated olives over the seasoned broccoli and mix them well.
Roast them in the oven at 200-225 degrees Celsius for 8-9 minutes.
Remove from the oven and keep it aside to cool.
Season the spring onions with salt and cracked black pepper and put them onto the grill.
Keep turning the spring onions and keep basting them with chili oil. Once the spring onions are lightly charred, take them off the grill and keep them aside to cool.
To make the filling, mix together, the readymade relish with eggless mayonnaise in a bowl. Then crumble blue cheese into the filling mixture, add chopped garlic chives and mix them well.
Next, roughly tear in the roasted broccoli into the filling and mix well till the broccoli is evenly coated.
Brush the slices of bread with chili oil and spread the broccoli filling between the 2 slices of the bread. Brush the top and bottom of the bread slices with a little more chili oil and grill the sandwich evenly on both the sides.
To make a spring onion relish, mix together marinated green olives, halved cherry tomatoes, cracked black pepper, basil leaves, a dash of balsamic vinegar, olive oil and the grilled spring onions. Serve the sandwich with the grilled spring onion relish, cherry tomatoes and marinated olives.
Now that you have the basics in place, it's time to perfect your skills of making Panini sandwich at home and relish a satisfying and nutritious meal.