Brownies are one of the most loved desserts out there. These small squares of chocolate baked confection are slightly cracked from top and have a fudgy centre. No matter what time of the day it is, if you're craving something sweet, brownies always come to our rescue! Their rich and gooey texture makes it hard to resist indulging in them. The best part is that they require minimal time and ingredients to make and are loved by kids and adults alike. So, if you're craving something sweet this weekend, here we bring you a mouth-watering chocolate and walnut brownie recipe that spells indulgence in every bite.


Also read: Baking Tips: How To Make Moist And Soft Brownies


As the name suggests, these chocolate brownies are loaded with the goodness of walnuts. They are rich, fudgy and oh-so divine! They taste best when they are slightly warm and topped with a scoop of vanilla ice cream. You can also sprinkle some powdered sugar on top if you do not wish to have ice cream with it. We are sure you'll love these brownies as much as we do. So, without further ado, let's take a look at the recipe: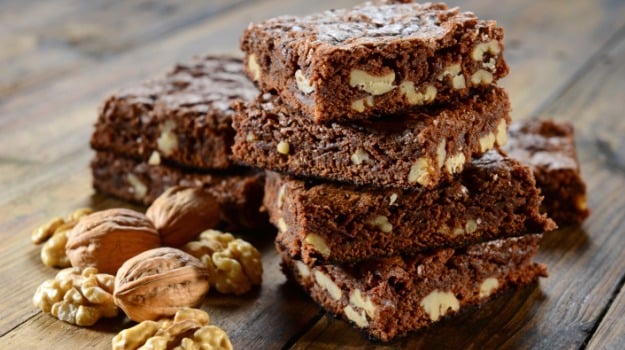 Chocolate And Walnut Brownies Recipe: How To Make Chocolate And Walnut Brownies
First, sift cocoa powder in a bowl. Add melted butter and mix it thoroughly to make a chocolate mix. In a separate bowl, sift maida. Add baking powder and salt to it. Break eggs in another bowl and add castor sugar and vanilla essence. Whisk well. Now, add the chocolate mix to this mixture.


Also read: Is Your Diet Keeping You Away From Desserts? Try This Healthy, Vegan Brownie Recipe


Mix everything together and add the sifted maida. Combine well. Add milk and chopped walnuts. Take a glass tray and grease it thoroughly with butter and sprinkle some maida over it. Pour the chocolate mix in the glass tray and add more walnuts on top of it. Bake at 180 degree C for 25-30 minutes. Chocolate walnut brownies are ready!


For the complete recipe of chocolate and walnut brownies, click here.


For more brownie recipes, click here.


So, what are you waiting for? Make these delicious brownies at home and let us know how you liked them in the comments below.
About Vaishali KapilaVaishali finds comfort in eating parathas and rajma chawal but is equally enthusiastic about exploring different cuisines. When she's not eating or baking, you can often find her curled up on the couch watching her favourite TV show - FRIENDS.