Brownie Recipes: If you ever forget my name, just shout desserts and I'll not just turn around but even come back running to you. That's what probably every dessert-lover, like me, would say. Gorge on any cuisine you want but a meal without a dessert would simply be incomplete. Desserts hold the power to make us happy. After all, it isn't just a coincidence that stressed spelled backwards is desserts! And when you think of desserts, chocolate is the most obvious option that would come to our mind. Chocolate cakes, ice creams, cheesecakes and brownies are the most loved chocolate desserts to gorge on. Brownies might be the most traditional, simple and loved dessert that kids and adults would drool over equally. Moist crumbs with a slightly crisp crust, cracked top and a fudgy centre, they are slightly bitter, more of sweet but strike the perfect balance with the two.


Fudgy, dense and infinitely rich; this is how most people like their brownies to be. However, there are many of us who would go for brownies that are cake-like in texture. The difference lies in the recipe used; a higher content of chocolate and butter would make it dense, fudgy and rich, while a higher ratio of cream and butter would make it reminiscent of cake.


Rest is as Kainaz Messman, Chef and co-owner of Theobroma, in an interview to NDTV said, "The secret of a good brownie is in the baking, not the making. The difference between a moist gooey brownie and a dry crumbly brownie-biscuit can be of just a few minutes or a few degrees."
Before we head over to delightfully rich brownie recipes, let's look at the trips and tricks on how you can perfect the art of baking one!
1. Sift Well: A rich and yummy brownie requires a lump-free batter to bake. Make sure you sift the ingredients well so no lumps are formed.


2. Use Good Quality Chocolate: Brownies require just a handful of ingredients to prepare, so be careful of using nothing but the best. As per food blogger Kalyan Karmakar, using good quality chocolate is a must. You can skip using common cooking chocolate and grab a chocolate bar you love to eat. Chop the bar into big chunks, melt slowly and you are good to go. You can also use a balance of dark and semi-sweet chocolate.


3. Avoid Too Many Add-Ons: Would you like a chocolate-lime-orange with red velvet brownie or go with a simpler one with perhaps just chocolate and lime? Stick with the basic or pick just one add-in since many additions can mask the flavour of chocolate brownie instead of enhancing it.


4. Patience Is The Key: The aroma of freshly baked brownies might make you go weak in the knees, but do not rush and under-bake them. Let it take its own time. And finally when they are out of the oven, let it set and cool down and develop flavour.


Let's unravel the decadent journey of baking brownies with 5 simple and delicious brownie recipes to prepare at home.
Here Are 7 Best Brownie Recipes To Prepare At Home:
Two much fun would be this delectable brownie recipe with a brownie base and a cheesecake topping! With a gooey chocolate brownie base packed with dark chocolate flavour and a cream cheese top, this brownie is just the perfect dessert to serve at a dinner party.


(Also Read: The Uncrowned Queen of Brownies: Meet Chef Kainaz Messman of Mumbai's Theobroma)
Easy Brownie Recipes: A gooey chocolate brownie with a vanilla cheesecake topping.
Perfect to bake on holidays with the kids, chocolate brownies with a hint of freshly made coffee. Decadent, rich flavours of dark chocolate, coffee and vanilla with an edible green icing on top makes it a treat to the eyes and simply irresistible to the taste buds!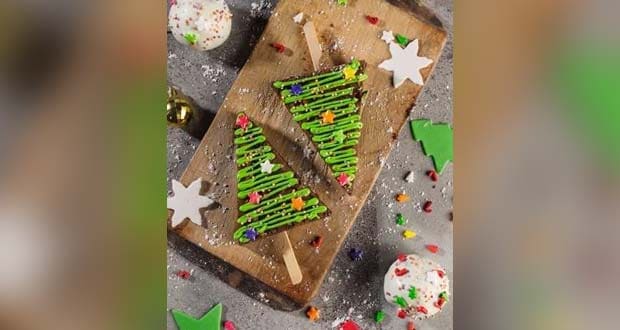 Easy Brownie Recipes: Filled with the goodness of chocolate, this Christmas special chocolate brownies are a delight for kids and adults alike.
Imagine your favourite brownie made absolutely low-fat and packed with all things healthy! Curd whisked with almonds, honey, olive oil and baked with a mix of wheat flour, chocolate and walnuts. Goodness of nuts, low-fat ingredients and gooey chocolate makes this brownie recipe a must-try at home.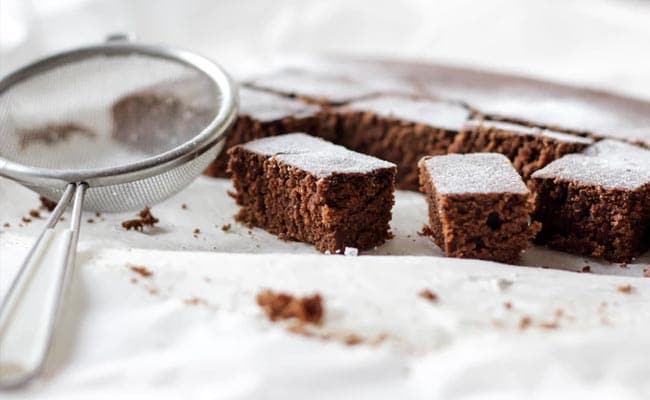 Easy Brownie Recipes: Decadent chocolate brownies with healthy ingredients.
This one is probably the easiest, quickest-ever brownie recipe! Brownie in a mug is a sinful treat, which is as comforting as it is delicious and easy-to-prepare. You can literally prepare this decadent mug cake in two minutes, with handful of ingredients, a microwave and a spoon to just dig in and enjoy. What's more? It is eggless!
Easy Brownie Recipes: It's eggless, it's tasty and it's made oh-so-quickly.
Loaded with a wide variety of nuts, fudgy chewy brownie is a traditional brownie made with a balance of unsweetened chocolate and semi-sweet chocolate with vanilla extract and sugar. Once baked fresh and cooled down, these fudgy, rich brownies would be perfect to devour as desserts post meal.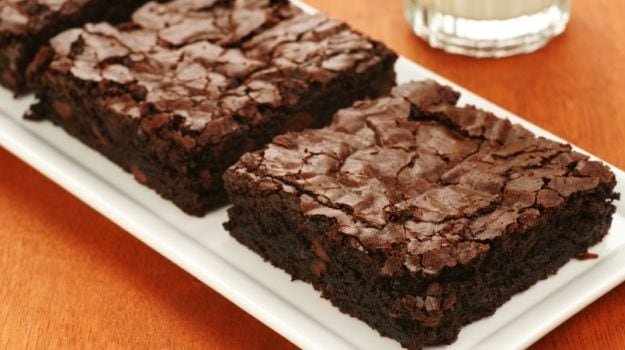 Easy Brownie Recipes: Fudgy chewy chocolate brownies with loads of nuts.
Eggless Red Velvet Cheesecake Brownie Recipe: The eggless creation combines the best of not one, not two, but three separate confections of a red velvet cake, a cheesecake and a brownie in one delicious little square.
Goodness of flaxseed, pumpkin seeds, chia seeds, berries and yogurt combined together with deliciousness of cocoa and coffee in this beautiful trifle!
A batch of freshly baked brownies is sure to pull everyone closer! Prepare these brownie recipes with your family at home this weekend and let us know your favourite one in the comments section below.
About Aanchal MathurAanchal doesn't share food. A cake in her vicinity is sure to disappear in a record time of 10 seconds. Besides loading up on sugar, she loves bingeing on FRIENDS with a plate of momos. Most likely to find her soulmate on a food app.