Story Progress
Back to home
Chocolate & Walnut Brownie Recipe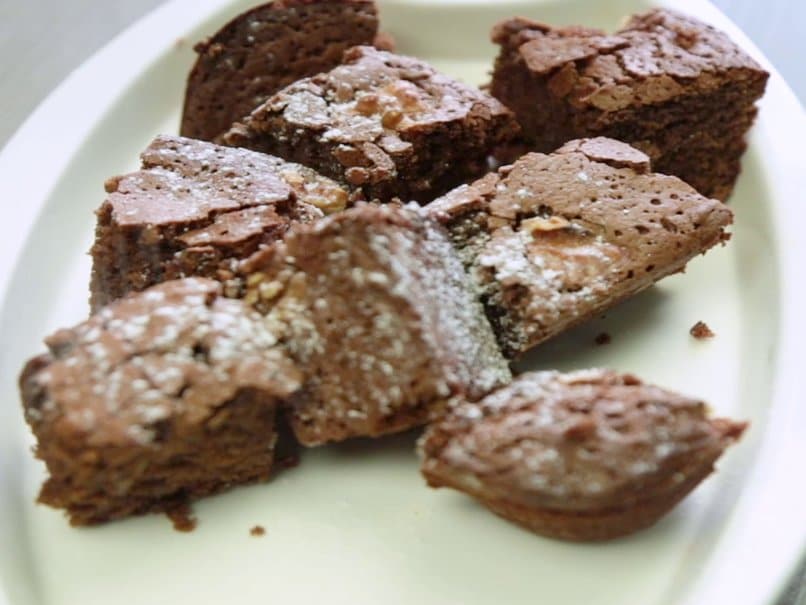 How to make Chocolate Brownie
NDTV Food
This chocolate brownie recipe makes rich, fudgey brownies that will come out perfectly every time. This easy recipe for plain brownies is so simple, with just store cupboard ingredients, and you can make it as a special weekend treat or even as pudding, served with vanilla ice cream.

Ingredients of Chocolate & Walnut Brownie
6 Tbsp Cocoa Powder
1/2 cup Butter, melted
1 cup Maida
1/2 tbsp Baking Powder
1/4 tsp Salt
2 Egg
200 gram Castor Sugar
2 tsp Vanilla Essence
1/2 cup Milk
1/2 tsp Walnuts, chopped
1.
Take cocoa powder in bowl through a sieve. 2.
Add melted butter to it and mix it thoroughly to make a chocolate mix. 3.
Take another bowl and put maida into it through a sieve. 4.
Add baking powder and salt to it.
5.
Mash eggs in another bowl, add castor sugar and vanilla essence to it. Whisk thoroughly. 6.
Now add the chocolate mix to it. 7.
Mix the ingredients well and add the sifted maida to it. 8.
Mash all the ingredients together. 9.
Add milk and chopped walnuts and mash again 10.
Take a glass bowl and grease it thoroughly with butter and sprinkle some maida over it. 11.
Pour the entire chocolate mix in the glass bowl and add more walnuts on top of it. 12.
Keep the bowl for baking at 180 degree Celsius for about 25-30 minutes. 13.
After baking, cut the cake in to small pieces and serve with sprinkled sugar on the top. Watch the step by step recipe of Chocolate Brownie here:
Recipe Notes
You can also add cashews and almonds in this delicious recipe of chocolate brownie in addition to walnuts.