When it comes to eating, our visual senses take primary seat, whereas the taste buds follow suit. And this is the reason why beautifully presented plates enhance our appetite and make those we cook for feel special.Here are some tips for aesthetic and pretty serving:
1. Visualise
Did you know most chefs sketch out their food presentations? Either on paper and pencil or using paper cut outs? They visualise the final dish just like a fine artist. All artists or writers will first look at their blank sheet of paper, and visualise what they want to paint or write. Your plate is your blank canvas. Start your dessert plating by visualising the final look of your plate. It's easier to plan your dessert elements in terms of substance, textures, flavours and colours on paper rather than just going with the flow and ending up with a chaotic and unappetising plate. So try making a little drawing or sketch and placing elements of your dish on it.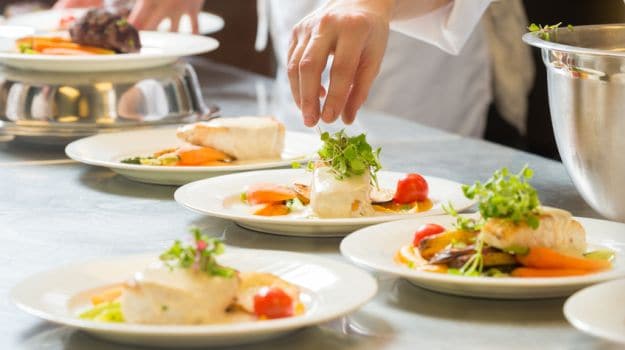 2. Plan
Plan the flavours and textures, the quantities, and the ratio of solids like rasgullas, jalebis, cake and crumble to liquids like sauces, jellies and jams that you plan to use. Visualise the flavours to complement or contrast. Adjust as you go for that perfect bite.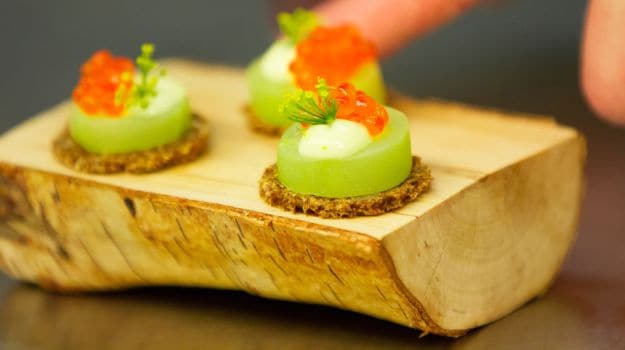 3. Compose
The best way to compose a pretty plate is by starting to fill it from the centre of the plate. There are really not that many rules for plating but try playing with cuts of your desserts – squares and circles, or use cookie cutters to cut a Shahi Tukda into different shapes. Try stacking Malpuas for height, or layering Rabdi with fruit in a bottle. But never overdo your plates.
4. Balance
Balance the textures and colours. Use limited colours; two or three to enhance their appeal. Be careful how you place them on your plate. Add touches of colour using mithais, cakes, chocolate sauces, herbs, jellies, crumbled cakes, candied fruit, spices and more.For instance, you can compose a plate with orange Jalebi, white Rabdi and Pista Barfi. But be careful to add just the right amount of ingredients as the flavours need to complement each other. Think of a few drops of orange sauce to uplift a chocolate tart, a spoon of tart citrus jelly to contrast with a Rabri Malpua or a drizzle of Cointreau sauce to complement a Gulab Jamun. It's all about experimenting with flavours to play and see what blends best for that lasting taste.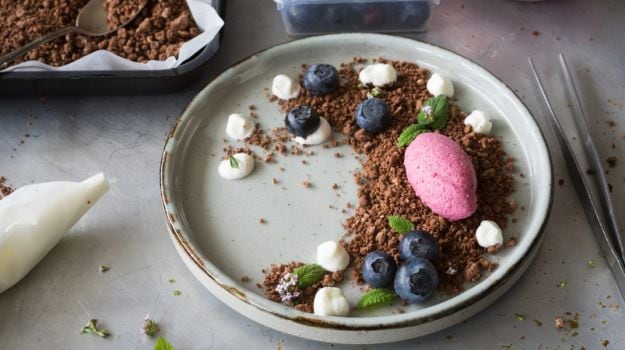 5. Add Oomph
Add that touch of oomph with one eye catching star ingredient - a sprinkle of edible dust, some flakes of warq, edible flowers or candied jewel fruit – and instantly showcasing to your diner that this is something special for someone special.If you have cooked a beautiful dessert or bought it from your favourite store, take a few moments to plate it up because adding aesthetic details can make the experience even more lovely for you and your guest.