Indian scientists design therapeutic food to fight malnutrition
IANS , Kolkata | Updated: May 22, 2014 18:05 IST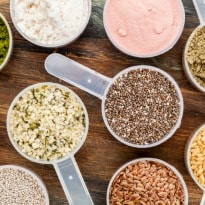 Indian scientists have designed ready-to-eat therapeutic food (TF-RTE) products and handed over associated scientific findings and technology to an industry partner, a step that could benefit the millions of children afflicted with severe acute malnutrition (SAM) - the most dangerous level of malnutrition.

SAM is globally responsible for the death each year of 2.6 million children under the age of five. The research undertaken by scientists of the agricultural and food engineering department, at the Indian Institute of Technology-Kharagpur, led to creation of five varieties of TF-RTEs which, in paste form, can be administered to the children until they have gained adequate weight.

According to WHO, severe acute malnutrition is when children suffer severe wasting that may or may not be accompanied by swelling of the body from fluid retention. The afflicted have been tagged as the most vulnerable people in the world. Out of the 20 million children worldwide afflicted with SAM (mainly in sub-Saharan Africa and south Asia), India is home to 8.1 million SAM children.

"SAM is diagnosed when the circumference of the upper arm is less than 115 mm or when the weight for the height of a child is severely reduced. They are very thin as most of their fat and muscle has been used by their bodies to stay alive," H.N. Mishra, professor of food technology and principal investigator of the project, agricultural and food engineering department at the IIT, told IANS over phone.
"As per WHO guidelines, the SAM children who do not require hospitalisation, can be administered specially formulated nutrient-rich foods at home for treatment...the proportions of essential nutrients required have also been designated," he elaborated.

Mishra's team came up with five formulas using peanut, potato and Bengal gram as the core ingredients, as part of a project sponsored by department of biotechnology and a Delhi-based industry partner (Gattapu Chemicals Pvt. Ltd.).