In India, pregnancy is celebrated with much grandeur and the grand party organized before the advent of the baby includes various Indian customs and rituals that are followed in different regions. This party-of-sorts is known as
Godh Bharai
or commonly called the Baby Shower. It is also known as Seemandam or Valakaapu in Tamil Nadu or Swad in Bengal and Dohale Jevan in
Maharashtra
. Pregnancy customs and traditions have been around for quite some time and are a significant part of our tradition and culture.
Godh bharai
is a special function organized for the expecting mother and her friends and relatives. A group of women come together to bless the mom-to-be and the baby and feast on some delicious treats. The
godh bharai
ceremony is generally performed during the seventh month of pregnancy or third trimester and is only attended by women.
Godh Bharai Celebrations in North India
Although the godh bharai rituals in different states may vary, the significance remains the same. In a typical North Indian household, on the special day, the mom-to-be is adorned with new clothes, jewelry and flowers and then ushered in from the main entrance of the house towards the puja room. As she enters, women sing some traditional songs to make the her happy and cheerful. All the married ladies bless the mom-to-be by putting a tikka on her forehead, and then aartis are performed to pray for the health and happiness of the baby and the mother. Then, the women shower her with gifts, fruits and sweets. In some communities, the sister-in-law offers the pregnant woman a cup of sweetened saffron milk and ties a yellow thread known as nada chhadi on the wrist of the right hand. The thread is believed to protect both mother and baby from evil spirits and bad omen.
Godh Bharai in Tamil Nadu- Seemandam
In Tamil Nadu, a ceremony called Seemandam is organised during fifth, seventh or ninth month of pregnancy. In this ceremony, only married women are invited to bless the expecting mother. She is gifted a new saree by her in-laws. Turmeric is applied on her face and hands and her hair is decorated with flowers. A few drops of herbal juice are squeezed into the nostrils of the mom-to-be and mantras are chanted in order to bless and protect the baby. The women then shower her saree pallu with five kinds of sweets and fruits. The ceremony ends with a grand feast.(Also read: Here's Why Turmeric is Used in Pre-Wedding Ceremony)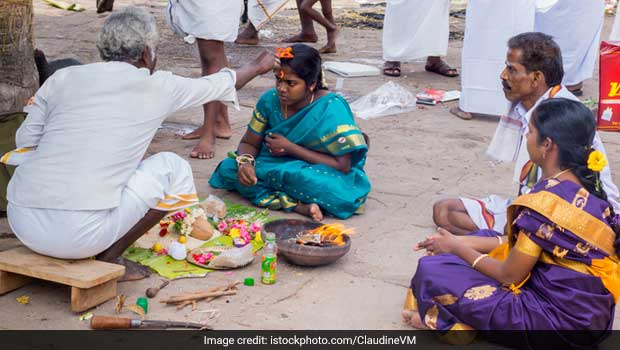 Godh Bharai: Turmeric is applied on her face and hands and her hair is decorated with flowers
Godha Bharai in Maharashtra- Dohale Jevan
During the seventh or ninth month of pregnancy, Dohale Jevan is organised in Marathi households. Dohale literally means 'craving for certain foods' and this ceremony is performed to satisfy the food cravings of the expectant mother. On this occasion, the expecting mother is adorned with flower garlands and made to sit near the puja area of the house. A plateful of nutritious foods and sweetmeats are placed on a plate and covered with a cloth so that she is unable to see what lies inside. Then, she is asked to tap on one of the foods and then the selected food is exposed and announced to all present there. All the married women try to guess the gender of the baby looking at the type of food item that the mom-to-be picks. In Marathi, each food item is referred to as having a gender. For instance, Poli is feminine and Bhat (rice) is considered to be masculine.(Also read: Indian Wedding Food Trends to Look Out For)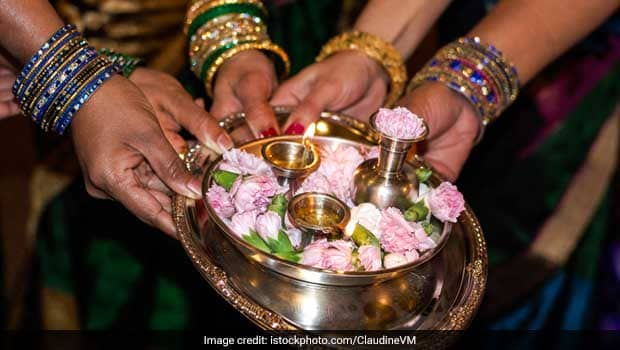 During the seventh or ninth month of pregnancy, Dohale Jevan is organised in Marathi households
Godh Bharai in Bengal- Swad
Swad translates to taste. Hence, this ceremony has something to do with the food in Bengal. Initially, this ritual was specially organised for ladies who had a tough pregnancy period. This custom originated in order to fulfill all the wishes of the expecting mother before she went into labour. However, now it has become more of a celebration, wherein the pregnant woman is gifted a new saree and jewellery by her mother or mother-in-law. A plateful of cooked fish head which is one of the most auspicious foods in Bengali tradition, five types of fried foods including banana fritters and Shukto are served on a huge silver platter. As she takes the first bite, women blow conch shells to alert the Gods and Goddesses that ceremony has begun and the future mother is no under their care and protection. The expecting mother's meal concludes with Payesh (sweetened dish of rice and condensed milk).
These ceremonies are performed in order to bless the mother and the baby, hoping that they have a healthy and happy journey.