Murukku: The Famous Tea-Time Snack from Tamil Nadu
NDTV Food Desk | Updated: June 19, 2017 15:08 IST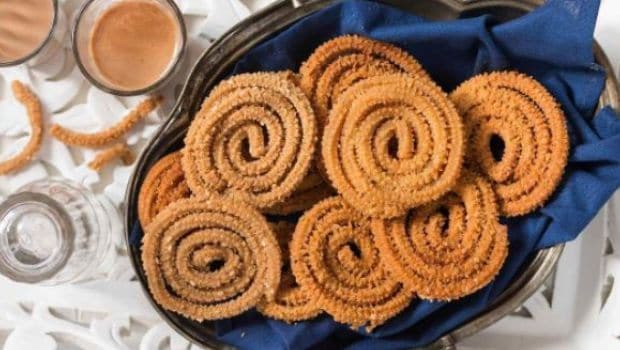 Photo Credit: Instagram/Archana's Kitchen

As Indians, we love food. We focus as much the three courses of every meal, as on the four major meals of the day. The tradition of preparing savoury snacks at home and serving them with tea is an old one. It is followed in almost every part of the country but the difference lies in the variety of snacks that are prepared and enjoyed across different cultures and different states. Most of the Indian snacks are not just healthier (because they are homemade) but also delicious and wholesome. One such well-known South Indian snack is the Murukku.

It is made from rice flour or urad dal flour and seasoned with salt as well as some select spices. The flour is then kneaded and shaped into concentric circles, and subsequently deep fried. The snack is golden-brown and crunchy. The term Murukku is derived from the Tamil language and it roughly means "to twist". This is because the spiral shape of the Murukku actually looks like a long roll of dough which has been twisted several times. What's more? Murukku is a blanket term for a variety of other sweet and savoury eats that are consumed with tea or coffee which means that it needn't always be salty in taste.

History of Murukku

Murukku is one snack whose origins and discovery aren't highly debatable. It is an integral part of the South Indian cuisine, since it is tasty and relatively easy to prepare. It is originally from Tamil Nadu. The Murukku also traveled to various other South Indian states, wherein regional varieties and different names started to emerge. After gaining popularity pan-India, the Tamilian snack traveled along with Tamil Nadu's diaspora to various global destinations. Some of these included places like Sri Lanka, Singapore, and Malaysia. (Also read: Beyond Samosas and Vada: Try This Unique Crispy Snack from Telangana)


Regional Varieties

1. Chakli, the equally popular cousin of Murukku. The only difference between the two is that it is typically made of one more additional ingredient, i.e chickpea flour.

2. Manapparai Murukku, which is the special Murukku of a town which is an hour's drive from Tiruchi in central Tamil Nadu. This town is renowned for the Murukku so much that the local state council has even applied for a geographical indication tag for it!

3. Thenkuzhal, is another variant of the Murukku made from rice flour and white sesame seeds. It is crispier and has more layers to it, and the spiral texture is also thinner than Murukku.

4. Sakinalu, is the regional name for Murukku in the state of Telangana. It is made on special occasions like Makar Sakranti.

5. Benne Chakkuli, is what Murukku is known as in the state of Karnataka. Benne literally means butter in Kannada. It is also called Benne Murukku.

6. Puvullu, is the local name for Murukku in Andhra Pradesh. They also refer to it as Janthikulu, and serve it along with other tea-time snacks.

7. Achu Murukku, is a popular snack in Kerala. People in Kerala also call it Achappam. Achu literally translates into 'rose' in Malayalam. Thus, this variant of Murukku is slightly on the sweeter side, and is shaped like a small flower.

Spices used

Murukku uses very few spices, since it is intended to be a light non-spicy snack. Some of the spices used include salt, cumin powder, asafoetida powder, and if required, red chilli powder. Sometimes, sesame seeds or cumin seeds are also added.

Flavours and Types

Life gets dull and boring without adding some flavor to it - or so the Tamilians thought. They came up with many different flavours, styles, and designs of the traditional Murukku. The revived Murukku flavours include the following:

1. Coconut Murukku, also known as Thengai Paal Murukku

2. Wheat Murukku, also known as Godhumai Murukku

3. Butter Murukku, also known as Vennai Murukku

4. Ring Murukku, which is shaped like a ring

5. Ribbon Murukku, which is shaped like a ribbon

6. Besan Murukku

7. Garlic Murukku, also known as Poondu Murukku

8. Onion Murukku

(Also read: 7 Best South Indian Snacks)

Every household has its own tradition of making Murukku which has been transferred from mother to daughter through the years. Murukku making used to be a yearly ritual in the past, when the preparations for getting it ready started several weeks in advance. Nowadays, modern housewives prefer using a handheld Murukku maker which automates the process to a certain extent. There are also various legends associated with the tea-time snack. One of these is that the colour of the Murukku depicts the mood of its maker. So, for instance, if the Murukku turns out to be a deep brown and hard in texture, the maker is said to be in a bad mood!

Murukku making requires skill, time, and a lot of patience. Getting the perfect shape, size and texture takes a lifetime to master. The best part, however, is that all the ingredients are easily available in an Indian kitchen.

Here's a simple recipe for making Murukku by Chef Niru Gupta.

Ingredients Of Murukku (Fried Lentil Snack):

1 cup rice flour
1/4 cup dhuli urad daal-roasted and powdered
1 1/2 tbsp salt
1/4 Tbsp asafetida-diluted in 1/4 cup water
2 Tbsp ghee or butter
1 Tbsp safed til oil for deep frying

Method:

Mix all the ingredients and knead to a firm dough with water. Keep aside for half an hour or so. Heat the oil till a drop of dough thrown in comes up at once. Using a press (like a cookie press), press out round murkkus straight into the hot oil. Lower the heat and cook till they're light brown and crisp on both sides. Cool and store in an airtight jar and enjoy whenever hunger strikes.