It is that time of the year again! Your favourite cricket league is here, pitting eight states of India against each other for the coveted title of the Indian Premier League Champions. While you have picked your allegiances based on your states, mother tongues, favourite players or actors, we bring you our own league by pitting the signature and iconic dishes from the states against each other. For today's match, Kolkata Knight Riders take on the Sun Risers Hyderabad. While it would be interesting to see Gautam Gambhir's boys sweating it out against David Warner's team, a little battle of tastes between the iconic Kolkata Biryani versus Hyderabad Biryani would up the spirits attached to the game between two of the strongest teams in the league right now. You are the jury here, read on and take your pick. The Kolkata BiryaniThe Kolkata Biryani is the subvariant of the Lucknawi-style of biryani, owing its origins in the former courts of Lucknow. The Lucknawi Biryani (which many still claim to being more of a pulao than biryani) originated in Awadh, and depended more on the flavours of the meat than spices to pull it through. But as you go down south to the courts of the Nizams of Hyderabad, the biryani tends to have more masala. Kalyan Karmakar in his book, The Travelling Belly writes about Nawab Wajid Ali Shah who was displaced by the British and exiled to Kolkata. "The Nawab was a man who loved to eat and to feed others. When he shifted to Kolkata his entourage included his cooks too. Biryani of course had to feature on the table even when he was in exile." But the splendorous indulgence of Nawab was in a fix now for the scarcity of money, but the ingenuity of his cooks came in handy, "The money was scarce. The spices were toned down, and the biryani of Kolkata became more subtle that that of Lucknow and had a lower meat-to-rice ratio. The cooks had a stroke of brilliance. Meat was expensive, so they decided to add potatoes instead to give contrast to the rice." However, the conjecture has been refuted by a host of historians. Kalyan also mentions this other side, the descendants of Nawabs who say that the "aloo was added in Kolkata as it was an exotic vegetable at the time, and not because of fiscal restraints."

Kolkata Biryani has a novel inclusion of potato in its biryani
The preparation of Kolkata Biryani is again an elaborate process, as is the case with every
biryani
. In a huge
handi
, rice is steamed with cooked mutton, spices and the much loved browned potatoes. It is served with a boiled egg,
salan
or gravy.
The Hyderabadi Biryani
If you are even remotely aware of the Hyderabadi delicacy you would know that it is prominently considered to be the dish of the Nizams, rulers of the Hyderabad state. However, the cuisine that we adore today is more of a blend of Mughlai, Irani and Nizam culinary excellence, and has undergone many changes over 500 years. Yes, your favourite
biryani
is that old! Way back in the 15th century in the Nizami courts, Afghan, Persian and Turkish aristocrats came, bearing a wide variety of culinary influences. Naturally then, the Nizami court kitchens saw the most brilliant confluence of tastes and cuisines to bring us the delicacy we love today, along with traditional South Indian influences (Safed Mirchi ka Salan, for instance, is prepared using dry coconut and is the Hyderabadi Biryani's loyal sidekick).Majorly the
biryani
can be classified into two kinds,
kacchi
and
pakki.
The
kachchi biryani
is prepared with meat that is marinated with spices overnight, then soaked in yogurt before cooking. The
gosht
(meat) is then meticulously sandwiched between layers of long-grained basmati rice (and cooked on
dum
, after sealing the
handi
(vessel) with dough). Some consider it to be India's only proper
biryani
since it is made from raw meat and rice, cooked together rather than the
pakki biryanis
that are made by layering separately cooked meat and rice.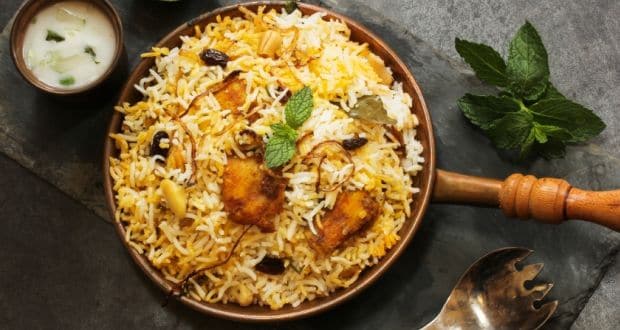 Kalyan writes in his book about the biryani he had in Café Bahar, Hyderabad, "The first thing that struck me was that each grain of rice was firm and separate. These flavours of the meat and spices in the biryani didn't overshadow the aroma of the good quality rice used in the dish. The spices of Yakhni were not overtly high on oil or chilli heat. The spices in the biryani appeared in clumps throughout the rice…The Hyderabadi Biryani was more like symphony, each component complementing the other."So what's your pick? The browned potatoes with the steamed rice and mutton or the kaccha dum gosht prepared meticulously overnight? We love the succulent, tender and yummy delights from the states.
About Sushmita SenguptaSharing a strong penchant for food, Sushmita loves all things good, cheesy and greasy. Her other favourite pastime activities other than discussing food includes, reading, watching movies and binge-watching TV shows.